4 Ways to Improve Your Spiritual Growth
This article may contain affiliate links. I may earn money from the companies mentioned in this post with no additional cost to you. Please read my disclosure policy for more info. All Bible quotations are from the New King James Version (NKJV) unless otherwise stated Bible Copyright Attribution.
There isn't growth without change and endurance. Just like keeping ourselves healthy, it takes discipline. The key to spiritual growth is to repent of your sins, humbly ask the Lord for forgiveness, pray for spiritual growth, and take action.
We can pray every hour of every day for God to guide us and help us grow and mature. But if we don't put in the time or effort we can only have ourselves to blame.
There are so many ways we can spiritually grow on a day-to-day basis even during mundane tasks. Let's look deeper into how you can improve your spiritual development.
What Does Spiritual Growth Mean?
We all start somewhere when we become Christians and no matter where we are in our journey it's important to have growth in the spirit. Spiritual growth consists of learning more about God and resting in Him. To have fellowship with God means we have a closeness and friendship with the Lord.
Just like any relationship, there is a growing process and it takes time. Our relationship with Christ is the most important but what happens if we are not growing?
It is possible to stay still preventing ourselves from moving forward and closer to Him. Or even backslide which is why it's vital for Christian growth.
Our spiritual growth can be reflected through our actions. Are we living more for God and less for ourselves? Our thoughts and actions toward others should reflect Christ. Getting to know Him and His word more in-depth can help us not only grow but to live more like God every single day.
If we ask the Lord for help, He will honor our request and effort to draw closer to Him, just like the man in Mark 9 did. Ultimately as we grow closer to Him we become more and more like Jesus Christ. The Holy Spirit begins the process of making us more like Him, conforming us to His image and that's when we place our faith in Christ alone.
What Does the Bible Say About Spiritual Growth?
The goal of spiritual growth is to be more and more like Jesus since we already have everything we need by God's power. This comes through our knowledge of Him, which comes from His word, giving us our edification, and growth.
2 Peter 1:3-8 NKJV says:
"as His divine power has given to us all things that pertain to life and godliness, through the knowledge of Him who called us by glory and virtue, by which have been given to us exceedingly great and precious promises, that through these you may be partakers of the divine nature, having escaped the corruption that is in the world through lust. But also for this very reason, giving all diligence, add to your faith virtue, to virtue knowledge, to knowledge self-control, to self-control perseverance, to perseverance godliness, to godliness brotherly kindness, and to brotherly kindness love. For if these things are yours and abound, you will be neither barren nor unfruitful in the knowledge of our Lord Jesus Christ."
Therefore, if our Bibles our closed we will find it hard to grow spiritually. As we grow spiritually, we find we experience fewer acts of the flesh, fewer negative thoughts, and we look less like the world.
The fruits of the spirit (Galatians 5:22-26) help us identify how we can increase our growth in the spirit. They should make an impact in our lives now that we have experienced salvation in the Lord. Salvation is where spiritual growth begins.
The Bible talks about how the Holy Spirit lives inside of us and that we are new creations in Christ. It's a lifelong process that depends on studying the books of the Bible, applying His Word to our life, and our knowing our identity in Christ. Our walk determines our actions and how we even love others.
God desires for us to grow spiritually and He has given us all that we need to experience it. Pray and ask for wisdom and guidance to help lead you in your spiritual development. With the Holy Spirit's help, we can become more like our Savior and overcome sin.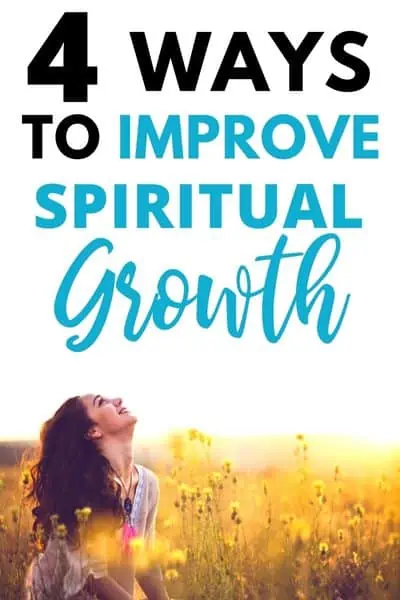 How To Grow Spiritually
Growing spiritually is to become more like Jesus and less like the world. The best example is Jesus Christ himself. He is an example of what it truly means to be spiritual.
1 Corinthians 11:1 NKJV says:
"Imitate me, just as I also imitate Christ."
1. Study the Word of God and Apply it to Your Life
Not only is Bible study important but so is the application. Dig deeper into the Bible verses you are reading and pray for understanding. The SOAP Bible Study Method is a great way to gain a deeper understanding of the scriptures.
Making a habit of praying every single day can drastically make an impact on your life. Prayer is powerful, it connects us to God and He loves to hear our voice. Memorizing scripture can help us push out any negative thoughts we get on a day-to-day basis. This helps us defend ourselves from the works of the devil.
Hebrews 4:12 NKJV tells us:
"For the word of God is living and powerful, and sharper than any two-edged sword, piercing even to the division of soul and spirit, and of joints and marrow, and is a discerner of the thoughts and intents of the heart."
When we make it a daily habit to take the special time to dig deep into God's Word we will see the impact in our lives. It will become more evident as we discipline ourselves to study and apply the Bible to our life.
2. Attend a Bible-Teaching Church and Get Involved
For the whole body to come in the unity of faith, to gather together, worship, and be united to learn more about God's word is a powerful thing. This is how building up the Body of Christ starts at the church but we also need to remember we are the church.
It's not about a specific building, whether or not they have a potluck afterward, or what kind of music they play for worship. The church is about the gathering of people and fellowship.
It's important for us to stay connected with other believers being united with the Gospel. We need one another and the church helps demonstrate the transformation work of Christ to one another.
Get involved in the church just as God intended it. We don't go to church necessarily to "get something", we go to give and use our gifts to serve the Lord.
1 Peter 4:10-11 ESV says:
"As each has received a gift, use it to serve one another, as good stewards of God's varied grace: whoever speaks, as one who speaks oracles of God; whoever serves, as one who serves by the strength that God supplies—in order that in everything God may be glorified through Jesus Christ. To him belong glory and dominion forever and ever. Amen."
3. Fellowship with Like-Minded Christians
Find some Godly friends to help with accountability, and to build up and encourage one another.
1 Thessalonians 5:11 ESV tells us:
"Therefore encourage one another and build one another up, just as you are doing."
Living like the world and being around those who do can really affect us and lead us into trials and temptation. It's important to share the Gospel and God's love. Having like-minded Christians can help us grow spiritually and stay accountable.
Our lives are a testimony of God's never-ending grace. Our stories can impact so many around us and even sharing them over a cup of coffee with a friend or a stranger, is a powerful thing. Help lead each other towards God in your walk in Christ.
The devil is out to kill, steal, and destroy. Sometimes we can be blind by it and confused. Staying guarded, staying rooted in Christ and His word, and staying connected with other believers can help you defend evil from creeping in.
Oftentimes, we may see a different perspective than the person facing a hard trial, and God will use us to help them find their way back.
4. Serve and Honor the Lord In Everything You Do
Examine your life and your lifestyle. Does it serve and honor God or does it look more like you're a part of the world? Romans 12:12 tells us that we shall be transformed by the renewal of our minds.
We all experience spiritual warfare during different seasons. But when we are born again the Lord says we are made new. He created us in His image, we are beautifully and wonderfully made (Psalm 139:14). We are not supposed to look like the world nor should we blend in.
Serving and honoring God through everything we do shines the light of Christ unto others. How we live, our actions and our motives need to all reflect Him and His Word.
Matthew 22:37 ESV says this:
"And he said to him, "You shall love the Lord your God with all your heart and with all your soul and with all your mind."
By growing spiritually this will become more evident in your daily life. There may be a sink full of dishes, endless amounts of laundry, kids to clean up after, and a 9-5 job that seems to just be a cycle at times. Each day is a true gift and we should be praising the Lord in it.
We should praise Him for another day and wake up with so much joy. The Lord has given us gifts and we should glorify Him through them. Not just in our musical talents, and our wisdom, but also in dishwashing, cleaning, and through our reactions.
Take time out of your day to thank Him and count all of your blessings. Prioritizing Him first daily can really improve our spiritual development. Ask for God to show you how you can honor Him through your job, through your duties, and serve Him through it all.
Spiritual Growth Scriptures
Psalm 1:1-3 – Blessed is the man who walks not in the counsel of the wicked, nor stands in the way of sinners, nor sits in the seat of scoffers; but his delight is in the law of the Lord, and on his law he meditates day and night. He is like a tree planted by streams of water that yields its fruit in its season, and its leaf does not wither. In all that he does, he prospers.
Matthew 5:6 – Blessed are those who hunger and thirst for righteousness, for they shall be satisfied.
1 Corinthians 1:11 – Be imitators of me, as I am of Christ.
Ephesians 4:15-16 – Rather, speaking the truth in love, we are to grow up in every way into him who is the head, into Christ, from whom the whole body, joined and held together by every joint with which it is equipped, when each part is working properly, makes the body grow so that it builds itself up in love.
Philippians 1:6 – And I am sure of this, that he who began a good work in you will bring it to completion at the day of Jesus Christ.
Colossians 1:9-10 – And so, from the day we heard, we have not ceased to pray for you, asking that you may be filled with the knowledge of his will in all spiritual wisdom and understanding, so as to walk in a manner worthy of the Lord, fully pleasing to him, bearing fruit in every good work and increasing in the knowledge of God.
2 Timothy 3:16-17 – All Scripture is breathed out by God and profitable for teaching, for reproof, for correction, and for training in righteousness, that the man of God may be competent, equipped for every good work.
Hebrews 6:1 – Therefore let us leave the elementary doctrine of Christ and go on to maturity, not laying again a foundation of repentance from dead works and of faith toward God,
2 Peter 3:18 – But grow in the grace and knowledge of our Lord and Savior Jesus Christ. To him be the glory both now and to the day of eternity. Amen.
Spiritual Growth Quotes
"The process of biblical change explained in God's Word, begins when you repent of your sin and believe in the Lord Jesus Christ. God has given you everything you need to make the changes in your life that will please Him and will lead to His blessings. As you continue to obey God's Word, biblical change toward maturity will occur in your life until you see Jesus face to face." – John Broger
"Adversity is not simply a tool. It is God's most effective tool for the advancement of our spiritual lives. The circumstances and events that we see as setbacks are oftentimes the very things that launch us into periods of intense spiritual growth. Once we begin to understand this and accept it as a spiritual fact of life, adversity becomes easier to bear." – Charles Stanley
"All growth that is not toward God is growing to decay." – George Macdonald
"A state of mind that sees God in everything is evidence of growth in grace and a thankful heart." – Charles Finney
"When I release my weaknesses and blind spots to God, He uses them to help me grow spiritually." – Crystal McDowell
"It is not the number of books you read, nor the variety of sermons you hear, nor the amount of religious conversion in which you mix, but it is the frequency and earnestness with which you meditate on these things till the truth in them becomes your own and part of your being, that ensures your growth" – Frederick W. Robertson
"Spiritual growth depends on two things: first a willingness to live according to the Word of God; second, a willingness to take whatever consequences emerge as a result." – Sinclair B. Ferguson
"The stiff and wooden quality of our religious lives is a result of our lack of holy desire. Complacency is a deadly foe of all spiritual growth. Acute desire must be present or there will be no manifestation of Christ to His people." – A.W. Tozer
"Gradual growth in grace, growth in knowledge, growth in faith, growth in love, growth in holiness, growth in humility, growth in spiritual-mindedness – all this I see clearly taught and urged in Scripture, and clearly exemplified in the lives of many of God's saints. But sudden, instantaneous leaps from conversion to consecration I fail to see in the Bible." – J.C. Ryle
"Being a Christian is more than just an instantaneous conversion – it is a daily process whereby you grow to be more and more like Christ." – Billy Graham