5 Reasons Why God's Timing is Perfect
This article may contain affiliate links. I may earn money from the companies mentioned in this post with no additional cost to you. Please read my disclosure policy for more info. All Bible quotations are from the New King James Version (NKJV) unless otherwise stated Bible Copyright Attribution.
In the fast-paced world, we live in, patience is a rare virtue. We often deal with doubts regarding God's Timing in our lives. We tend to put ourselves first, not believing in his divine timing.
But we need to understand that it is important to trust God. Having faith is having trust. Studying the Bible and memorizing scripture will remind you that God created us for a purpose.
We need to believe with all our hearts that God is always on time. God's timing is based on His plan and purpose and nothing will stand against us when we lean on him.
This article is intended to highlight the timing of the Holy Spirit and the reasons why God's timing is perfect.
What Does God's Timing Mean?
God's Timing means His action in our lives. He knows exactly what we need and when we need it. When God steps in, all our worries and anxieties disappear and lack turns into abundance.
As children of God, we need to remind ourselves that His timing is not our timing. When we don't get instantaneous results, we tend to question His timing. But God sees us. He is beyond the sphere of time. He has no time constraints.
Our patience is directly related to how much we trust Him. God wants us to believe in Him even when things are not going well for us.
One of my favorite Bible verses is Jeremiah 29:11:
"For I know the plans I have for you, declares the LORD, plans for welfare and not for evil, to give you a future and a hope."
So trust Him with all your heart because His timing is always right.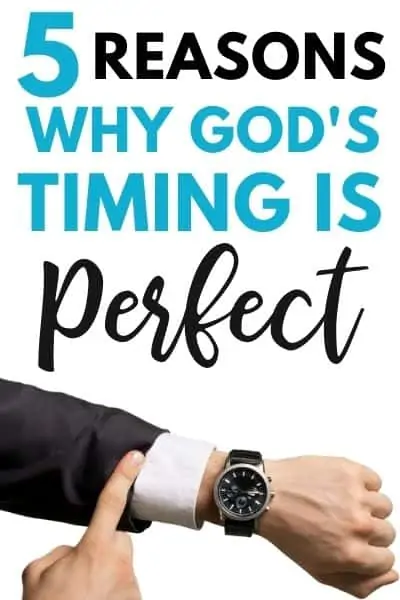 God's Timing is Perfect
Studying the Books of the Bible will give us more clarity on God's timing. I want to remind you to patiently wait for Him to work in your life.
I believe there are several reasons why God's timing is perfect.
1. God Knows Our Past, Present, and Future
With the Holy Spirit by our side, we need not worry about what happened yesterday and what will happen tomorrow. Because God is eternal. He is the Being of all beings. He knows everything from the beginning to the end. So trust Him with your past, present, and more importantly, the future.
2. God is Always On Time
God works on His own timetable. He has got everything under control. He never misses a deadline! The truth is, God is never early and never late. He is always on time. Surrender your worries to God and ask Him to grant you peace of mind.
3. God is Faithful
Broken promises can be seen all around us. But there is One you can always count on – our merciful God.
We see God's faithfulness in Deuteronomy 7:9:
"Know therefore that the LORD your God is God, the faithful God who keeps covenant and steadfast love with those who love him and keep his commandments, to a thousand generations."
God is faithful to His Word and He will never let you down.
4. God is Gracious
The greatest gift of grace God has given us is His only begotten son, Jesus. While we were sinners, Christ died for us. We are the recipients of His steadfast love. Everything we have achieved in life is only because of the love of our Father.
5. God Wants the Best for Us
God always wants the best for his children. In fact, God knows more than we give Him credit for. He knows each and every one of us. His unconditional and infinite love is incomparable. Reach out to Him and He will welcome you with open arms.
God's Timing is Always Right
God is in complete control of our lives. And He knows when to work in our lives. We need to learn to let go and let God.
Waiting for God's timing requires a commitment – Have faith in Him. Psalm 37:7 tells us to wait for Him – Be still before the LORD and wait patiently for Him.
Let us wait for him because His timing is always right. He works according to His eternal schedule and not ours.
God's Timing is Always on Time
Amidst the hustle and bustle of everyday life, it can be difficult to wait for anything and anyone. But you cannot expect God to work early. He has a plan for each and every one of us and he will work only according to His schedule.
Remember that God is good to those whose hope is in him. Renew your mind with Truth because God's timing is always on time.
God's Timing Verses
These Bible verses are from the English Standard Version of the Bible.
Psalm 27:14 – Wait for the LORD; be strong and take heart and wait for the LORD.
Psalm 37:7 – Be still before the LORD and wait patiently for him; do not fret when people succeed in their ways, when they carry out their wicked schemes.
Proverbs 3:5-6 – Trust in the Lord with all your heart and lean not on your own understanding; in all your ways submit to him, and he will make your paths straight.
Ecclesiastes 3:1 – There is an appointed time for everything. And there is a time for every matter under heaven.
Ecclesiastes 8:6 – For there is a proper time and procedure for every matter, though a person may be weighed down by misery.
Isaiah 40:31 – But they who wait for the LORD shall renew their strength; they shall mount up with wings like eagles; they shall run and not be weary; they shall walk and not faint.
Jeremiah 29:11-12 – "For I know the plans I have for you," declares the Lord, "plans to prosper you and not to harm you, plans to give you hope and a future. Then you will call on me and come and pray to me, and I will listen to you."
Habakkuk 2:3 – For still the vision awaits its appointed time; it hastens to the end—it will not lie. If it seems slow, wait for it; it will surely come; it will not delay.
Galatians 6:9 – Let us not become weary in doing good, for at the proper time we will reap a harvest if we do not give up.
1 Peter 5:6 – Therefore humble yourselves under the mighty hand of God, that He may exalt you at the proper time.
God's Timing Quotes
Here are some of my favorite God's Timing quotes.
"God is never late and rarely early. He is always exactly right on time–His time." – Dillon Burroughs
"Faith in God includes Faith in God's timing." – Neal A. Maxwell
"Sometimes we have to let our dreams go in order to allow God to bring them back to us – in his way and his timing." – Melody Carlson
"Everything that does not fit into the timing of God does not have a chance to exist and it will be destroyed" – Sunday Adelaja
"Stress makes you believe that everything has to happen right now. Faith reassures you that everything will happen in God's timing." – Marcus Lamb
"His timing might not be our timing, but it is always perfect." – Karen Witemeyer
"Every talent you have is not wasted. It is there because of a reason and God will open that door when the right time comes along to use it." – Shannon L. Alder
"Just because something isn't happening for you right now, doesn't mean it won't happen. God's timing is perfect." – Nicky Gumbel
" Love God Today: Seek God for your future and trust Him to bring it about in His timing" – Joyce Meyer
"God already has our life plan plotted out with exacting precision and perfect timing, and sometimes we have to be patient in order to see God's promises come to pass." – Adam Gellert