The Best 6 Men's Bible Studies
This article may contain affiliate links. I may earn money from the companies mentioned in this post with no additional cost to you. Please read my disclosure policy for more info. All Bible quotations are from the New King James Version (NKJV) unless otherwise stated Bible Copyright Attribution.
Studying the Bible is the most important thing you can do to grow closer to God. Thankfully, many knowledgeable people have put together some amazing Bible studies.
I've already written about the best Bible studies for women so today I'm going to focus on men's Bible studies.
Reading God's Word directly from the Bible should be your top priority. You can grow closer to God and learn so much directly from a study Bible. The nice thing about Bible studies is they can help you focus on a specific Bible topic.
I personally enjoy specific Bible studies because they allow me to grow in a specific area. For example, when my kids were younger, I needed a lot of Biblical knowledge in raising my kids. I was able to join a Bible small group that focused specifically on raising kids.
It created fellowship with other moms and we were able to speak into each other lives. Small groups are a great way to connect with other people when studying the Bible.
We shared trials and victories in our parenting. We also were able to share things like parenting books for Christians that helped us.
Men's Bible study is no different. Men need to have encouragement and fellowship just like women. Many husbands are at work all day in a non-Christian environment.
Being committed to a Bible study for men helps him stay focused on the Lord and his purpose.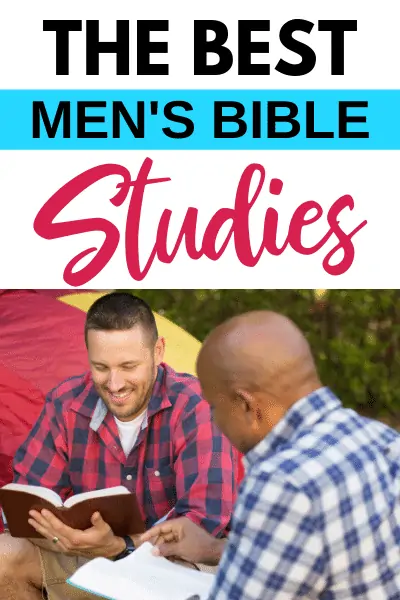 Men's Bible Study Topics
There is a huge variety of Men's Bible study topics. God calls all men to follow Him and if they receive His call, we will see great men walking this earth.
Men are the leaders of our homes so the focus of their study is different than women. Women are called to be submissive to their husbands while men are called to lead their wives.
Here are some common Bible study topics for men:
Leadership
Standing Strong
Becoming a Man of God
Being a Man of Character
Men's Bible Study
My husband and I have been married for 21 years and we've both done our fair share of Bible studies. Below you will find men's Bible study books that my husband has completed and a few that have been recommended to him.
These are actual "book" studies but there are also free online Bible studies for men and some Christian YouTube channels that have great messages too.
1. Act Like Men
This Act Like Men Bible study is one of the first studies my husband did in a group setting. My hubby is pretty reserved so being in a Bible study group was a huge stretch for him.
He enjoyed this study and said that it could be done with or without a group. There's a Bible study guide available but it's not necessary.
With men being so busy, it's easy to overlook who God created them to be. Our society needs men who can become the man God created them to be. They need to learn to trust God to take them on that journey.
In this Bible study, James McDonald helps men see that God has a purpose for them and shows that they can be a mix of tender and tough and follow Jesus humbly.
Sale
2. Wild at Heart
This is a book but my husband's Bible study group made it a group study. I feel like you can basically make any book a Bible study.
This book is focused on men discovering the secrets of the soul. The author, John Eldredge, desires to help men recover their masculine hearts, see themselves in the image of a passionate God, and delight in the strength and wildness men were created to offer.
Men have lost the true nature of who God created them to be. The world has created a fear that men can overcome by faith. This book teaches how God has permitted men to be what God designed them to be.
Sale
3. Get Your Life Back
Another great book by John Eldredge. This is one of my husband's favorite authors, can you tell? It's a blessing to find an author you connect with because they usually come out with more books and Bible studies that you will like.
It is very common for believers to get distracted by the world and lose their God-given focus.  Let's face it, the world can drag you down.
This book helps you recover your soul and remember your purpose and blessings in life. Here's what you will learn in this book:
Take a much-needed pause in your day
Allow yourself to truly let it all go
Enjoy and recognize the blessings you encounter each day
Unplug from technology overload
This works great as a group Bible study or a personal study. Connecting with other men and their struggles may help you stay encouraged.
Sale
4. No More Excuses
Here's another men's Bible study that teaches men to be the man God made them to be. This is a pretty common topic as you can see. I feel like you can never get enough of this topic because men are constantly being torn down these days.
This book's motto is "no excuses".  We can be blinded by excuses and need to be on guard when protecting our minds from things that don't line up with God's Word.
In this study, Tony Evans encourages men to look at men in the Bible who were overcomers with God. There will be setbacks, failures, pressure, etc. Tony helps men recognize the lie and teaches men how to push through with God's strength.
Sale
5. Ten Men of the Bible
This Bible study for men can be done as a group or individually. Max Lucado focuses on ten specific men in the Bible that God used. We see in the Bible that these men trusted the Lord and followed Him but they still experienced failure.
This study has 10 sessions and each study is based on the following people in the Bible:
Noah
Job
Jacob
Moses
David
Joseph
Matthew
Peter
Lazarus
Paul
This Bible study will help you learn more about each person. You'll learn more about their character, trials, victories, their faith in the lord, and how they rest in Him.
Sale
6. Shaken
If you are a football fan, then Tim Tebow should be a familiar name. He is a Christian and has been very outspoken about his faith. He has written multiple books.
Shaken was recommended to us by a friend who said they used it in a Bible study group for men and everyone was super blessed.
Tim uses his own experiences in life to be a living testimony of God's faithfulness. He shares his journey of disappointments, criticism, etc. He shares what he learned along the way and how His confidence was built on God's strength, not the lies of the world.
Sale
Do you have a Favorite Men's Bible study?
If so, I'd love to hear about it. Let me know in the comments below or contact me. I would love to add more Bible studies to this page. My mission is to help others grow in their journey with Christ.