12 Best Couples Devotionals To Grow Together
This article may contain affiliate links. I may earn money from the companies mentioned in this post with no additional cost to you. Please read my disclosure policy for more info. All Bible quotations are from the New King James Version (NKJV) unless otherwise stated Bible Copyright Attribution.
Marriage is not just an agreement between a man and a woman; it is also a commitment between the couple and the Lord. Jesus expects couples to grow both spiritually and emotionally.
The more time and energy you invest in your relationship, the stronger your marriage will be. But what is most important is that your marriage should be Christ-Centered. Embrace God, have faith in Him, and serve Him as a couple!
The goal of this post is to help you find a couples devotional for developing a God-centered relationship with your partner.
Devotionals for couples often include prayer, Bible verses, and thought-provoking passages. I hope you find a Christian devotional to complement your marriage and grow in Christ.
What Is A Couples Devotional?
A devotional is a book or guide that provides a specific reading for each day for spiritual growth.
A couple's devotional is designed for engaged and married couples to develop Christ-centered relationships. It often entails a reading passage, Bible verses, prayers, questions, and challenges. It is a great resource to rebuild, restore and repair broken marriages.
How Do You Do A Couples Devotional With Your Partner?
Connecting over God's Word is the most wonderful thing to do as a couple, no matter where you stand in your relationship. Having couples devotional time with your partner will strengthen your relationship and help address the existing problems.
To do a couples devotional, simply purchase a Bible devotional book for couples that includes themes relevant to your marriage. Talk with your partner and make time. Our schedule is full of our priorities. So by making a devotion a priority, you can meet daily or weekly to grow as a couple in Christ.
Start with a simple conversation. Choose a relevant theme and study the scripture together. Be understanding and respectful throughout the session. Reflect on your marriage and ask questions to initiate deep and meaningful conversations.
An effective Bible study method is the S.O.A.P method.
S – Scripture: One person has to read the passage aloud.
O – Observation: Discuss what you understood from the scripture.
A – Application: Discuss how you can apply the passage to your marriage.
P – Prayer: Pray together and thank God for all He has done.
The first session may not be the best, but eventually, you will grow as a couple and develop a God-Centered relationship. Most importantly, be intentional about spending time with each other and commit to doing a devotional for couples.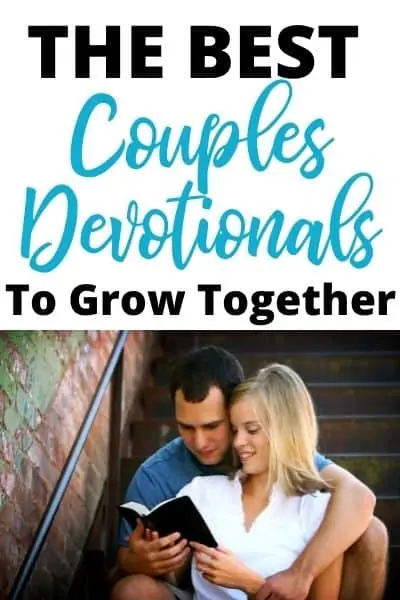 The Best Couple Devotionals
Most couple devotionals include Bible study, insightful stories, thought-provoking questions, and challenges on themes relevant to marriage. Most common themes include trust, intimacy, managing finances, work, and more. Couples read the scripture and stories together and reflect on their life.
The best couple devotionals are those that include action-oriented techniques to improve communication and manage conflicts. A good couples devotional should also promote spiritual growth.
If you're going through a rocky phase in your relationship, choose a devotional that addresses those problems. Some guides also provide practical solutions to common problems in marriages.
Marriage Devotionals
Marriage devotionals help couples develop a God-Centered relationship. Couples come together daily or once a week to study the Bible together, reflect on their marriage and strengthen their relationship. Some devotionals also include challenges and insightful questions to promote deep and meaningful conversations.
Devotionals for both married and dating couples are available. By addressing the problems in relationships while centering your marriage in God, you and your partner will connect on a higher spiritual level.
Stay Married: A Couples Devotional
30-minute weekly devotions
Practical techniques for effective communication
Highlights relationship problems
Includes topics such as trust, intimacy, and managing finances
Authored by Michelle Peterson, this devotional focuses on helping couples develop spiritual conversations and manage conflicts. With insightful stories and thought-provoking scripture verses, this devotional highlights the most common issues in relationships and provides practical tips to deal with them.
By spending 30 minutes a week, you will be able to build a healthier and stronger relationship centered around Christ.
Sale
Newlywed Couple's Devotional
52 weeks of everyday scripture
Authors, Chris and Jamie Bailey are marriage coaches
Highlights the challenges in relationships
Provides action-oriented solutions
Includes weekly prayers
In this devotional, marriage coaches Chris and Jamie Bailey, guide newlyweds to grow in Christ. The book addresses the common challenges every newlywed couple faces and provides action-oriented solutions. It has inspiring bible verses and weekly prayers. Themes such as intimacy, love, finances, household duties, and commitment are discussed in the devotional.
The One Year Love Language Couple Devotional
A guide on how to express love
Tips for effective communication and conflict management
Thought-provoking messages
Sparks meaningful conversations
The author, Dr. Gary Chapman, thinks expressing love plays a vital role in strengthening relationships. This devotional will allow you to express and receive love in different ways. With scriptures, insightful messages, and prayer, this guide will teach couples to communicate openly while respecting each other. Multiple reviewers described this devotional as "thought-provoking".
Sale
Night Light: A Devotional For Couples
Weekday and Weekend readings
Promotes deep conversations
Tips to create a God-centered marriage
Authors share personal experiences
This easy-to-use devotional highlights the importance of spending quality time with your partner and God. The authors, James C. Dobson, and Shirley Dobson talk about the ups and downs in their marriage. The couple also shares practical and biblical insights that sustained their relationship for forty years.
Reviewers stated that this devotional helped them create a God-Centered marriage and get closer with their partner. Readers highly recommend this devotional, especially for newlyweds.
The Love Dare Day by Day
52 weekly dares to express love
Tips to build a spiritual foundation with your partner
Questions to reflect
Encourages personal Bible study
With 52 weekly dares, this devotional encourages you to express love and initiate meaningful conversations. The author, Stephen Kendrick, is the co-writer of The Love Dare, a New York Times Bestseller. The devotional also includes prayers and scriptures to practice unconditional love.
If you're looking for quick couples devotional, this devotional would be great for you and your partner. It is also an excellent gift for newlyweds and those celebrating wedding anniversaries. Reviewers mentioned that the dares are challenging and exciting.
Sale
Closer: 52 Devotions to Draw Couples Together
52 devotionals
Inspire couples to have deep conversations
Practical tips to grow emotionally and spiritually
Scripture verses and engaging stories
This devotional by Jim Burns and Cathy Burns is packed with engaging stories and scripture verses that will strengthen your relationship. The authors teach us how to grow in love together. The 52 devotionals are arranged in a flexible weekly format so it is a good alternative if you're looking for a daily devotional for couples.
The thought-provoking questions and exciting challenges will encourage couples to pray together and invest quality time in each other. Reviewers highlighted that the devotional feel very real and personal as the authors share their stories.
Sale
A Couple's Love Journal
52 weeks of devotionals
Has compelling questions to reignite your relationship
Relevant themes to strengthen your bond and increase communication
This devotional by relationship coach, Lori Ann Davis, helps couple reignite their relationship and live a happier life. The compelling questions at the end of passages are designed to promote active discussion on different aspects of life.
Readers mentioned that this devotional helped them open up to each other and gain different perspectives on marriage.
Sale
Love and War Devotional for Couples
8-week devotional
Encouraging scriptures and doable exercises
Interactive and easy
Addresses the problems in marriage
Authored by John Eldredge and Stasi Eldredge, this 8-week devotional helps couples gain new perspectives on the realities of marriage. It includes encouraging scriptures and doable challenges to become closer to Christ.
The format of this guide includes 40 devotionals spread over five days a week. Each devotional starts with a scripture followed by a short summary of the theme. Every passage ends with a prayer for the couple to pray together.
Sale
Devotionals for Dating Couples and Engaged Couples
Together With Christ: A Dating Couples Devotional
52 devotions to strengthen your relationship
One devotion for each week
Encourages meaningful conversations
Includes topics like work, money, intimacy, and more
Action-oriented tips to grow spiritually as a couple
For dating couples and engaged couples, this devotional is an excellent resource to prepare for married life. The author, Chelsea Damon, talks about issues related to intimacy, work, money, etc in family life. The passages include excerpts from the Bible, stories, and wonderful questions to grow as a couple spiritually and emotionally.
The author also recommends doing activities together to strengthen your relationship. There are 52 weekly devotions. Chelsea Damon has a blog called Living the Sweet Wife with over 100,000 readers seeking her advice.
Sale
Devotions For Dating Couples
Practical tips for a strong and radiant relationship
Helps you grow closer to God and your spouse
Highlights the fundamental disciplines of lasting relationships
Insightful questions to reflect
New topic every week
This devotional is packed with insightful questions and user-friendly tips to strengthen you and your partner's walk with God. The authors, Ben Young and Samuel Adams talk about the essential disciplines of a good relationship.
With new topics every week and practical tips for a radiant relationship, this easy-to-read devotional is sure to guide you in your next big journey called marriage.
Sale
Before You Say "I Do" Devotional
Helps to grow spiritually with your partner
Includes scripture verses and stories relevant to marriage
Thought-provoking questions to spark conversations
Tips for effective communication and mutual respect
This devotional works best for less experienced couples who are getting to know each other. The author, H. Normal Wright is a counselor who has trained over a million dating and engaged couples around the world.
It has excerpts from the Bible, interesting stories, and eye-opening questions to spark a heartfelt conversation. The guide encourages the readers to make a habit of spending time with God. the importance of open communication and respect for each other is also highlighted in this devotional.
Sale
Preparing Your Heart for Marriage
Tips to deal with challenges in relationships
Addresses common issues in relationships
Encourages deep, meaningful conversations
Promote spiritual growth as a couple
Written by the relationship author, Gary Thomas, this devotional guides couples to grow closer to the Lord. The book gives insight into how marriage works. Common relationship issues like managing finances, repairing trust, and building emotional and physical intimacy are addressed in the devotional.
Multiple reviewers have stated that this guide is a life-changer. It includes conversation starters and exciting challenges to share your thoughts and dreams.
What's Your Favorite Couples Devotional?
Devotionals for couples are a great way to deepen your relationship with Christ together. My husband and I really enjoy devotionals. They've helped us grow our marriage while keeping Christ in the center.
Have you completed a couples devotional? I'd love to hear about your experience. Let me know in the comments below.