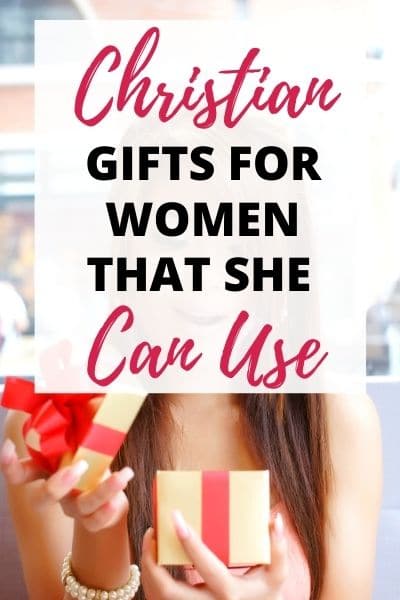 Are you looking for a gift idea for a Christian woman you know? If so, you are in the right place. This post is intended to share some of the best Christian gifts for women.
Giving an inspirational gift to someone can be difficult. There aren't many places these days that sell religious gifts for women.
We used to have a Christian bookstore that sold Christian gifts nearby but they closed their doors about 2 years ago.
Since then, shopping for unique Christian gifts has been more time-consuming.  The good news is I've rounded up Christian gift ideas for that special woman in your life.
You no longer have to spend hours searching for gifts. These Christian gifts for women apply to all occasions including birthday gifts, Mother's Day gifts, Christmas gifts, teacher appreciation gifts, etc.
Your mom, grandma, aunt, daughter, teacher, etc will love these Jesus loving gifts that will compliment her walk with the Lord.
Best Christian Gifts for Women
Since there are multiple online stores where you can buy Christian gifts, I'm going to list my favorite gift ideas.
I buy most of my Christian gifts on Amazon. The reason for this is they tend to ship much quicker than the other Christian gift stores and there's no shipping minimum for Prime members. Most of the Christian gift stores sell on Amazon as well.
Amazon Prime has saved us so much money on shipping and they deliver the packages fast. If you're not an Amazon Prime Member already, you can try it out for 30 days. Click this 30 day free trial of Amazon Prime link to try it out today. We've had Prime for years and love it.
Decorative Measuring Spoons
These measuring spoons are super cute and are always much needed in my house. They are a great reminder of the qualities we want to obtain as a Christian woman.  There are 4 measuring spoons with the words faith, strength, honesty, and generosity engraved on them.
They come in a gift box and have a beautiful presentation.  My favorite part is they are dishwasher safe. Most of the time gifts like this have to be hand washed.  This is a great inexpensive Christian gift.
Scripture Throw Blanket
This is a unique Christian gift that would be perfect for any woman. Everyone loves blankets. This one is unique because it has the Proverbs 3:5-6 Bible verse printed on it.
What a great reminder to Trust the Lord every day. The color is a neutral gray which would be perfect in most homes. This cozy fleece blanket measures 50″ x 60″.  This would also be a great Christian gift for men.
Trust in the Lord Water Bottle
This is a cute Christian water bottle for women. I'm all about giving useful gifts for women so they can be used and appreciated at the same time. It's printed with the trust in the Lord Bible verse and is BPA and lead-free.
This wide mouth water bottle features a push-button flip-top lid. This keeps it from opening on its own and leaking.  It's available with different Bible Verses and in different colors.
Prayer Journal for Women
This beautiful prayer journal is a great inspirational gift for women.  What better way to inspire someone with an actual Bible study to strengthen their faith.
This prayer journal touches on the following Bible topics: love & inner beauty, provision & faithfulness, God's Love, adversity & trials, awe & sovereignty, strength through faith, fear, and grace & forgiveness.
Scripture Checkbook Cover
This checkbook cover is a great way to share the Word of God.  It's a great Christian gift that reminds us that we can rely on the strength of Christ in every situation.
It's a little more than a checkbook holder. On the inside, there is a slip pocket, 3 credit card slots, an ID card holder, a plastic divider for duplicate checks, and a pen loop. It's available with different Bible Verses and in different colors.
Thankful Grateful Blessed Wall Decor
This is a great neutral framed print to show those Christian women in your life that you are thankful, grateful, and blessed by them. I love this because the colors are neutral and it would fit with any home decor.
It's a 13″ x 15″ frame and includes hooks for hanging purposes. This is a simple yet effective Christian gift that any woman would love.
Christian Tote Bag
Most women have a lot of things to carry around with them. This tote bag is a great Christian gift for women because they can carry their Bible, commentaries, notes, etc.
It's heavy-duty so it can hold all the heavy objects that you may need. The handles are reinforced to keep it strong time after time. There are few different styles available so be sure to check them out.
Prayer Cards
Prayer is so important. Why not get that Christian woman some prayer cards that she can use for herself and share with others? There are 60 unique prayer cards in this set.
I love these cards because they are the size of a standard business card. They can easily fit in your wallet or pocket. There are different assortments available too.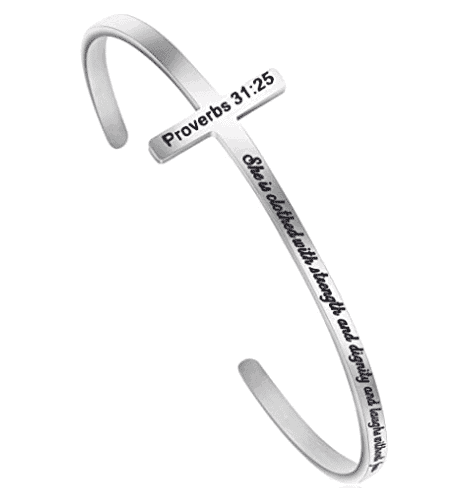 Cross Scripture Bangle Bracelet
This is a great Christian gift for the woman who loves jewelry. I personally love wearing scripture because it opens up a conversation with people.
If you know a woman who loves to share her faith, this would be a great gift for her.  It's stainless steel so it won't corrode or stain and it's available with several different Bible verses.
Scripture Wax Warmer
Women love candles and this one is super cute and functional. This wax warmer has a Proverbs 31 verse on it which is a great reminder of how God sees us.
It fits in a standard 3 prong outlet and can melt warm tarts and scented oils. It's made of ceramic stone and could also work as a night light.
Inspirational Gifts for Women
The unique Christian gifts for women above are my top picks.  This isn't an exhaustive list of Christian gifts but they are all budget-friendly gifts that would make great gifts for any Christian woman.
Hopefully, these gift ideas will help you find the gift you are looking for.  If you have any suggestions for other Christian gifts for women, I would love to add them to my list. Let me know in the comments below.