7 Tips for a Christ-Centered Marriage
This article may contain affiliate links. I may earn money from the companies mentioned in this post with no additional cost to you. Please read my disclosure policy for more info. All Bible quotations are from the New King James Version (NKJV) unless otherwise stated Bible Copyright Attribution.
My husband and I have been married for 18 years. It hasn't been easy. We didn't go into our marriage with a Christ-Centered marriage in mind.
Neither one of us was walking with the Lord when we got married. My husband was a backslidden Christian and I never had a personal relationship with Christ.
It's amazing to look back and see that God had a plan. We didn't know it at the time but He was drawing us to Him. We argued just like anyone else and it was pretty rough. Sadly, I never knew there were healthy ways to argue with your spouse.
We've been walking with the Lord for the past 12 years and our marriage has never been better. It's only because our marriage is God-centered that we've made it this far.
I've learned so many things as I've been growing in Christ and have so much more to learn. Like most people, I didn't walk into marriage thinking about the future.
I was "in love" and that's all I thought about. It brings me to tears the more I think about it. It could have been such a mess if God didn't rescue us.
We have many more years to go in our marriage but I want to share with you what I've learned so far. Hopefully, these things will help you with your Christ-Centered marriage. Our ultimate goal should be to glorify God through our marriages. After all, He's the creator of marriage.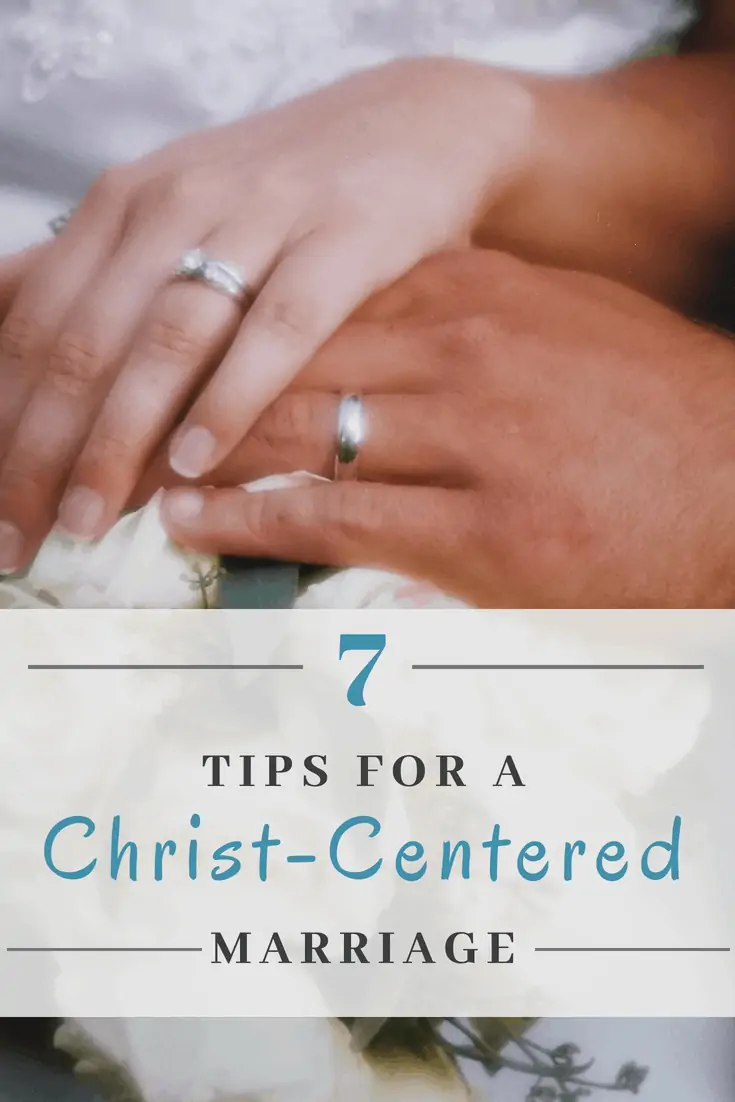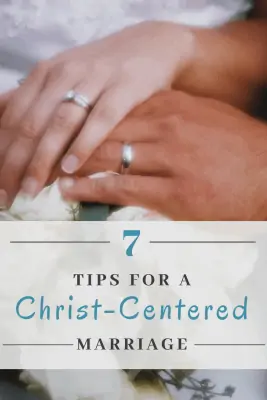 Christ-Centered Marriage and Relationship
1. A Christ-Centered Marriage Needs to Have Jesus as the Center
It's really important to examine your marriage and see what the purpose is. You can get married, and serve each other but it's only Christ-Centered if Jesus is the center of it.
Both husband and wife need to grow together in their walk with Christ. You should be holding each other accountable to Christ. Your purpose should be to serve Christ in your marriage.
"Do not be unequally yoked together with unbelievers. For what fellowship has righteousness with lawlessness? And what communion has light with darkness?" 2 Corinthians 6:14
2. A Christ-Centered Marriage is Being Humble
Christ tells us that He is gentle and humble in heart. Instead of being self-involved, you need to be looking for opportunities to serve your spouse. This is a hard one because when I'm upset with my husband, the first thing that crosses my mind is that I don't want to serve him.
It's a battle but ultimately, I want to be obedient to Christ so I end up serving him. Sometimes, I have to go out of my way to find ways to serve my husband. It's definitely something you can overlook easily. You need to be intentional.
"Take My yoke upon you and learn from Me, for I am gentle and lowly in heart, and you will find rest for your souls." Matthew 11:29
3. A Christ-Centered Marriage Forgives
In a marriage, you are both sinners saved by grace. Our flesh is still capable of bad attitudes, mean words, dirty looks, and more. If you allow a disagreement to continue, you are opening a door to spiritual warfare. It will continue to fester and break down your marriage.
We need to be in tune with our sinful nature and give each other grace just like God gives us. Forgiveness is hard but we need to remember that God forgives us therefore we should be able to forgive others including our spouse.
"For by grace you have been saved through faith, and that not of yourselves; it is the gift of God, not of works, lest anyone should boast." Ephesians 2:8-9
4. A Christ-Centered Marriage Has Good Communication
As Christians, we are called to fellowship. Communication involves speaking and listening to one another. My husband and I are very different.
I talk way more than he does so sometimes it takes some effort on my part to be patient and not get frustrated when I'm trying to communicate with him. Thankfully, we are on the same page with God as our center.
If we have a disagreement we know that we both agree on one thing and that is the Bible.
"Confess your trespasses to one another, and pray for one another, that you may be healed. The effective, fervent prayer of a righteous man avails much." James 5:16
5. A Christ-Centered Marriage Has Sacrificial Love
Jesus is the greatest example of sacrificial love by dying on the cross for us. We need to "die to self" in our marriage.
We need to live selflessly. We need to focus on what's best for our spouses. I have a tendency of thinking about myself without realizing it so I have to try really hard to put my husband's needs before mine.
"Husbands, love your wives, just as Christ also loved the church and gave Himself for her," Ephesians 5:25
6. A Christ-Centered Marriage Makes Intimacy a Priority
There are different aspects of intimacy. God created a special type of intimacy for marriage alone. We need intimacy in our marriage to help us grow together.
There's a special bond that takes place between a husband and wife. When my kids were young, I neglected my husband because I was so caught up in raising my kids. We were definitely off balance and I'm thankful the Lord woke me up in this area.
"Therefore a man shall leave his father and mother and be joined to his wife, and they shall become one flesh." Genesis 2:24
7. A Christ-Centered Marriage Hopes in the Lord
This world can really grab our attention. We can find ourselves focusing too much on our kids, homes, cars, careers….you name it!
We need to keep our focus on the Lord and His promises. Things can and will disappoint us in life. Together husband and wife need to treasure their hope in Christ more than all the temporal things in this world. He will never disappoint us.
For the Scripture says, "Whoever believes on Him will not be put to shame." Romans 10:11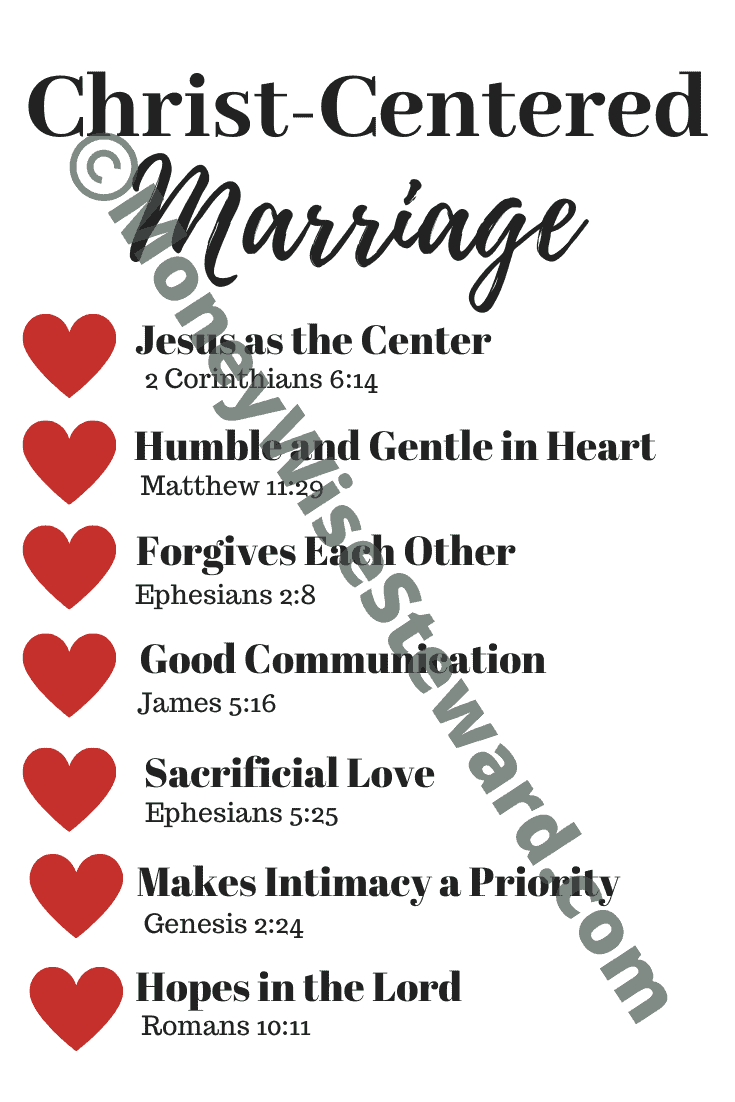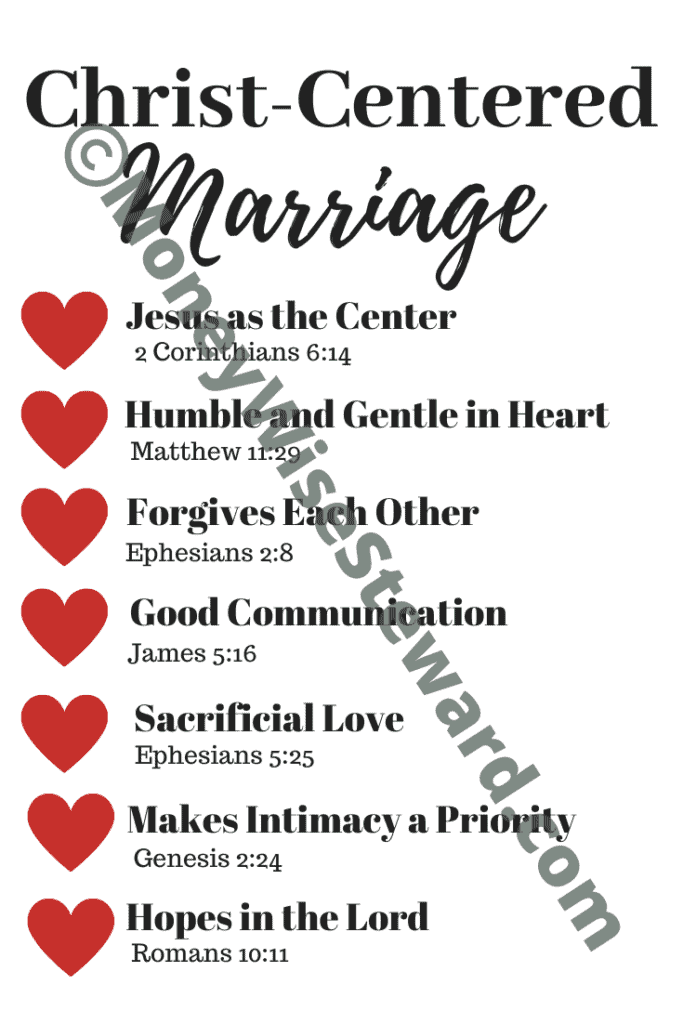 A Christ-Centered Relationship Takes Time
One thing that I have to constantly remind myself is that I am called to walk in obedience to Christ (2 John 1:6). There were times when I felt like my marriage was in a bad place.
The only one who could fix it was Christ. When I surrendered and gave it to Christ, He always came through. It's the trials we endure that make us stronger and rely on Christ (James 1:2).
Being a Biblical wife is an ongoing goal for me. Showing your husband that you love him is such an important part of that. Don't let anyone give you the impression that they have the perfect marriage. No marriage is perfect. It can only come close with Christ as the center because He is perfect.