3 Bible Journaling Ideas That You Can Start Today!
This article may contain affiliate links. I may earn money from the companies mentioned in this post with no additional cost to you. Please read my disclosure policy for more info. All Bible quotations are from the New King James Version (NKJV) unless otherwise stated Bible Copyright Attribution.
Nothing is as frustrating as trying a new habit, and realizing it just…doesn't…work. Creating habits that have long-term successes are often difficult to sustain.
But have no fear! If you've wanted to get into Bible journaling as a way to add value to your devotionals or to capture those sweet moments with the Lord, I have strategies for you that will definitely work.
What is Bible Journaling?
Bible journaling is a creative way to connect with God through scripture. Creating Bible art is not only beautiful but it can take you into a spiritual connection with the Lord through your creativity.
Bible art journaling can be physically beautiful but that's not the purpose of Bible journaling. The purpose of Bible journaling is the process of connecting with scripture and growing in your walk with the Lord.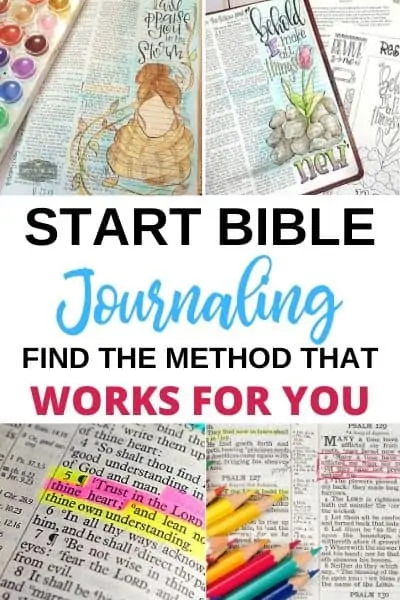 How to Journal in Your Bible
Learning how to start Bible journaling can take some thought. These Bible journaling ideas are intended to help you narrow down your journaling style.
By understanding your personality type, you can start Bible journaling today and develop a habit for long-term success. Read through each type of Bible journal method below to determine what type of Bible journaling method works for you.
Once you have a great idea of what TYPE of Bible Journaler you are, you can proceed forward confidently, knowing that your type will help strengthen your new habits.
Bible Journaling Methods
1. The Bullet Point Journaler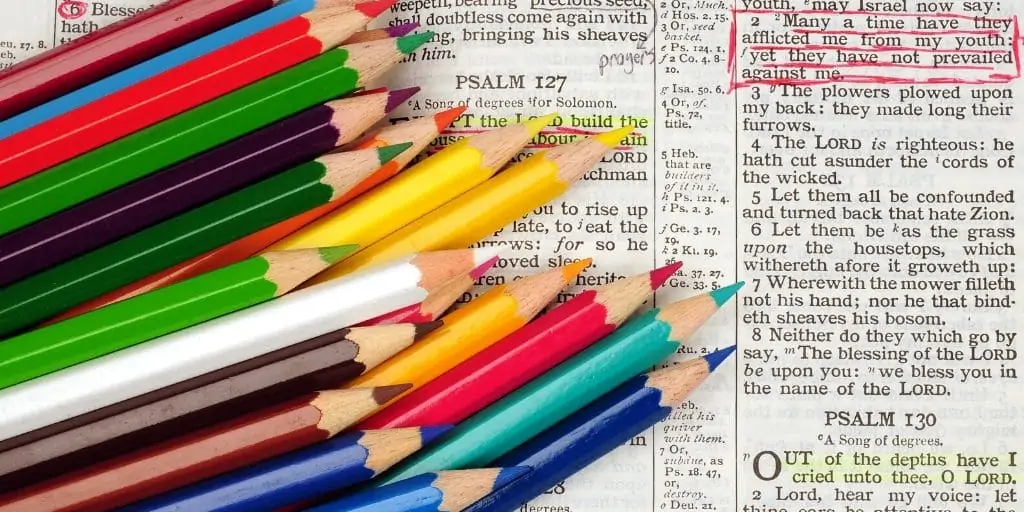 The Bullet Point Journaler is a person who loves making outlines and creating a real depth of understanding in their journal entries. They often want to write everything down, but can't for time's sake! So here are a few key ideas for bullet point journal entries:
The key Bible verse for bullet journalers is Habakkuk 2:2-3, ESV:
"Write the vision; make it plain on tablets, so he may run who reads it. For still the vision awaits its appointed time; it hastens to the end—it will not lie. If it seems slow, wait for it; it will surely come; it will not delay."
2. The Art Journaler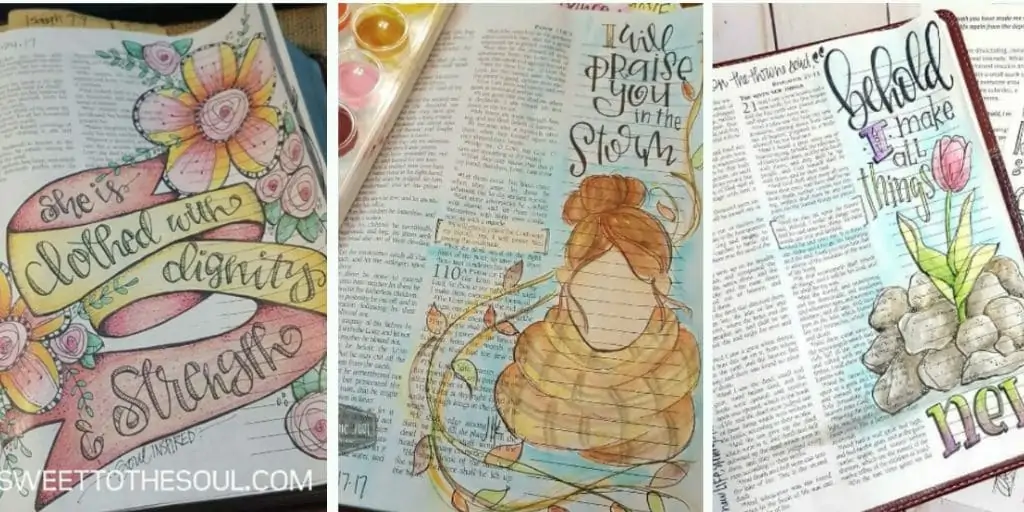 *Here is an example of how detailed you can get in your Bible Journaling. These are images from my friend over at Sweet to the Soul. She has tons of examples and has a shop you should check out.*
The Art Journaler is the journaler who gathers up lots of creative ways to understand their time in God's Word. They often doodle about concepts, experiment with artistic ways of presenting Biblical ideas, and enjoy having the time to creatively engage God's Word. Here are a few important ideas for Bible journalers.
Consider purchasing a watercolor journal. These are unlined and have thick pages that can stand up to a variety of artistic applications, including paint.
Consider incorporating new techniques or media into your art journaling. This allows you to discover a wide variety of ways to consider the Word of God in your life.
Remember that God Himself is a creator and He loves it when we use art to create images that give Him glory.
Use Pinterest to gather inspiration about art journaling, and to add flavor to your creative inspiration.
Instead of directly reproducing the images of your Bible reading, consider creating art journals that capture the feeling you had when you read the passage or the abstract themes.
The key Bible verse for Art Journalers is Psalm 104:24, NIV
"How many are your works, Lord! In wisdom you made them all; the earth is full of your creatures"
3. The Audio Learner
Often, I find that people who want to Bible journal have failed because they are audio learners. There are lots of great ways to Bible journal, however, if you are an audio learner. Here are some tips to get started.
Find a great audio version of the Bible and listen to it. Consider which types of readers you enjoy, which gender, how dramatic, etc.
Once you listen to the Bible, record your thoughts on a voice recorder.
Have those thoughts transcribed with programs such as Inqscribe.
Once you see the notes transcribed in front of you, highlight the parts that really stand out to you.
Keep these highlighted notes as a way to look over your journals for years to come.
The key Bible verse for Audio Learners is James 1:22-25, NKJV
"But be doers of the word, and not hearers only, deceiving yourselves. For if anyone is a hearer of the word and not a doer, he is like a man observing his natural face in a mirror; for he observes himself, goes away, and immediately forgets what kind of man he was. But he who looks into the perfect law of liberty and continues in it, and is not a forgetful hearer but a doer of the work, this one will be blessed in what he does."
Bible Journaling Ideas
Getting started on your Bible journaling adventure may be puzzling. Hopefully, you've found your Bible journaling personality and the tips above have been helpful.
Some people may cringe when thinking about writing in their Bibles. The truth is, if you want to Bible journal, you're going to need to do some sort of writing in your Bible.
Taking the first step can be hard but don't let it intimidate you. Try starting with your favorite Bible verse and go from there. It may help to start in a comfortable place.
Bible Journaling Supplies
Having the right tools for your Bible journaling is important. Here are some of my favorite Bible journaling supplies. It's important to choose good quality journaling supplies so they don't ruin your Bible journal. Here are the supplies I recommend.
Sale
Sale
Sale
Derwent Inktense Pencils Tin, Set of 12, Great for Holiday Gifts, 4mm Round Core, Firm Texture, Watersoluble, Ideal for Watercolor, Drawing, Coloring and Painting on Paper and Fabric (0700928)
VIBRANT SHADES – The round 4mm soft lead core is perfect for bold expressive drawings. The highly pigmented colour is easy to apply and produces a vibrant finish. Includes a range of 12 colours. Give the gift of creativity this holiday season!
WATER SOLUBLE – Expand your creative possibilities. Water soluble pencils can be used dry for expressive drawings, or washed out with water to create a bright, yet translucent ink-like effect.
PERMANENT COLOUR – Pigments dry quickly and permanently when washed out, minimizing colour bleeding. Once dry, colours can be placed next to each other or layered, without fear of colour bleeding.
SURFACE VARIETY – Switch up your artistic canvas. As the colour dries permanently, it's great on fabrics such as silk or cotton. Can also easily be used on paper. Modify the use to fit your project.
COLOUR CREATION – Make custom shades by mixing colours together. You can also obtain lighter shades of the same colour by adding water. Mix colours to create a truly unique piece of art.
What Type of Bible Journaler are you?
As you begin to move through these new ways of Bible Journaling, think about the important point; that is, God wants you to have a transformative experience reading His Word whatever your personality type is.
Don't compare your efforts with another, just strive to let God help you be the best YOU can be!
I'd love to hear about your Bible journal method. Let me know in the comments below.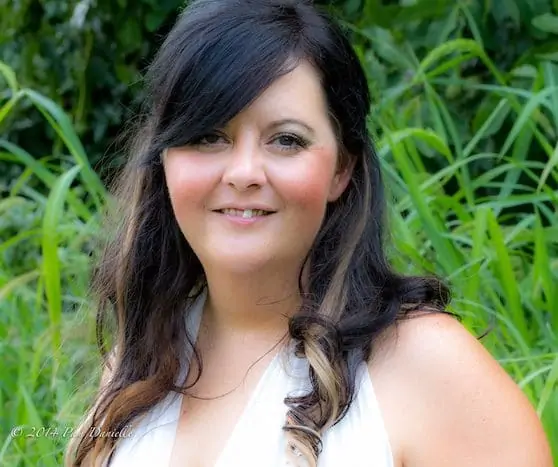 Angela Meer hosts the podcast "God-Sized Dreams in Bite-Sized Chunks" wherever you get your podcast. She helps everyday Christians jumpstart their dreams in God, whether it be business, ministry, non-profit, creativity, or writing a book. Her blog and podcast can be found at Angela Meer. Angela and her husband run a ministry and business in southern Oregon while raising two wily cats, Benny and Diego Montoya.