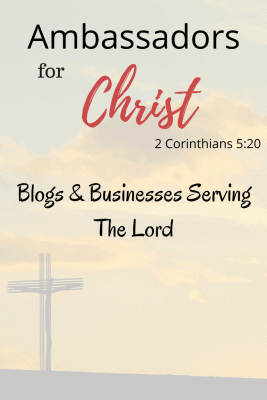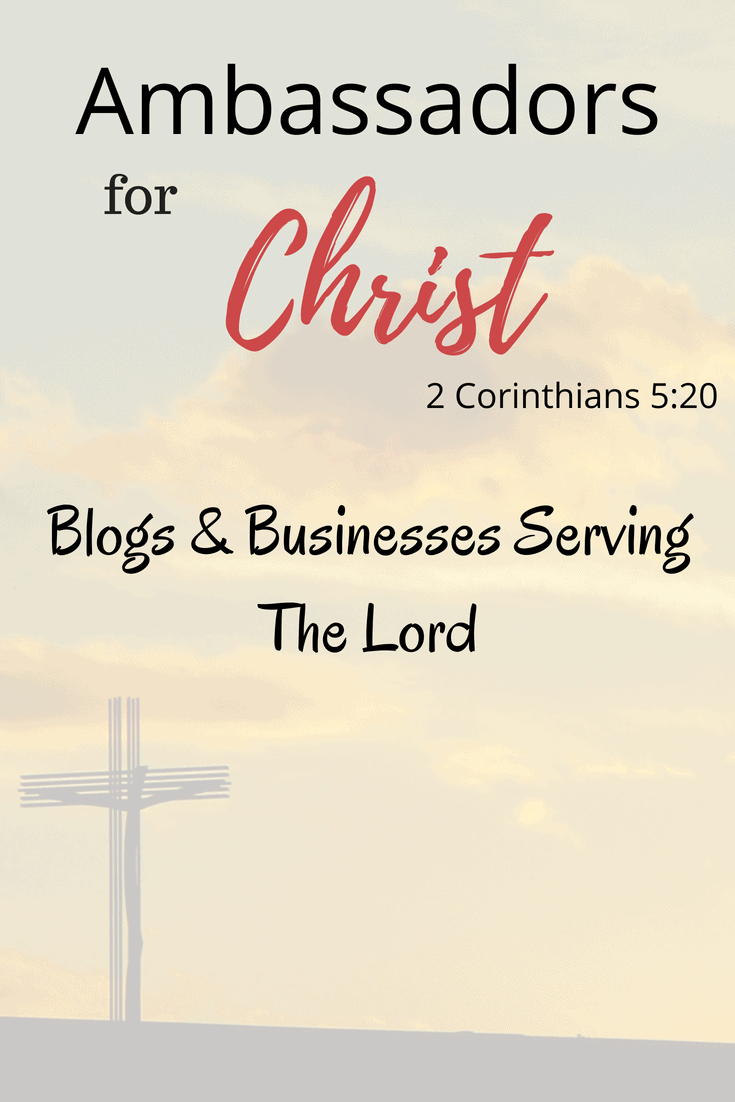 Welcome to the Ambassadors for Christ page! I found Jesus about 10 years ago and He saved my soul. I want everyone to know about Him. There are so many ways to grow in our walk with Christ. One way is through amazing bloggers and businesses.
After lots of prayer, the Lord put on my heart that we are Ambassadors for Christ. We need to come together and represent Him. That's how this page was born. I'm excited to share all the amazing blogs and businesses that glorify Him. This page is a "one-stop" place to find all types of blogs and businesses that honor the Lord. Please take a few moments to look through the blogs and businesses listed on this page.
"Now then, we are ambassadors for Christ, as though God were pleading through us: we implore you on Christ's behalf, be reconciled to God." 2 Corinthians 5:20 (NKJV)
I'm currently working to find more blogs and businesses to add to this page. If you are a blog or a business that is interested in being on this page, click this Ambassadors for Christ link to get started.
Ambassadors for Christ
A Radiant Face – Faith encourages women to pursue Christ above all else. She also talks about marriage, motherhood, homemaking, and health.
Gift of Simple – Pam blogs about Bible study, prayer, simple recipes, simple DIY projects, and gifts.
His Own Heart Ministries – Weekly devotional blog of His Own Heart Ministries. Pursuing God in day-to-day life through a deliberate, personal relationship with His Son changes EVERYTHING about the journey…Come alongside us and see!
Letters from a Pastor's Kids – A blog to help others feel a little less lonely, coming from the perspective of a now-adult pastor's kid, written for everyone but with the lonely and isolated in mind.
Mama Needs More Coffee – Christi writes about motherhood, marriage, faith, homeschool and much more. Check out the book she recently published called "Living on Coffee and Prayer".
My Song, My Strength – Megan's blog shares about her journey of faith as a Christian single mom, educates on peanut allergies and also shares delicious family recipes.
Prescott as Cool Breeze – Prescott shares about family and marriage that uplifts and gives hope. She also has a t-shirt business through Merch by Amazon that has Christian based t-shirts with verses that are funny and inspirational.
With Willing Hands – Desiree's blog is geared toward women of all ages who are on a journey to becoming a Proverbs 31 Woman.
Word by Design – Donna is a photographer and artist/writer that creates visual pieces to encourage and edify people with God's word
Worth Beyond Rubies – A Christian blog encouraging women and sharing the Jewish roots of the faith.