9 Essential Tips to Become an Ambassador for Christ
This article may contain affiliate links. I may earn money from the companies mentioned in this post with no additional cost to you. Please read my disclosure policy for more info. All Bible quotations are from the New King James Version (NKJV) unless otherwise stated Bible Copyright Attribution.
At some point in our lives, we are all faced with deciding whether to follow Jesus Christ. I decided to follow Him in my early 20s because I was a slave to my sins and He was the only way out.
After studying the Bible, I learned that the Bible calls us to be Ambassadors for Christ. It states that we should be representing Him and sharing His message with the world.
2 Corinthians 5:20, NKJV says:
"Now then, we are ambassadors for Christ, as though God were pleading through us: we implore you on Christ's behalf, be reconciled to God."
This Bible verse means that we have a responsibility to share God's love and the Truth of the Bible with the people around us.
An ambassador is someone who represents a group or a brand so that means if we are Ambassadors for Christ, we should be representing Jesus not just ourselves.
We should be living a life that reflects Christ. Thankfully, Jesus gave us a visual representation of who He is when He walked the earth. This means we need to study the Bible to find everything we need to know about Him.
My hope in writing this post is that you will see and understand the privilege we have in representing Jesus Christ as His Ambassadors.
What is an Ambassador for Christ in the Bible?
An Ambassador for Christ in the Bible is a representative of Christ. Being an Ambassador for Christ goes beyond the title, it's a calling. It means that we are to represent Christ in all things:
What we do
What we say
How we live
We should be showing His love and grace to those around us. We need to remember that we are not alone in this. The Holy Spirit will teach and guide us in all things.
"But the Helper, the Holy Spirit, whom the Father will send in My name, He will teach you all things, and bring to your remembrance all things that I said to you." John 14:26 NKJV
We can trust God to equip us with what we need for this calling. He is faithful to provide us with the strength and wisdom we need.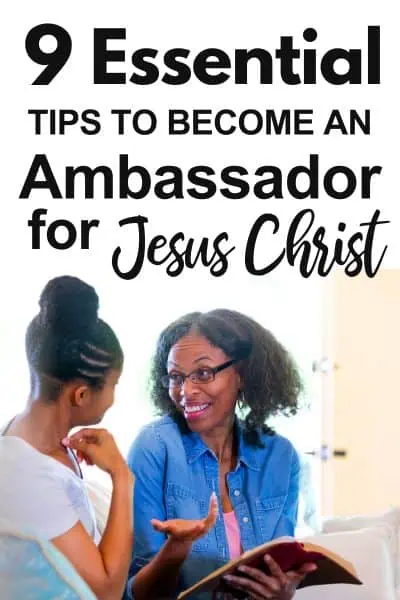 Living as an Ambassador for Christ
Making the decision to be an Ambassador for Christ means you are called to represent Him in everything you do. You are to be a light in the darkness. Your attitudes, words, and lives should reflect our Savior.
You have been given the responsibility of sharing the message of salvation with others so they can decide to enter into a relationship with Jesus. We should also be willing to plead with others to repent of their sins and accept the grace Jesus offers them.
This can be hard but as I mentioned above, as Christians, we have received the Holy Spirit and He will help us. I encourage you to pray and ask the Lord to fill your heart with love and compassion for others.
Becoming an Ambassador for Christ
As Ambassadors of Christ, you need to show fruit in your life and certain qualities to be successful in your role. Modeling who Christ is will show other people that you are a true follower of Jesus.
Here are some ways you can prepare yourself to step out in your faith and represent Jesus everywhere you are.
1. Study the Bible
In order to share Christ with others, you need to know who He is. Learning how to study the Bible will help you get a deeper understanding so you can confidently represent Him.
It's important to remember that we are all subject to sin and the only perfect example is Jesus. Give yourself grace and remember that the Holy Spirit will guide you.
As with anything, pray and ask Jesus to help you understand the Bible as you study.
2. Be a Good Example of Christ
The Bible is full of examples of who Christ is. It shows us what He did on earth, and how we should live our lives to properly represent Him.
Being a living example shows others how important your relationship is with Him. We can't say we are Ambassadors for Christ if we truly don't have the heart to serve him.
3. Participate in Social Activities
There are many ways to participate in social activities. One way is to get involved with a church and participate in the activities or Bible study groups they offer.
Another way to get connected is with your local community or neighborhood. Many cities have activities that they offer to get people connected. My neighborhood for example hosts potluck block parties where many of the neighbors connect.
We shouldn't dismiss social media. We live in a day where social media is really popular. Some people struggle with having social media accounts while others feel like they need them to survive. Social media platforms can be beneficial to your mission if you have a good intention.
4. Be Ready to Share God's Word
This goes hand in hand with knowing your Bible. If you put time into studying God's Word then you will be equipped with sharing the Truth.
Don't allow yourself to be intimidated by this. No one can retain everything in the Bible so it's important to pray and ask the Lord to guide you.
I've had situations personally where the Holy Spirit stepped in on my conversation and my mouth spoke exactly what the person needed to hear. We need to allow ourselves to be vessels for the Lord to work through.
5. Build Relationships that Honor God
We need to build uplifting relationships as Ambassadors of Christ. Finding like-minded people will sharpen (Proverbs 27:17) you and support you in your calling.
Get involved with a local church or a ministry and share your calling with others. You never know, they may be called as well and join you.
You could get a team together to attend events and share the good news of the gospel while building relationships that honor God.
6. Have a Humble Heart
When we become knowledgeable in the Bible, it's easy to become prideful in our knowledge. Our sinful nature may cause us to think we are above others. We need to turn from that and be humble.
The Bible says that whoever is first will be last in the Kingdom (Matthew 19:30). It's important to have compassion and realize that not everyone is at the same level of Biblical knowledge.
If we have a humble heart the message of the Bible will be better received and it will demonstrate who Christ is.
7. Be Willing to Share Your Testimony
Most Christians have a testimony of what brought them into their relationship with Christ. A testimony is a powerful way to share God's Word because it shows how great our God is.
If He can change you, He can change the person you are sharing with. It's a humble way of sharing that you need Jesus in your life. This isn't something you should be embarrassed about.
Instead, use it as a tool to let others know that God works in everyone's life and God's love will never fail them.
8. Seek God's Plan for Your Life
Allowing God to carry out His will for your life can be scary. I know it scared me but that's because I didn't have trust in the Lord. If we trust Him then we know that His plan for our lives is a better plan than our own.
We don't always have a clear vision of His plan for our lives but we can seek it through prayer, worship, and the Bible. We need to be open to the ways He wants to speak to us.
9. Stand Firm in God's Word
Standing firm on God's Word is important because if we waver we may show a negative example of who Christ is. As I mentioned above, we are subject to making mistakes due to our sinful nature but this doesn't give us an excuse to misrepresent Christ.
If you find that you are unable to stand on God's Word, take a step back and pray to Jesus for guidance to get back on track.
We already live in a world where the Truth of the Bible is blurred so as Ambassadors of Christ, it is important that we stand firm and not waver on the Truth.
We are Ambassadors for Christ
In this article, I shared how to become an Ambassador of Christ. It's important to remember that you don't have to be an Ambassador if you aren't feeling called to be.
Claiming that we are Ambassadors for Christ when we aren't equipped properly can cause confusion in others. If you are a Christian and you don't feel called, I encourage you to continue on your journey of learning who Jesus is.
Seek the Lord and ask Him to give you the desire to share His Word with others. In time, you will have enough knowledge and confidence in the Lord to share His Word.
Are you feeling called to be an Ambassador for Christ? I'd love to hear about your journey.