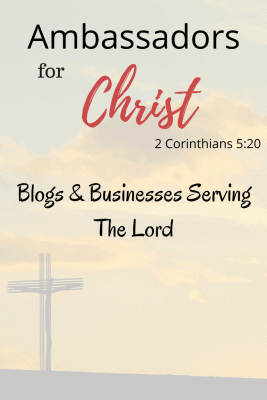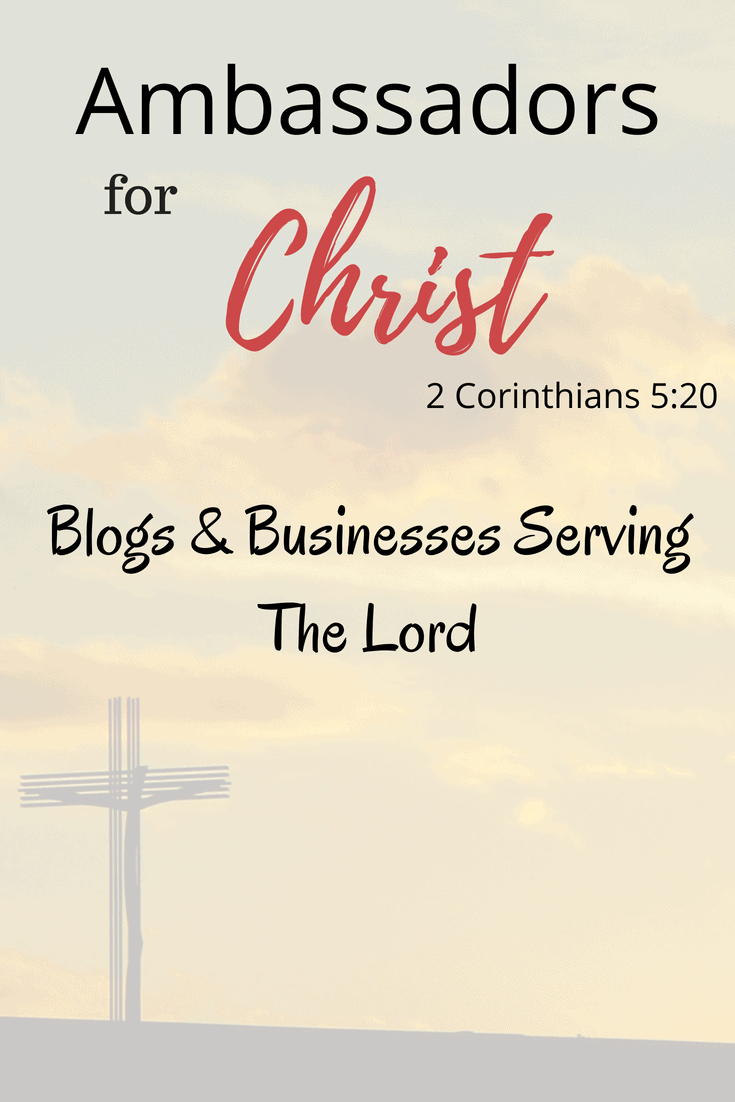 Welcome to the Ambassadors for Christ page! I found Jesus about 10 years ago and He saved my soul. I want everyone to know about Him. There are so many ways to grow in our walk with Christ. One way is through amazing bloggers and businesses.
After lots of prayer, the Lord put on my heart that we are Ambassadors for Christ. We need to come together and represent Him. That's how this page was born. I'm excited to share all the amazing blogs and businesses that glorify Him.
This page is a "one-stop" place to find all types of blogs and businesses that honor the Lord. Please take a few moments to look through the blogs and businesses listed on this page.
"Now then, we are ambassadors for Christ, as though God were pleading through us: we implore you on Christ's behalf, be reconciled to God." 2 Corinthians 5:20 (NKJV)
If you are a blog or a business that is interested in being on this page, click this Ambassadors for Christ link to get started.
Ambassadors for Christ
A Radiant Face – Faith encourages women to pursue Christ above all else. She also talks about marriage, motherhood, homemaking, and health.
Finding God Among Us – Shirley Alarie's love for Jesus was the motivation behind her true-story inspirational books. 'A Healing Haven' and 'Hope in the Hood' were both written to support amazing Angels on Earth. Need a dose of inspiration? Finding God Among Us has just what you need!
Himitsu Study – Ayomikun's blog focuses on the study of prophecy, end times, as well as providing historical, archeological, and scientific evidence for the bible. He also tackles questions such as "Why does God allow evil?".
His Own Heart Ministries – Weekly devotional blog of His Own Heart Ministries. Pursuing God in day-to-day life through a deliberate, personal relationship with His Son changes EVERYTHING about the journey…Come alongside us and see!
Jesus Loves Melodie Hot Mess – Jesus taught me how to save money when I retired from the Air Force in 2012. I love to share ways to save money. My goal is to get out of debt so I can give more to charities like Samaritan Purse.
Journeying by Faith – Lureta's blog focuses on encouraging women in our everyday journey.
Katalambano It – Lolita writes a spirit-filled blog that encourages women to challenge the status quo, break their chains and OWN their "IT".
Keeping The Tie That Binds – Angela is a Christian marriage and family blogger where her desire is to build stronger marriages and families to better serve the Lord.
Kylie's Corner & More – Kylie blogs about struggles, Jesus, beauty in God's eyes, and more! Her goal is to lead her readers to God. She love's inspiring people. Her blog is for young women as well!
Life Management for Moms – Rose's blog is to help moms and moms-to-be get clarity and confidence about their life now. It provides organizational tips and resources to get you back in control of your life. If you are having trouble getting ahold of where life is taking you, start with her Hope for Mom Prayer Challenge.
Living Fiercely Loved – Living Fiercely Loved provides Christian moms and wives with a rediscovery of their purpose and identity. I do this by mixing coaching, counseling, inner healing, and prophetic insight to help you find your power, voice, purpose, and identity. I walk with you every step of the way encouraging you as you encounter the unique way God speaks to You!
Mama Needs More Coffee – Christi writes about motherhood, marriage, faith, homeschool and much more. Check out the book she recently published called "Living on Coffee and Prayer".
Minding the Kings – Jennifer runs a faith and family blog. Her goal is to be an inspiration for Christ-following and family living. She writes devotionals and posts about parenting, marriage, and recipes. You'll also find some craft and homemaking advice too!
Momspirational Life – Tabitha shares about her growth in Christ. She shares what she learns because she wants to help others. Her blog also includes other topics like DIY and tips that would help others. She is a deaf Army wife and her blog allows her to share God's loving Hands through her own experiences.
Revival in Christ – Gilberto's blog is dedicated to spreading the Gospel of Jesus Christ. He wants to make an impact in the world. He knows he's imperfect but if there's anything he can do to let others know about God and serve that way, he wants to do it.
The Light Breaks Through – If you are seeking ways to help your congregation better reach its neighborhood. Or you are looking to grow as a leader. It's conceivable the system and culture are crushing you, and you need consolation. If inspiration is what you are pursuing you will find it here, if you want to grow as a leader, I will challenge you to do that. If you want your church to just improve and add people in the pew, this blog may not be suitable for you. The world is changing and our old ways of connecting isn't working. This blog will test your traditional views of church and ministry, it may stretch you beyond your comfort zone.
The Woman's Worth – Sarah writes to encourage women to succeed in their marriage relationship and also to grow in their faith.
Willful Realignment – Teresa promotes intentional living and Kingdom citizenship that leads to an excellent, purposeful, Spirit-led, God aligned life. Christians are taught how to cultivate intention and to Be ReAligned with who they were created to be.
With Willing Hands – Desiree's blog is geared toward women of all ages who are on a journey to becoming a Proverbs 31 Woman.
Women's Tabletop Friendship – Cindy writes to women as we celebrate our faith in the Lord Jesus Christ and learn about friendships, both online and in their neighborhoods. As we 'get real,' we will learn what the Bible says on various topics relating to our everyday life.
Word by Design – Donna is a photographer and artist/writer that creates visual pieces to encourage and edify people with God's word
Worth Beyond Rubies – A Christian blog encouraging women and sharing the Jewish roots of the faith.
If you are a blog or a business that is interested in being on this page, click this Ambassadors for Christ link to get started.