Our ThredUp Review Plus! Get a Free $10 Credit
This article may contain affiliate links. I may earn money from the companies mentioned in this post with no additional cost to you. Please read my disclosure policy for more info. All Bible quotations are from the New King James Version (NKJV) unless otherwise stated Bible Copyright Attribution.
I'm always looking for different ways to save money.  Today, I want to share our thredUp review. Buying used clothing online is one of the ways we save money with our family of 5. If you want to save money, you need to decide how you are going to save.
I personally get burnt out on saving money. If you are like me, I recommend that you check out my tips on the best ways to save money. There are several easy ways to save without getting burnt out.
We all know that clothing can get really expensive. It's one of those things that can get really out of control especially with us being a family of 5. I'm not really into clothing. I love t-shirt's and jeans so I'm pretty easy to please when it comes to clothing.
Just to give you an example, my favorite t-shirts are at Walmart and they are usually only $2. I get my favorite jeans at Old Navy when they are on sale for $15. My hubby and son are pretty easy going with clothes too.
My biggest challenge is with my 13-year-old daughters. They are crazy about clothes! I've tried to fix their clothing addiction but it hasn't worked. I've accepted that it's just who they are.
I've had to lay down a few rules to manage this issue. The rule is… I only buy them what they need and they buy everything else with their own money. The good news is that they are learning how to get more for their money while shopping.
thredUp Review
One of their favorite ways to save big is by buying used clothing from thredUp. We have thrift stores in our area but the selection isn't very big. Living in a small town makes it tough because the selection is really limited. So, the next option was to try buying used clothing online.
We got on the internet and found thredUp. They agreed to try thredUp because they've been around for several years and it looked like they had a great selection.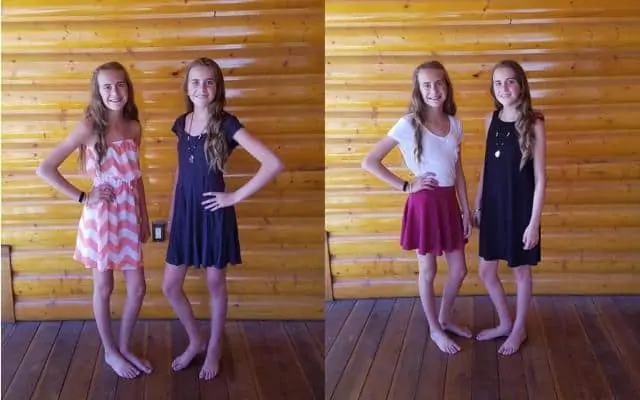 Pictured above are the cute clothes my girls recently got from thredUp. They were able to save over half the cost by buying used clothing online. And… the clothes are cute!


One of my favorite parts is that the thredUp website is really easy to navigate. There's nothing more frustrating than searching for used clothes online if the website is hard to navigate. They have all different categories to help you search. You can search by your size, style, price, etc. They also have items that are brand new with the original tags for up to 90% off!

They provide detailed information about each item. They tell you the brand name, size, and if there is any damage to the item. Overall, it's super easy to shop and is a pleasant shopping experience. We've ordered from them multiple times and have been so happy with the items we've received.
Related articles:
Thredup is a company I trust and recommend based on my own experience. There are probably other stores that sell used clothing online but I like to share based on personal experience. Thredup has made it fun and easy for my girls to find clothes they like at a fraction of the price.
Another cool thing is that if you're interested in trying out Thredup, you can get a free $10 credit to use toward your first purchase. Click this $10 credit for Thredup link to get started.
Do you buy used clothing online? I'd love to hear about your experience.
Disclosure: The opinions of this thredUp review are my own. We didn't receive anything from thredUp to write this review. We just want to share how much we love them!