4 Important Truths The Bible Says About Money
This article may contain affiliate links. I may earn money from the companies mentioned in this post with no additional cost to you. Please read my disclosure policy for more info. All Bible quotations are from the New King James Version (NKJV) unless otherwise stated Bible Copyright Attribution.
Have you heard the phrase "money makes the world go round"? This phrase may be true for unsaved people who live to make money but should this phrase be true for Christians?
While money is not a bad thing, should it make Christians in the world go around like the phrase states?
What Does The Bible Say About Money?
Should we focus on Heaven or on becoming financially successful on Earth?
In this post, I'm going to share amazing and shocking truths about money in the Bible. I'm praying that you will learn incredible truths about what the Bible says about money.
And that these truths will cast out any doubt about what your Christian attitude should be towards money. So, let's discover what these 4 incredible truths in God's Word say about money.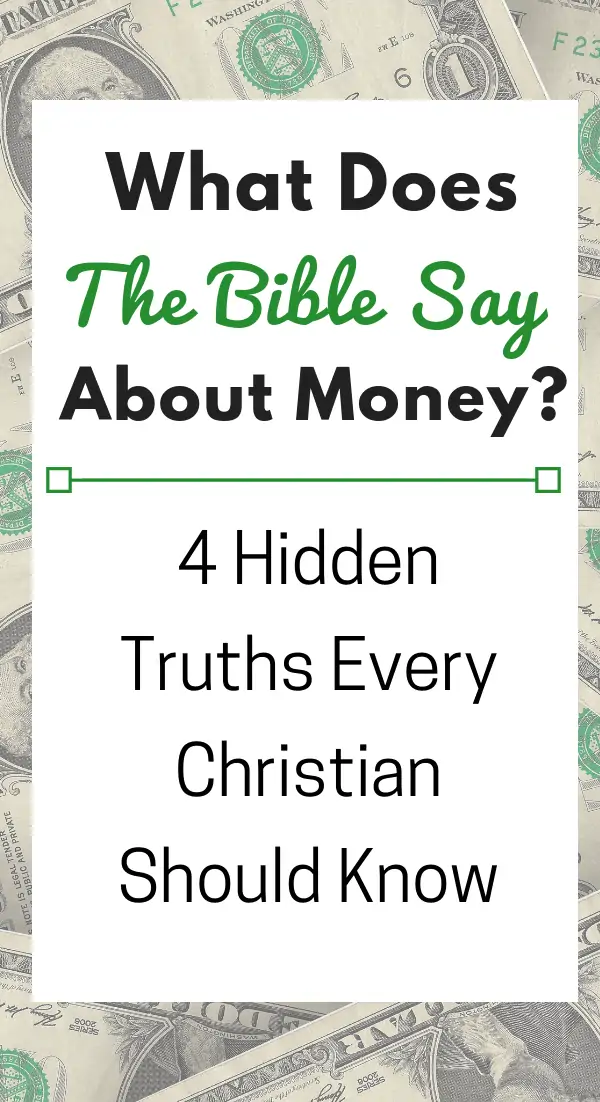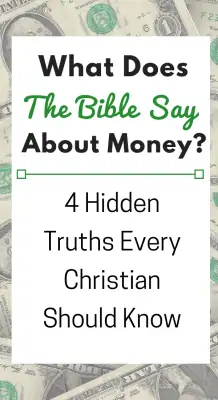 1. God Will Always Provide For Those Who Love Him
I don't know how the local economy of your area, region, or country is but God will always provide for those who love Him. This truth is something we find in Psalm 34:9-10:
"Oh, fear the Lord, you His saints! There is no want to those who fear Him. The young lions lack and suffer hunger; But those who seek the Lord shall not lack any good thing". Psalm 34:9-10 NKJV
As well as in Matthew 6:31-33:
 "Therefore do not worry, saying, 'What shall we eat?' or 'What shall we drink?' or 'What shall we wear?' For after all these things the Gentiles seek. For your heavenly Father knows that you need all these things. But seek first the kingdom of God and His righteousness, and all these things shall be added to you." NKJV
What Christianity do we preach? We preach a Christianity of truth and let me tell you that I have NEVER seen this promise from the Lord not come true.
There was a Christian man in my church who was unemployed and desperately looking for a job. He said he was running out of his emergency savings and was stressed and worried (Read more about what the Bible says about stress).
What a situation right? Imagine being in a situation when you are about to become homeless because you can't manage to get a job.
A brother in my church told me that he prayed that God would give this man a job. After he prayed, you'll be shocked by what happened. A position he had previously applied for (that had already rejected him) suddenly called him and offered him a job on the spot. What an amazing praise. We truly serve an amazing God, He is faithful!
Now, does Matthew 6:33 and Psalm 34:9 indicate that we should preach and scream a prosperity gospel that"God wants you to be rich" on the rooftops? Let's continue with the second truth.
2. Being Rich Is Not Always A Good Thing
If you care about how you look in the eyes of God, and what God thinks when he looks at you, then it will benefit you to know that being rich is not always a good thing.
Why is this? Let's take a look at what shockingly happened to Christians who were rich a long time ago: (I'm ALWAYS shocked by this):
Let's look at this in Revelation 3:17:
"Because you say, 'I am rich, have become wealthy, and have need of nothing'—and do not know that you are wretched, miserable, poor, blind, and naked". (NKJV)
And look at what else the Lord said about them in Revelation 3:14-16:
"And to the angel of the church of the Laodiceans write, these things says the Amen, the Faithful and True Witness, the Beginning of the creation of God: I know your works, that you are neither cold nor hot. I could wish you were cold or hot. So then, because you are lukewarm, and neither cold nor hot, I will vomit you out of My mouth". (NKJV)
Historians state that Laodicea was a banking town, an affluent center of commerce. As a result, these Christians were blessed with real wealth. But the price that came with wealth for these Christians cost them their salvation.
They became lukewarm Christians with a heart filled with pride, conceit, and materialism. You will never hear those "prosperity" teachers that keep popping around everywhere preaching this message.
This is what our Lord stated in Matthew 19:23:
"Then Jesus said to His disciples, "Assuredly, I say to you that it is hard for a rich man to enter the kingdom of heaven. And again I say to you, it is easier for a camel to go through the eye of a needle than for a rich man to enter the kingdom of God." (NKJV)
This truth never ceases to amaze me. And now, one additional Scripture that sets the truth on this subject is Proverbs 30:8-9.
Christian women talk a lot about becoming Proverbs 31 women. I presume that all of them want to become one, but what about becoming a Proverbs 30 woman?
Proverbs 30:8-9 states:
"Give me neither poverty nor riches—feed me with the food allotted to me; lest I be full and deny You, and say, "Who is the Lord?" Or lest I be poor and steal, And profane the name of my God". (NKJV)
And even better, Proverbs 30 doesn't just apply to women but to men also.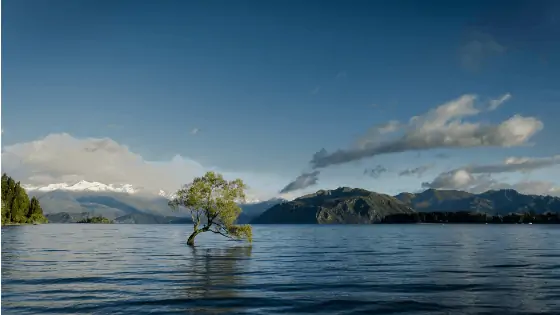 3. Money Must Be Hard-Earned
Contrary to nonsensical communist ideas from Karl Marx, Christianity is not a religion where we are taught to "sit down and only think about heaven" and never work hard. Sure, we focus on the kingdom of Heaven while also working hard on Earth. We find this in 2 Thessalonians 3:10:
"For even when we were with you, we commanded you this: If anyone will not work, neither shall he eat". (NKJV)
And also in Proverbs 12:27:
"The lazy man does not roast what he took in hunting, But diligence is man's precious possession". (NKJV)
Our God is an amazing God who encourages us to work hard. How great He is!
4. We Should Donate To Those In Need
Speaking of monetary resources, a Christian post about money could never be complete without charity, but only the right kind of charity and tithing.
Notice how I didn't say "We should donate to the poor". Yes, we should, of course, donate to the poor, but sometimes the closest people to us and brothers and sisters in the church are in more need than the poor.
Notice what the Lord says in Matthew 25:35-36:
"For I was hungry and you gave Me food; I was thirsty and you gave Me drink; I was a stranger and you took Me in; I was naked and you clothed Me; I was sick and you visited Me; I was in prison and you came to Me." (NKJV)
It doesn't have to be a monetary donation to be a donation. You can also bless others by donating your time with the little things you have with the closest people to you who are in need.
There are always people in need around us. They don't always need to be poor to be in need.
Money In The Bible
In a broken world that is literally enslaved by economic and financial circumstances. The Word of God provides true freedom and peace of mind for the Christian, who will lack nothing in this world. He gives us the strength to overcome our trials.
Glory be to our amazing God who moves mountains and keeps His promises.
About the author: Joseph Monroe is a Christian blogger that writes Christ-centered devotions at his website Redeemer Savior. He is an Apologist, a bilingual speaker, and just someone who really loves Jesus.