9 Free Printable Budget Worksheets That You Need
This article may contain affiliate links. I may earn money from the companies mentioned in this post with no additional cost to you. Please read my disclosure policy for more info. All Bible quotations are from the New King James Version (NKJV) unless otherwise stated Bible Copyright Attribution.
Making the decision to start a budget is an important step to financial freedom. Many people have no idea where their money goes and as a result, they end up in debt.
I created these free printable budget worksheets to help you achieve your financial goals. There is no need to pay for printable budget sheets. Save your money and use these printables as a printable budget planner at no cost to you.
As you know, this site is about being wise with your money. I provide information on budgeting and saving money all from my personal experience.
Being a good steward of money is a personal conviction of mine. The Lord has placed it on my heart to share my experience with money and I love to share all the wisdom He has given me. https://www.moneywisesteward.com/web-stories/free-budget-planner/
Why Should You Use A Printable Budget Planner?
My husband and I have been on quite the financial journey. I started out as a real estate agent back in 2002 with no intention of stopping. Once we decided to have kids, I stopped working and we had to learn how to live on one income.
We were also in over $35,000 of debt at that time and we had to focus on paying that off. We basically got rid of everything and started over. Read more about us and our money journey.
The most important thing we learned in our financial journey was to stop spending money on things we couldn't afford. These printable budget sheets helped us keep track of our finances and get back on track. They can help you too!
I know it's hard because, in every direction you look, someone is trying to sell you something. You need to set a goal for your financial future and work towards it.
I'm happy to report that we have been debt-free for over 10 years. The exception to this is our house payment and car payment with 0% interest (our other car malfunctioned and caught on fire).
Free Printable Budget Planner
This printable budget planner is a great way to keep track of your finances during the month. If you have debt, you can keep track of that. If you are trying to track your spending, you can use the expense tracker for that.
It's easy to get these free budget printables. Simply look through this page and find the printables that you need. There is no email sign-up required to get your free budget template pdf. Just click the specified link, download, and print!
I'm going to give you a quick explanation for each budget printable below. There are two options when printing these templates. You can either download every form in one file or you can print each one individually.
You may only need a few of these printables or you may need them all. I'll leave that decision up to you. Each budget printable below features a color version and a black-and-white version. The black-and-white version is in the same file as the color version.
I'm one of those people that like to cut back on color ink cartridges (they are so expensive) so I really appreciate the black-and-white option for these budget forms.
Printable Budget Sheets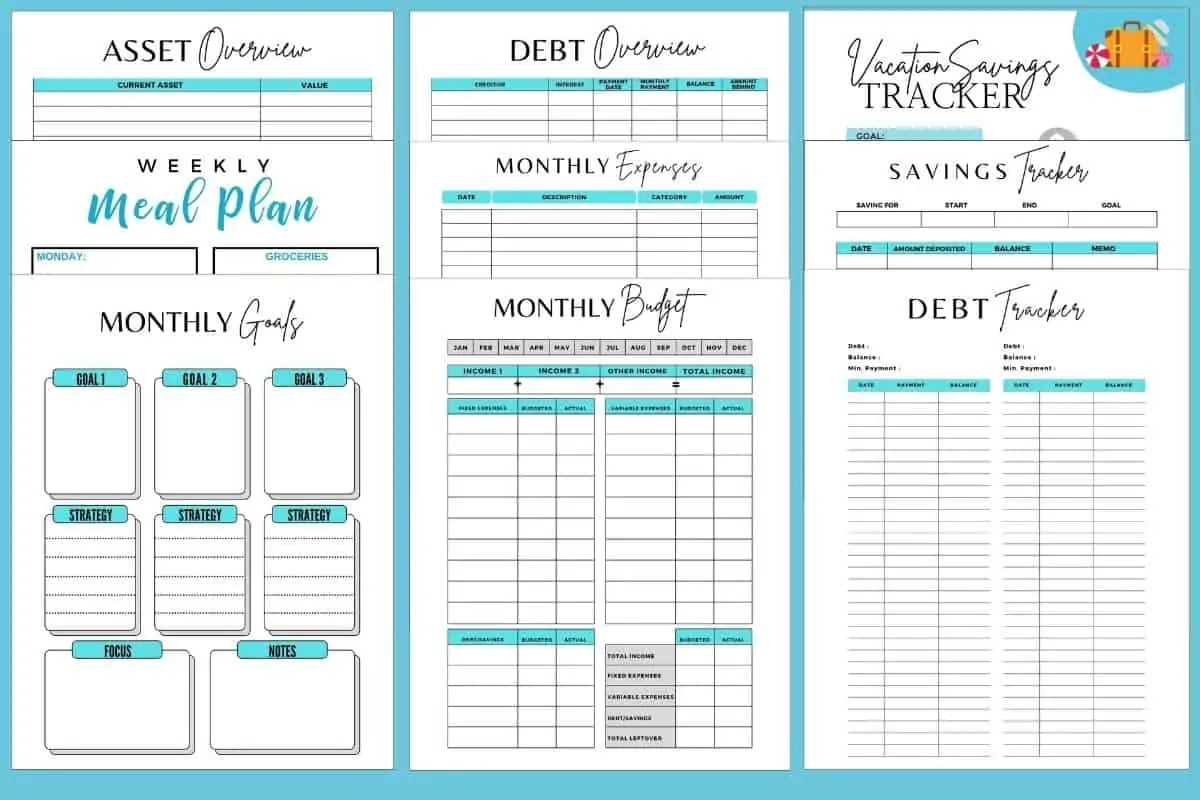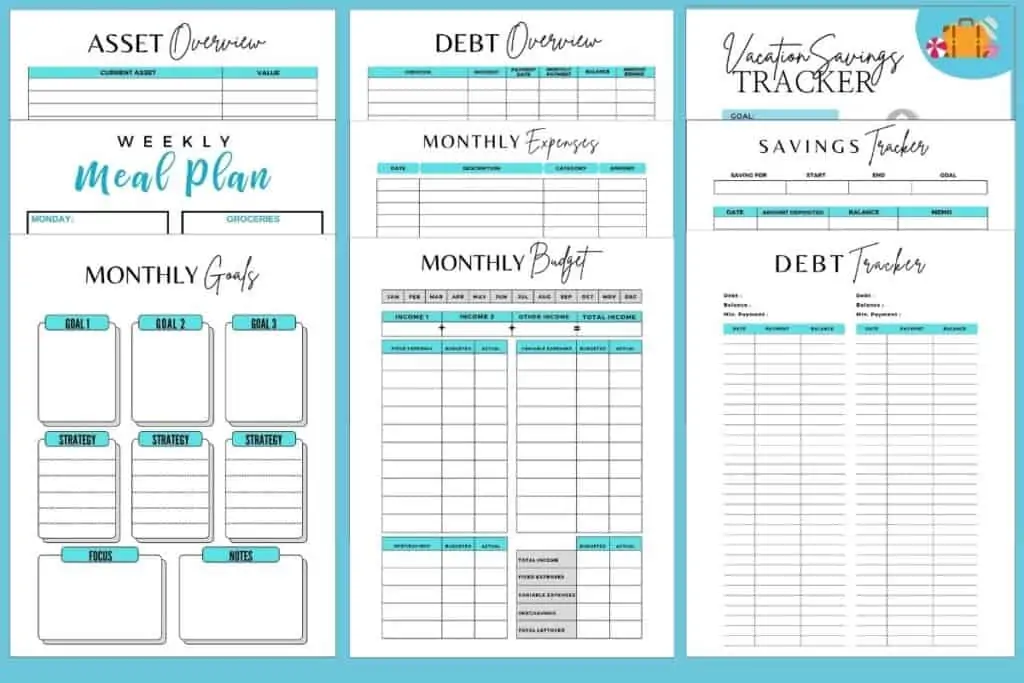 Below you will find a breakdown of each budget worksheet with an explanation for each. If you want to download the whole printable budget planner in one file, you can do so by clicking on this free budget planner link.
Monthly Goals Template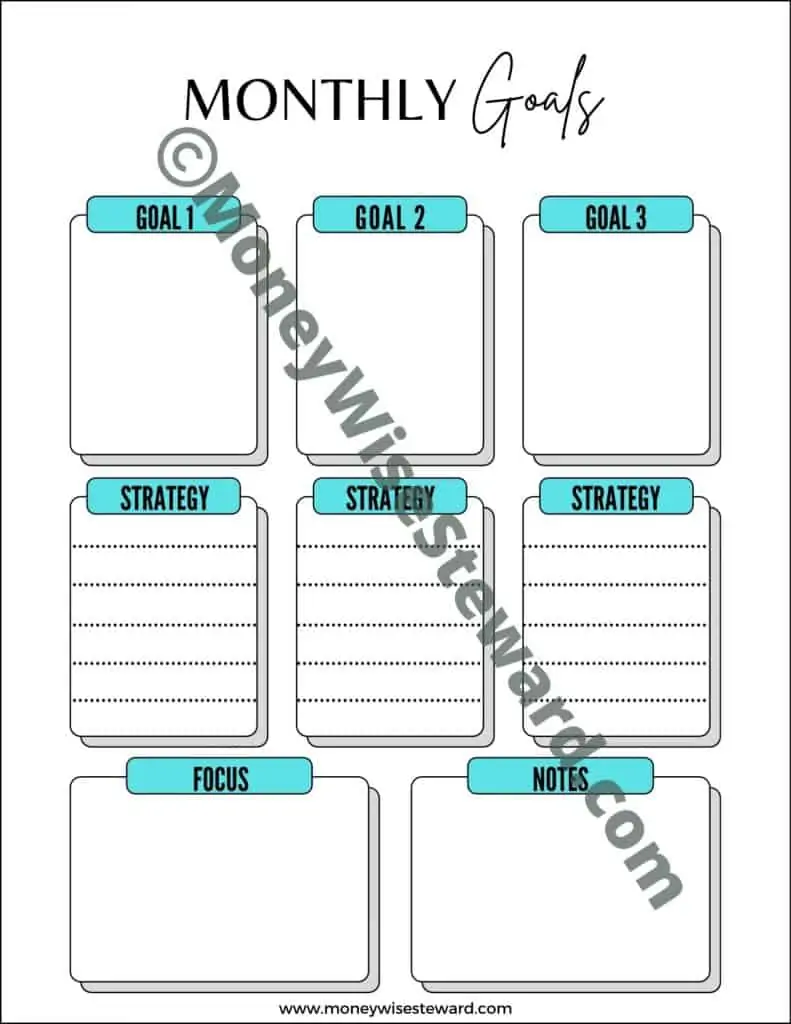 This printable monthly goals template is a great first page in your budget planner. You can use it to set your financial goals for each month. There's a place to list the strategy you will use to accomplish these goals, a focus section, and a notes section.
Creating a visual of your monthly goals is a great thing to do when you are dealing with money. That goal could be to start a retirement account, pay off a credit card, start saving for a specific event, or even something like changing the look of your living room.
Download your free PDF by clicking this monthly goals template link.
Asset Tracking Printable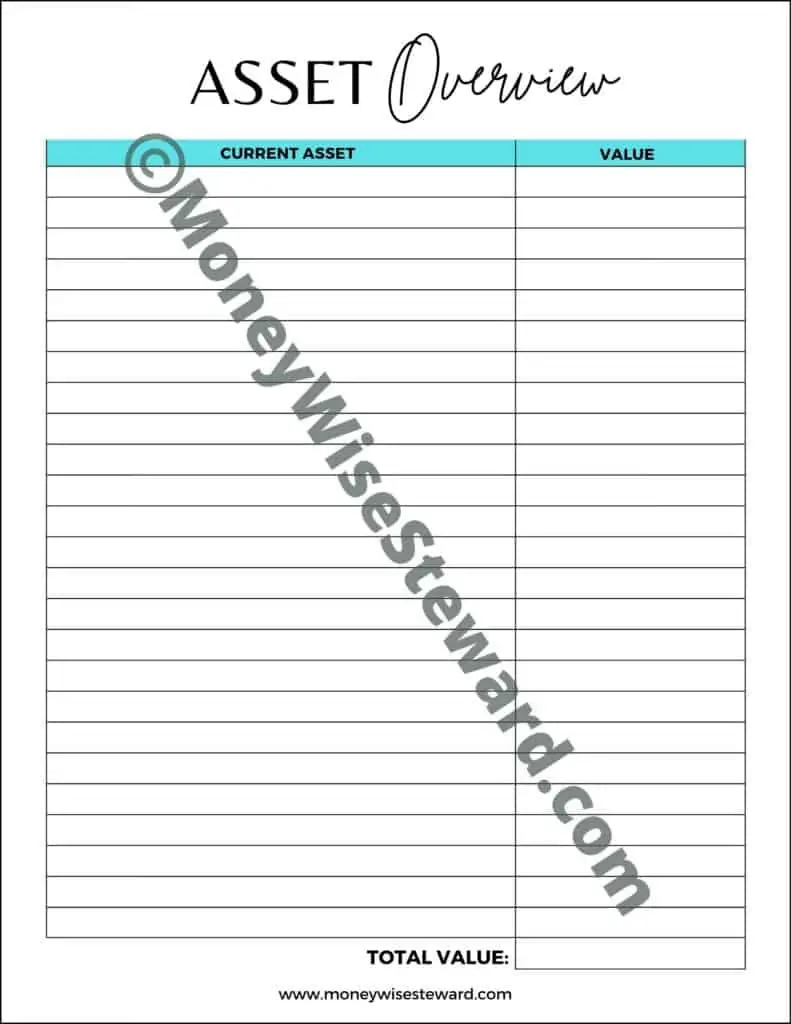 Tracking your assets is an important part of a budget because it helps you determine your net worth. If you are not sure what that means you should look through my managing money tips article to walk through the process.
Your net worth helps you see the amount of debt you are in and if you are in a healthy position financially. Download your free asset tracking printable by clicking this asset tracking pdf link.
Debt Overview Printable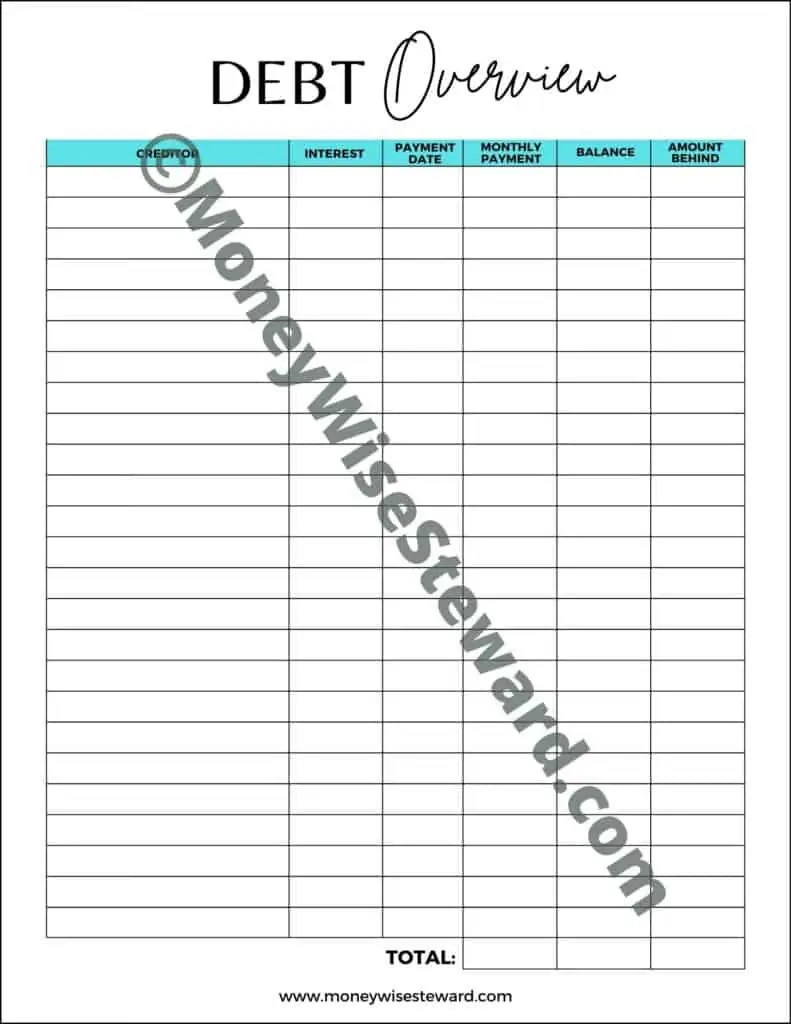 Debt is a familiar word to everyone. We all owe some kind of debt. The question is … is it good debt or bad debt? The only kind of good debt in my experience is a mortgage and 0% interest loans.
We all need somewhere to live and it's really not practical to pay for a house in full at the time of purchase. A house that's even a few hundred thousand dollars could take you years to save for.
I include 0% interest loans in good debt because there are other situations that you may run into like we did. Our truck caught on fire and the value we were paid out by the insurance company wasn't enough to buy a dependable car. So we bought one and thankfully, we were able to get a 0% interest loan.
Life happens and not everyone has thousands of dollars up their sleeves. Download this free debt overview printable by clicking this debt printable link.
Printable Monthly Budget Template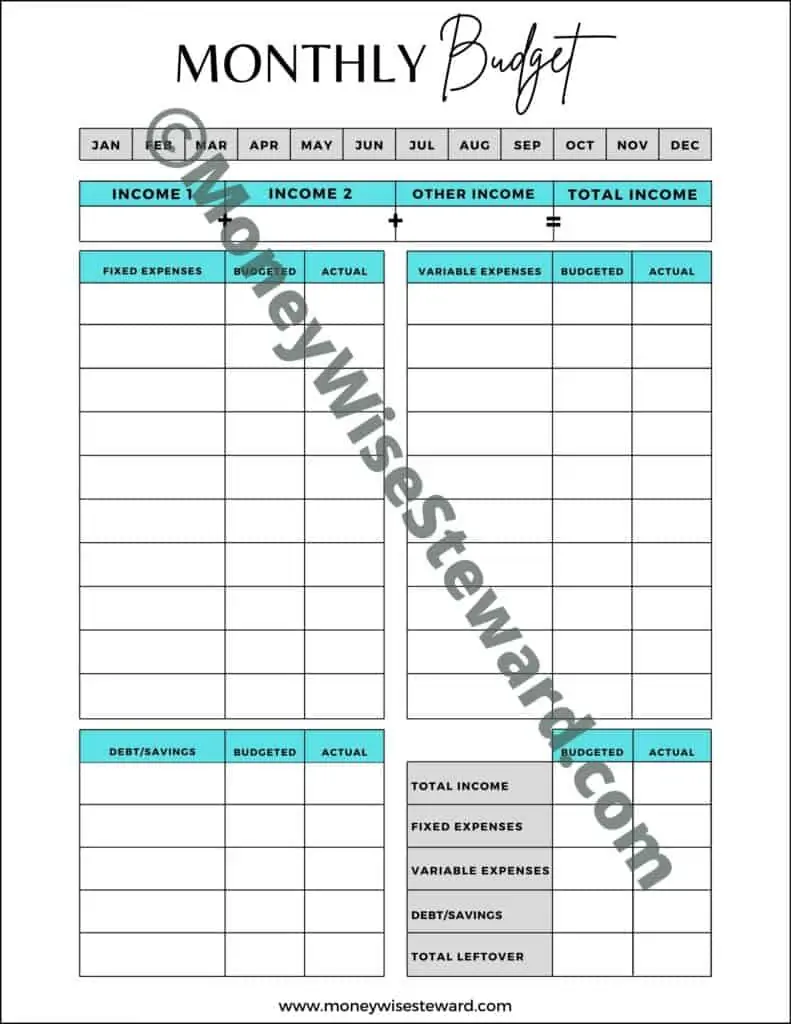 This printable monthly budget template helped us get our finances in order. You should be budgeting your money every month to stay out of debt. Credit card debt creeps in really quickly if you are overspending each month.
Don't allow budgeting challenges to keep you from budgeting your money every month. If you'd prefer to manage your finances on your phone or electronically, you can check out these free budgeting apps.
Make sure to read about how to create a budget if you don't have one in place yet. Download this free monthly budget printable by clicking this printable monthly budget sheet pdf link.
Monthly Expense Tracker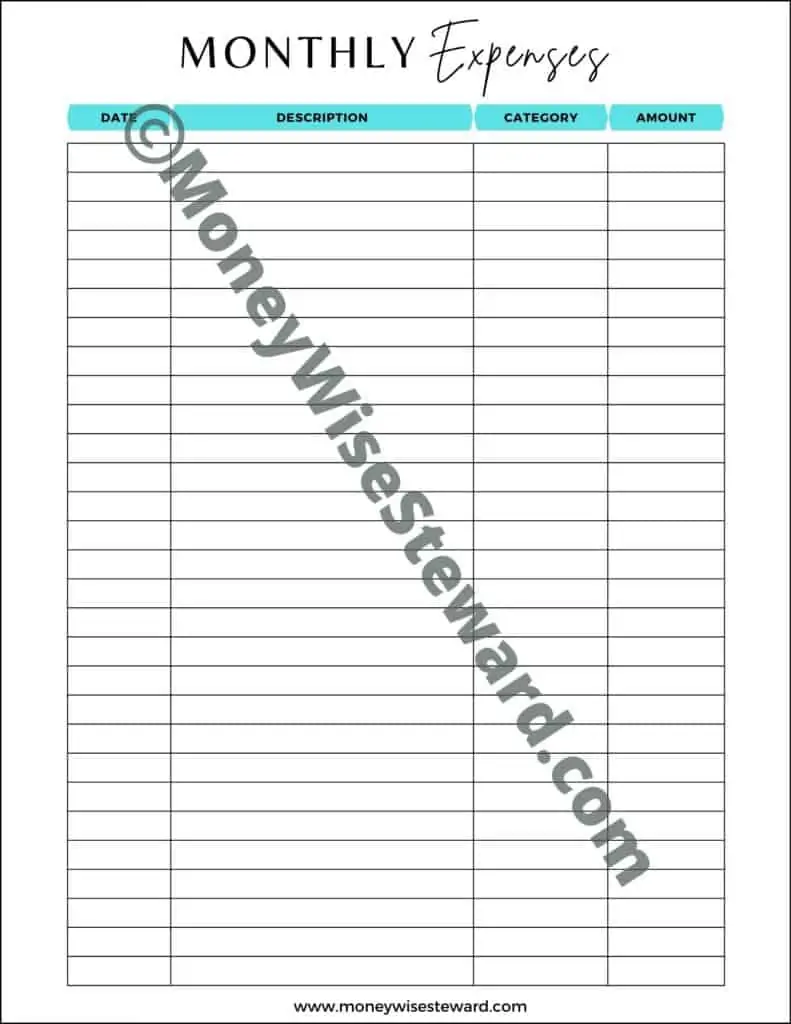 Use this free printable expense tracker to keep track of all your expenses during the month. You should create personal budget categories so you can keep track of specific areas of spending.
This expense tracker printable has a column for categories so you can break your expenses down to be more specific. A budget should consist of "needs and wants". Obviously "needs" come first and should be broken down by category.
If you prefer to use cash, you should check out the cash envelope method for budgeting. Grab this expense tracker download by clicking this free expense tracker pdf link.
Savings Tracker Printable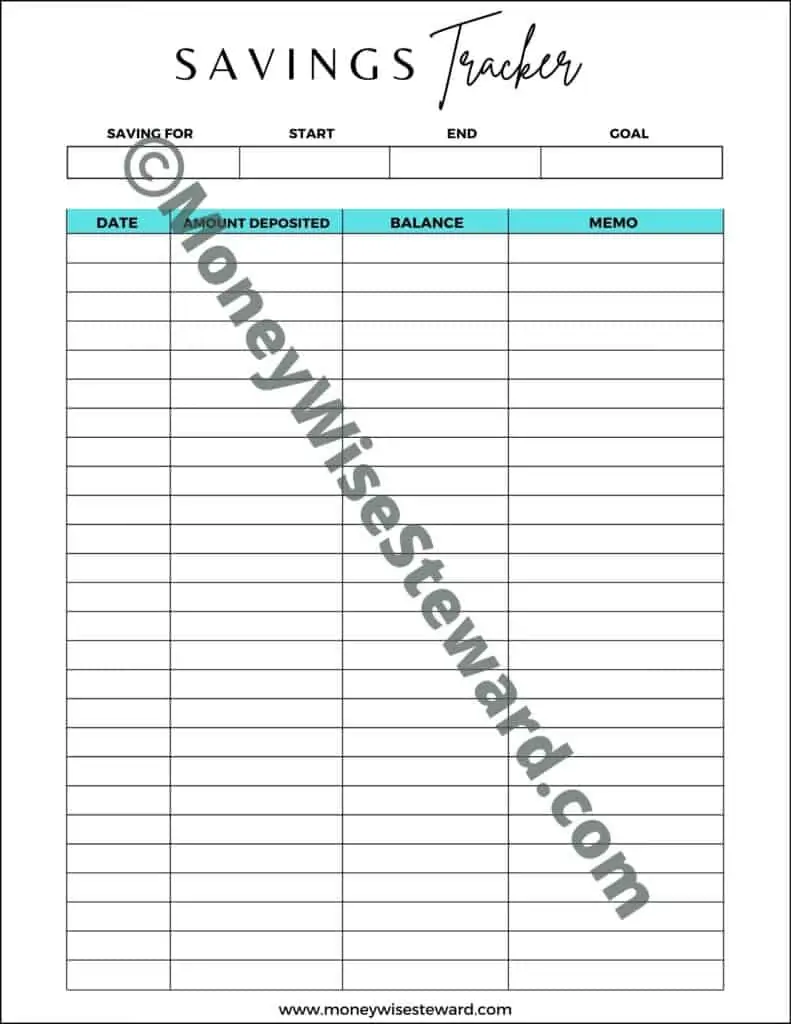 Saving money is something we all should be striving for. Everything is so expensive but you don't have to pay full price for everything. I learned how to use coupons and ever since then, we have saved so much money.
This savings tracker printable allows you to save money for something specific. You can put a start date, end date, and a goal. Imagine if you could put all the money you save at the grocery store towards a savings goal.
There are so many ways to save money. Pick a few areas to save money on and watch your savings grow. Get your free download by clicking this savings tracker printable link.
Debt Tracker Printable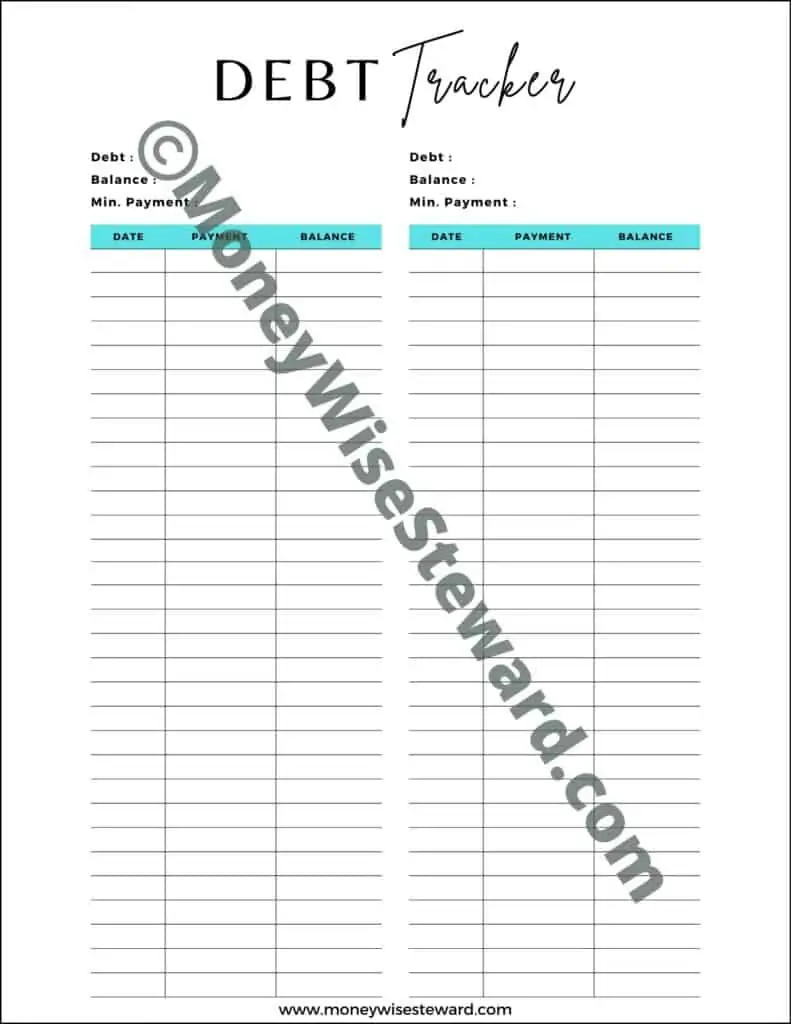 Use this debt tracker printable to track your current debt. You can keep track of every debt payment you make until you pay it off.
Having a visual of debt payments helps motivate you to pay off your debt quicker. You will feel more accomplished as you see your balance get lower and lower.
If you are severely in debt, you may want to read the truth about debt settlement. Download your free debt printable by clicking this debt tracker printable link.
Vacation Savings Tracker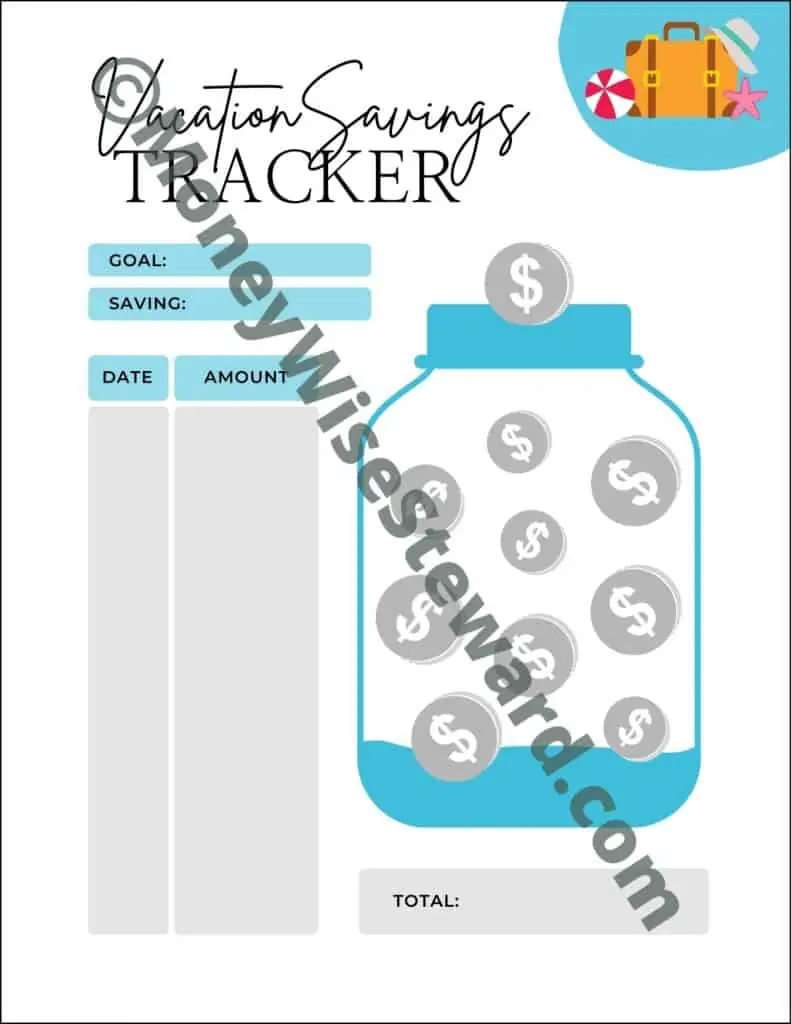 We include vacation savings in our budget because it's so important to go on a vacation. We try to go on at least two week-long vacations a year.
As you can imagine, this can get super expensive with our family of five. Setting a goal ahead of time helps us enjoy our vacation. I hate stressing over money on vacation.
Budgeting a set amount of money is a helpful way to stay relaxed during your vacation. Obviously, the type of vacation you take plays a huge role in the amount of money you need to save.
There are so many things to consider when taking a vacation but the cost is one of my first considerations. To me, there is no point in going on a vacation if you can't enjoy it financially.
Hopefully, this vacation savings tracker can help you stay on track when saving for a vacation. Click this free vacation savings tracker link to get your free download.
Here are some more money-saving challenges if you are looking to challenge yourself to save in different areas.
Meal Plan Printable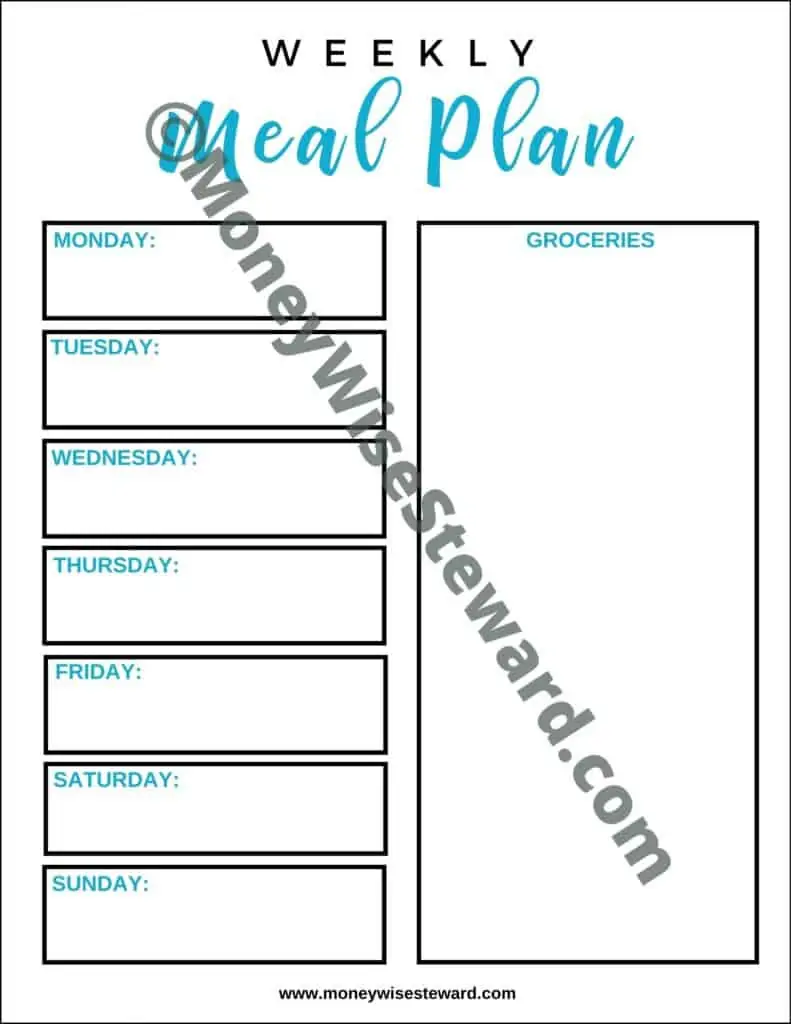 Meal planning was one of the first things I learned to do when I got serious about our finances. I don't enjoy figuring out what to make for dinner every day. It's stressful especially when I'm homeschooling the kids.
When I originally analyzed our budget, I discovered that we were spending a ton of money on eating out and extra trips to the grocery store. This was a result of NOT meal planning.
Once I made the decision to set a budget for groceries every month, this meal planner fell right into place. You can read all about how to save money on groceries from my personal experience.
Using a meal planner has been a huge blessing and saves us lots of money. To get your free download click this free meal plan printable link.
I've put together a list of cheap meals and frugal meals if you are looking for something quick to make.
What's Your Favorite Printable Budget Sheet?
These are all the budget sheets I use to keep my finances in order. My favorite is the monthly budget sheet. I'd love to hear if you have a favorite out of these printables.
I also understand that everyone has different needs when it comes to getting a budget in place. I'd love to hear what budget printables you think I should add to my budget planner. I'd be happy to add some new ones if needed.
Let me know your thoughts in the comments below. I hope these free printable budget worksheets will be a blessing to you!