You probably know by now that Dave Ramsey is a trusted voice on money. His financial plans have helped thousands of people learn how to gain control over their finances.
Since I've already written an in-depth post about the basic financial plan Dave Ramsey teaches, I thought it would be a good idea to write this post specifically about the Dave Ramsey 7 Baby Steps.
Who is Dave Ramsey?
Dave Ramsey is most known for his radio talk show where he gives blunt advice to people who have gone over their heads with money. He helps them find a way out of their money mess in a responsible honest way.
He does state that it takes hard work to get your finances under control. There are no shortcuts so he provides real ways to get back on track.
As you know, there are a lot of voices on the money management topic. Dave Ramsey's financial advice stands out because of his faith in Jesus. He is a Christian and the tools he uses to manage money come from the Bible.
This personally makes his money management plan more attractive. As Christians, we need to make sure we aren't being deceived. We need to make wise choices when it comes to money.
"And the cares of this world, the deceitfulness of riches, and the desires for other things entering in choke the word, and it becomes unfruitful." – Mark 4:19 NKJV
What Are Dave Ramsey's 7 Baby Steps?
Dave Ramsey's baby steps are the structure of getting your finances in order. Each baby step focuses on a specific task that you need to achieve in order to move on to the next one.
His baby steps help you stay focused on your current goal. This makes it easier for people like me who use a list everywhere they go. It's easier for me to achieve a goal if it has a structure to it.
Keep in mind that these Dave Ramsey steps are lifelong goals. Once you are done with baby step 6, you will be always be working on baby step 7.
Here are the 7 Baby Steps:
Baby Step 1 – Save $1,000 for an emergency fund.
Baby Step 2 – Pay off all your debts (except your mortgage)
Baby Step 3 – Save 3-6 months of expenses in savings.
Baby Step 4 – Invest 15% of your income to retirement.
Baby Step 5 – Save for your children's college fund.
Baby Step 6 – Pay off your home early.
Baby Step 7 – Build wealth and give.
These Dave Ramsey baby steps cover just about everything in a financial situation. They cover having money put aside for emergencies, paying off debt, investing in the future, helping your children financially, and most importantly giving.
Most of these baby steps are topics you may have already thought of. The nice thing about making them steps is it makes more sense when you can see the order they should be done in.
They also give you a basic understanding of what to do to complete each step. Like I mentioned earlier, it's like a list that you mark off as you go. I love the feeling of accomplishments…don't you?
The Big Question is…Do the Dave Ramsey 7 Baby Steps really work?
The baby steps can work if you make the decision to change your financial habits. It's impossible to get anything to work if you aren't putting in the effort.
Handling money is the same way. You know you need it to survive so you work really hard for it. This is where you decide what to do with it. Here are two questions to think about:
Would it be better to spend your money on anything and everything for self-satisfaction?
Would it better to manage your money so you can be prepared for emergency situations, build your retirement, be debt-free, and be generous?
If you pick number one then the Dave Ramsey Baby Steps won't work. You will continue to be on a path of self-destruction with money.  If you pick number two then you are choosing to be responsible and take control of your money.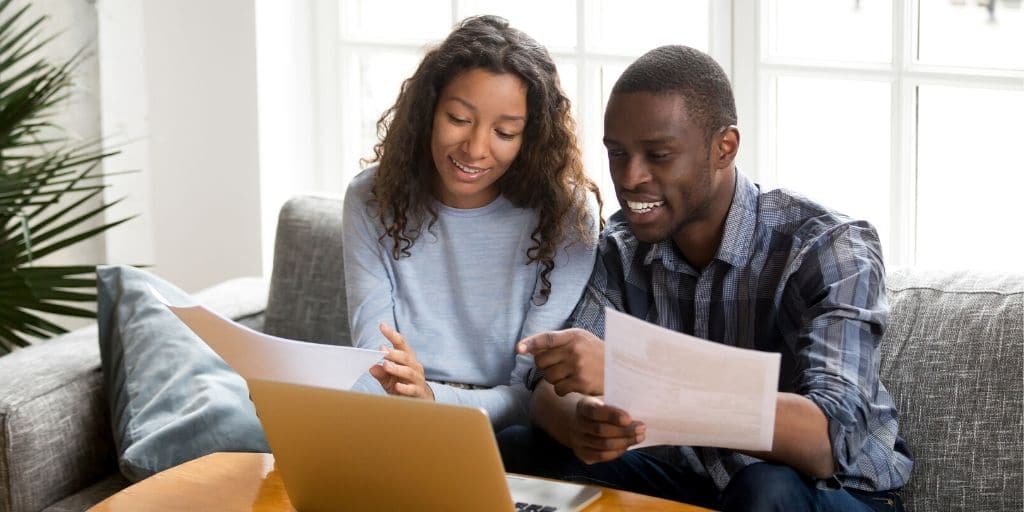 The Dave Ramsey 7 Baby Steps Require You to Change
In order for the baby steps to work, you need to make a commitment to change. The first thing you need to do is discuss this change with your significant other.
My husband and I were in a lot of debt and we really had no upbringing of how to manage money. We were working hard to buy ourselves material things. Once we got them, we realized that they weren't fulfilling. Read more of our debt story.
That was before we had accepted Jesus into our lives. Once He got a hold of our hearts, we knew right away that we weren't being good stewards of money. We actually never really knew that the Bible taught about money.
The more we studied the Bible, the more we became convicted about our financial decisions. This is when we prayed and discussed the change we had to make in order to have financial freedom.
I don't know if you're a Christian but if you are, the Bible calls us to be good stewards of everything we have and that includes money. Everything belongs to Him.
The most important thing to do is come to an agreement with your significant other and make the change together. You need to decide to stop using the credit cards and stop accumulating debt.
Then you need to use the budget percentages Dave Ramsey recommends and create a monthly budget with only the money you bring in. No more borrowing.
Dave Ramsey Baby Steps
If you've made the commitment to change, then you will be happy to know that the baby steps do work. I'm going to list each baby step below to help you understand how you can achieve each goal.
These steps are a lifelong commitment.  If you stick with them, you will be more in control of your money and be on your road to a peaceful financial life.
Step 1 – Save $1,000 for an Emergency Fund.
This is a practical first step. It will help you have some extra money put away for unexpected things that come up.  Especially since you will be focusing on getting your debt paid off.
It's so nice to have money dedicated just for emergency situations.  We actually had a very unexpected situation happen to us. My husband's truck motor caught on fire when we were driving home from shopping one day. It was completely unexpected.
His truck is about 5 years old and we do regular maintenance on it. Apparently, the air conditioner line decided to explode that day and caught the trucks motor on fire.
Thankfully, we had our emergency fund available so we could get the car fixed. We had to turn it in to the insurance company and pay our $500 deductible. We were so thankful we had this put-away. It's so important to be prepared.
Step 2 – Pay off all your debts (except your mortgage).
This means you need to put all your extra money towards paying off your debt. You can pick any debt payoff method to do this.
Here are two of the most popular methods to pay off debt:
Debt Avalance Method
Make a list of your credit card debts sorted by the highest interest rate. The balance doesn't matter.
Make the minimum payment on all your credit cards except for the one with the highest interest rate. Put the most money possible on the highest interest credit card.
Once the highest interest credit card is paid off, start paying off the next highest interest credit card.
Follow this method until your last credit card is paid off.
Debt Snowball Method
Make a list of your credit card debts sorted by the lowest remaining balance. The interest rate doesn't matter.
Make the minimum payment on all the cards except for the one with the lowest balance. Put the most money possible on the lowest balance.
Once the smallest debt is paid off, move that payment to the next low balance.
Follow this method until your last credit card is paid off.
I feel like this is one of the hardest baby steps. We had $35,000 of credit card debt and it took every bit of money we had to pay it off.  We chose to do the Debt Avalance Method. You should choose whatever works best for you.
Step 3 – Save 3-6 Months of Expenses in Savings.
Once your debt is paid off, you need to be prepared for a life crisis that could consist of a medical problem or losing a job. This extra cushion in your savings will help you pay bills while you're going through that hard time.
The reality is that 3-6 months of expenses can be a large amount. I personally think you can do baby step #4 before baby step #3.  If it takes you 5 years to save for baby step #3 then you miss out on putting money away for retirement.
It's really up to you. We had to start all the way back at baby step #1 again because we used our emergency fund but we were still doing Baby step #4 at the same time.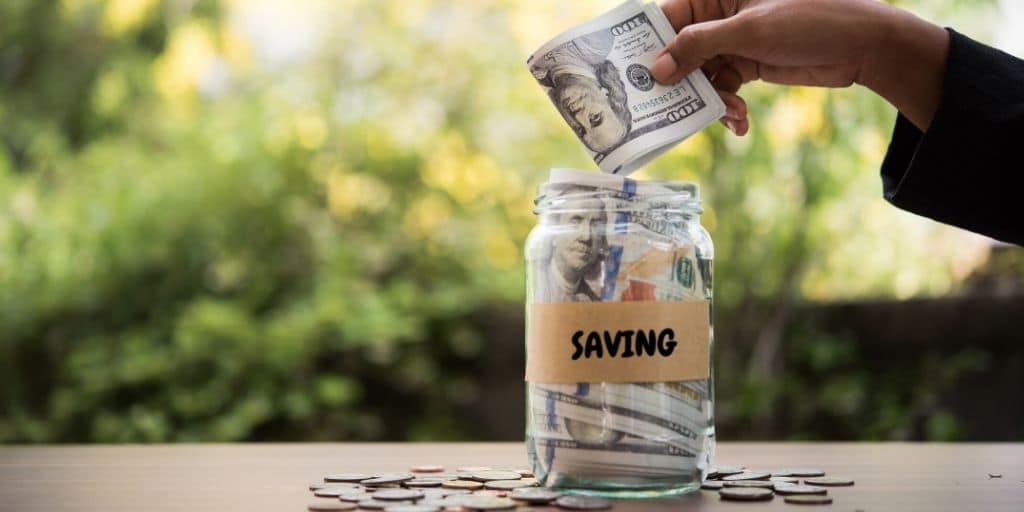 Step 4 – Invest 15% of your Income to Retirement.
You're debt-free and now you should be looking at your future. Relying on social security is a mistake. It is not enough money to live. Plus! They always talk about it running out so who knows if it will be there when you retire. You need to be saving for your own retirement.
Some employers match your retirement contribution. Make sure to check if your employer offers that benefit. My husband's work contributes around 8% of his retirement as part of his benefits.
It works out perfectly for us because he only has to contribute 7% and that puts him at 15% for this baby step. An employer contributing to your retirement is a great work benefit. It's like getting free money.
Step 5. Save for your Children's College Fund.
There are so many ways I'd like to help my children. I want to help them buy a car, I want to pay for their weddings, and I want to pay for their college.
All of these things are expensive. We don't plan on sending our kids to a 4-year college. We plan on starting them out at a junior college and seeing where that takes them.
You will have to determine which expense you want to save for in this baby step. This just gives you a basic idea of what you should be saving for.
Step 6. Pay off your Home Early.
Paying off your mortgage early can be done in a few different ways. You can either pay a little extra every month toward your monthly payment or refinance into a shorter loan period.
Our goal is to pay off our mortgage by the time my husband retires. We chose to refinance into a shorter fixed mortgage to keep ourselves on track to get the house paid off by his retirement.
This baby step is more achievable if you are living within your means. Don't overextend yourself with your house mortgage. Dave Ramsey recommends a 25% budget category for your house.
If you go above that, you will be overextending and you won't be able to put money away for anything else. Our house payment was around 40% of our income before we starting taking control of finances. We barely had any money to do anything else. Don't do it, it's not worth it.
Step 7. Build Wealth and Give.
This baby step should be a part of your budget before you even start baby step #1. Tithing can be controversial and it is a personal choice. When we decided to invite Jesus to be the head of our home, I had a really hard time with this.
After my relationship grew with Jesus my heart softened. I realized that giving wasn't about the money. It was about me trusting God. He doesn't want our money, He wants our hearts. He knows the struggle we face with money.
"And He looked up and saw the rich putting their gifts into the treasury, and He saw also a certain poor widow putting in two mites. So He said, "Truly I say to you that this poor widow has put in more than all; for all these out of their abundance have put in offerings for God, but she out of her poverty put in all the livelihood that she had." Luke 21:1-4 NIV
Helping others is a blessing. While we should be giving to our home church, there is nothing wrong with giving to other causes. Make sure to pray about it and God will give you the wisdom of where your giving is needed. The Lord will provide for you. He did for us.
"And my God will supply every need of yours according to his riches in glory in Christ Jesus." Phil. 4:19 ESV
What do you Think about the Dave Ramsey 7 Baby Steps?
I tried to be as transparent as possible with these Dave Ramsey Baby Steps. They have worked for us so far. We seem to bounce between baby step #1 and #4 so I don't know if we will ever make it to #5 and #6. We are definitely trying.
The point of these baby steps is to keep you focused on managing your finances. We shouldn't be obsessing about meeting these financial steps. We should be wise in balancing our lives and make sure we are managing our money and it's not managing us.
I'd love to hear your thoughts. Are these baby steps working for you?