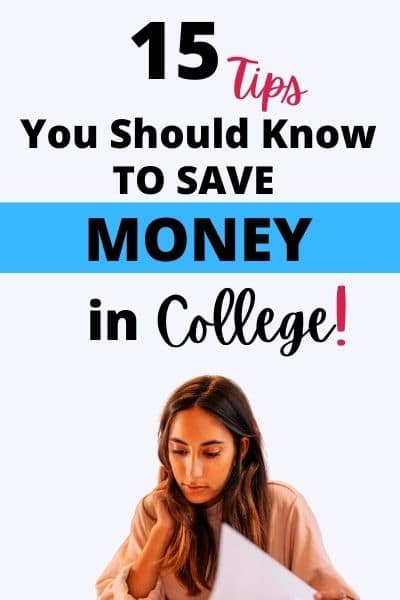 Living on a shoestring budget? Finding it hard to make ends meet in college? If not, you are likely going to get yourselves under cycles of debt.
Saving money and budgeting is not always fun or easy, but you can always become smarter about the way you spend your cash.
Rising tuition costs and living expenses make it extremely difficult for students to stay on a budget. Learning how to save money in college can help you stay within your budgeting categories.
Tips to Save Money in College
You don't need to be extremely picky but you should be looking for ways and opportunities to save money and get the best deals.
For example, you can use free software rather than paid ones such as free digital signage. Moreover, while every college student is dealing with the current pandemic and huddling with research, a few of the resources for coronavirus digital signage templates can be found online and are free of use!
College life is the first stepping stone towards financial budgeting in the life of a student. Not only do you need to excel in studies but you need to manage overall expenses within a limited monthly budget.
You might not know all the tricks and pointers to make your money last and that's what this article is about.
The idea of saving money in college may seem like a daunting task but it is completely doable. That's why I searched high and low to find the best ways to save money in college.
Here are 15 ways to save money in college that will help you save some of your hard-earned money.
How to Save Money in College
1. Do Not Buy New College Textbooks
College textbooks are one of the most expensive chunks of your college budget. Before you plan to buy one, it is advisable to check for used college books.
See if you can borrow one from a school library for a limited period of time or buy one that is extremely discounted from senior students that might not need it anymore.
You can also buy or rent books from various online platforms, or just buy a digital copy of the college textbook.
Here are some places you can find used or rentable college textbooks:
2. Stop Impulse Buying
When you are in college on a limited monthly budget, impulse buying is the last thing you need. How many times do you buy something just because you liked it and did not think of how you would use it?
Eventually, it will just take up space in your closet and put a dent in your budget. Take your time when making the decision to buy something. Ask yourself if you really need it.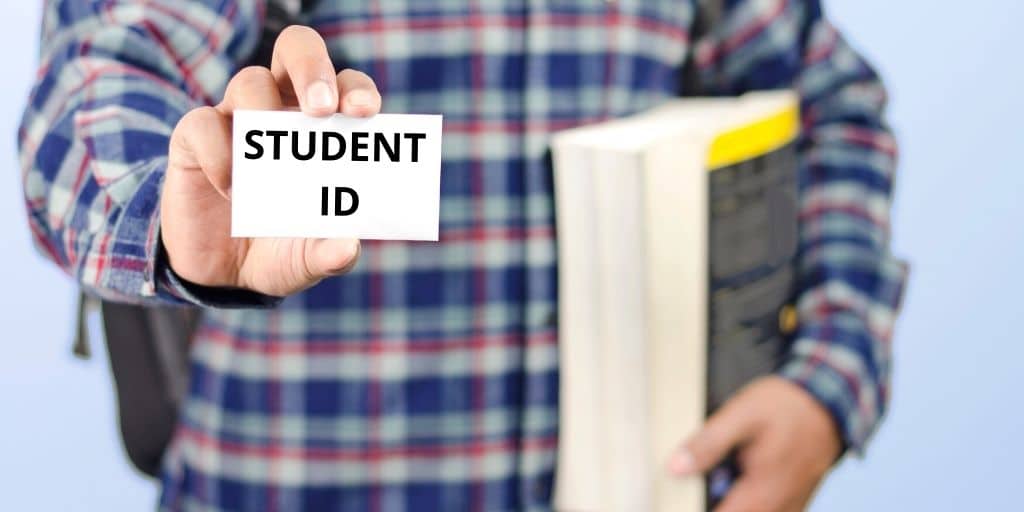 3. Always Carry Your Student ID
Carrying your college ID card can get you some good discounts. There are several discounts available for college students including clothing, electronics, and food in various stores.
Big brands like Apple, Adobe, Forever 21, J.Crew and more provide excellent student discounts on their products. All you need is to show your students ID to get these discounts.
There are also lots of restaurants and fast-food joints that provide college discounts. So next time you decide to hang out in a coffee shop or crave a pizza, don't hesitate to ask for the available discount for college students.
4. Use Your College Meal Plans
Chances are, your tuition fee covers the on-campus meal plan. If you bought a college meal, then plan to use it effectively.
Students' discounts or not, off-campus food trips can quickly add up in your budget. You may also want to consider buying a coffee maker and some small appliances to save yourself money on coffee and snacks that you can make in your dorm room.
5. Do Not Buy a Car
A car sounds like a great idea but the expenses of fuel, insurance, repairs, and services will add up quickly. Do some research about the public transport available near the college and use it for commuting.
You should consider getting an Uber or Lyft if you need to travel somewhere off-campus. If you need a car for a trip or multiple days you can rent one.
6. Choose Your Housing Wisely
The location of where you decide to live during college will have a big effect on your budget. You need to make sure all the necessary amenities are within walking distance.
To save further you can stay in the college dormitory (which is usually cheaper) and choose a dorm room with a double occupancy room and split the cost with a roommate.
7. Get Familiar with the College Campus Amenities
Take your time in exploring all the possible facilities provided by the college. Fun activities may be available for free or extremely low rates.
Some colleges do provide free fitness centers and you may even be able to rent sports equipment for a low fee. Make sure to walk around your college and take advantage of all services.
8. Get the Most Affordable Cell Phone Service
Calling your friends, or using the internet to play music while you're in college is going to happen. Compare all the cell plans available and choose wisely.
Look for college student plans. Sometimes it's better to get unlimited data so you don't have to worry about overage charges. They add up quickly.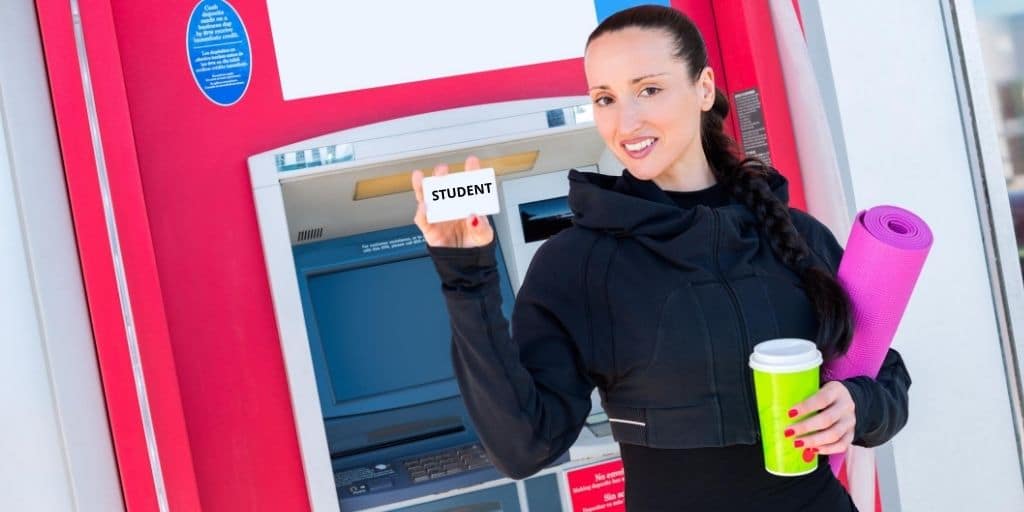 9. Look for a Bank with College Student Plans
Banks usually offer bank accounts specifically for students. These types of bank accounts usually provide perks like no minimum balance and lower fees.
Make sure these banks offer online banking.  An online banking facility will help you keep track of your account balance, and transactions.
10. Don't Accumulate Credit Card Debt
I'm sure you are already getting credit card offers in the mail. If you decide to open one, don't accumulate a bunch of credit card debt.
Credit cards make it easier to buy things because you forget that you have to pay them back. The balance is easy to push off but later you will regret it.
If you must get a credit card make sure to find one with a low-interest rate. Your bank may have a good offer if you have a college bank account with them.
Saving money in college will definitely be a struggle if you accumulate a ton of credit card debt. You don't want to get in a position where you are dealing with debt settlement.
11. Sell Stuff You Don't Need
Tech items you might have bought when you first started college may not be useful to you anymore.  If that's the case, sell it and use that money to pay something else off.
Take some time and look through your clothing, furniture, college supplies, electronics, and anything else that is no longer useful. You can easily sell these items to get some extra money.
12. Learn to Save Money at the Store
I recommend you check out my list of easy ways to save money. If I had to pick one that saves me the most amount of money, I would choose saving money at the grocery store.
Even if you have a college meal plan, I'm sure you will be going to the store to buy snacks and other goodies. If that's the case focus on buying things when they are on sale and produce when it's in season. Stay away from name brands as much as possible.
Generic items are much cheaper and usually contain the same ingredients. If you are set on buying name brands then consider learning how to use coupons so you can save money on the specific brand.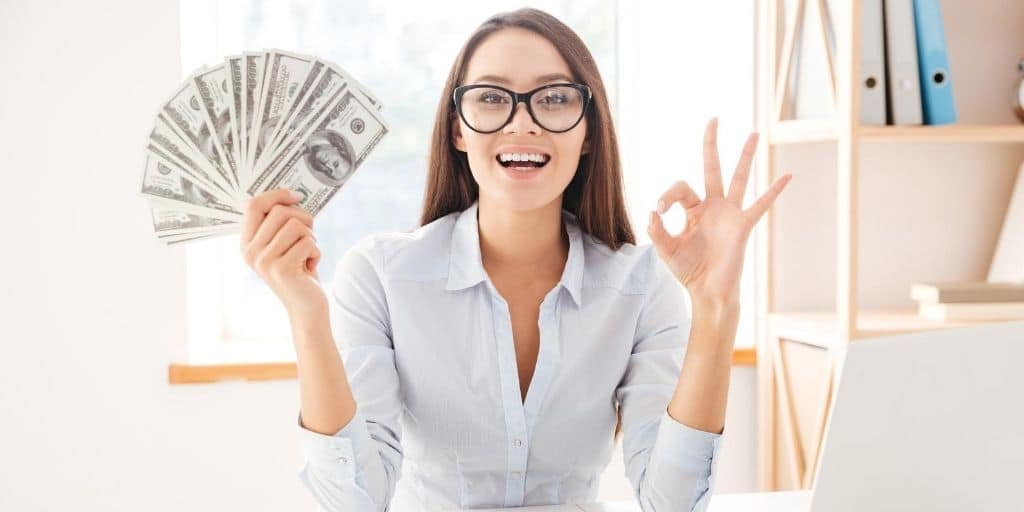 13. Find Ways to Make Extra Money 
I wrote a practical list of the best ways to earn extra money.  Most of the extra money ideas are extremely flexible. You don't have to commit to a work schedule.
For example, you could easily become a Pinterest Virtual Assistant. You could manage your own time and can take on as many clients as you want.  Working a couple of hours a day can give you extra money and won't interfere with your college schedule.
14. Don't Try to Keep up with Friends Gadgets
It's easy to try to keep up with the Joneses in life. You are not exempt from this during college. You may see someone get a new computer and think that you need one.
Don't fall into this trap. Make sure to only get what you can afford. Taking on loans will add up and follow you for a long time. Especially if you are allowing them to accumulate.
15. Stay Focused on Your Studies
Let's face it, college is expensive. Many college students get distracted and don't finish college on time. It will end up costing you a lot more money if you delay. This completely defeats the purpose of saving money in college.
Instead, you will be paying more money to get finished. Try to stay on schedule and finish your college on time. Don't be overwhelmed by everything going on in college.
Remember, you have a future ahead. Keep your eyes on the reward and the accomplishment of completing college.
How Are You Saving Money in College?
Taking control of your finances is something you definitely need to learn early in life.  College is a great place to gain experience in managing your finances.
Living a frugal lifestyle is rewarding.  Getting in the habit of living within your means will give you a great start in your financial future.
You may even find that living a simple life will fit your lifestyle. Personally, I prefer to have less. It's easier to manage and will keep you in line with your budget.
I'd love to hear your tips for saving money in college. Let me know in the comments below.