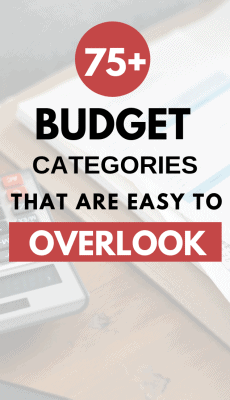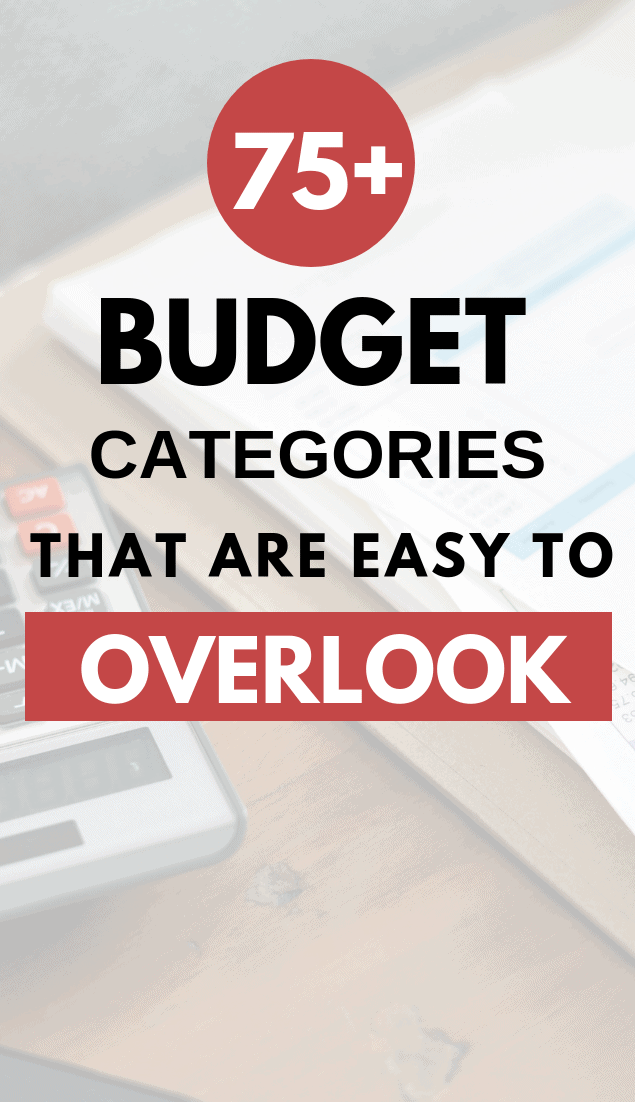 Creating a budget is such an important step in learning how to manage money. Once you've made the decision to create a budget, you'll want to make sure you include all your personal budget categories.  Missing one category can throw off your budget.
I know it can be tough to create budget categories when you are just starting out. But the budget won't work properly if you don't add all your personal budget categories.
Make sure to start your budget off right. Take some time to think about your budget categories. I'm going to help you by sharing some of the best personal budgeting categories to add to your budget.
Make sure you read 4 Money Managing Tips to Financial Success and How to Create a Good Budget.
Looking for somewhere to keep track of your budget? Use a free budget template or a free online budget tool.
Personal Budget Categories
I'm going to share some of the best personal budget categories below. Please keep in mind that you don't need to make a category for these items if you don't need them. This is just a guide to help you think of budget categories you may have overlooked.
Income Budget Categories
Paycheck
Extra Income
Bonuses
Tips
Gifts
Giving Budget Categories
Blessing others is a really important part of a budget. Being able to give is a blessing all the way around.
Tithing
Charities
Medical Research
Food Budget Categories
We know that food is a necessity in life. It's important to keep track of the little things like a quick run to the store to get milk. Little purchases can add up quick.
Groceries
Eating Out (Restaurants)
Pet Food
Related Article:
Housing Budget Categories
It's important to have a roof over your head to survive. Make sure that your housing expense doesn't take away from the other necessities in life. If your housing budget is high, you may consider downsizing to something more comfortable.
First Mortgage
Second Mortgage
House Insurance
Rental Insurance
Property Taxes
Rent
Home Repairs
Yard Care
Home Owner Association Dues
Utilities Budget Categories
Utility categories can vary. For example, our trash and sewer are included in our property tax bill. I just added everything to make sure you get every category covered.
Water
Electricity
Natural Gas
Propane
Trash
Sewer
Cable/Streaming Service
Internet
Phone
Related Article:
Clothing Budget Categories
We are really tight on our budget for clothing but it still needs to be included in our budget.
Adult Clothing
Children Clothing
Related Article:
Transportation Budget Categories
Driving a car can be a big expense. Even though you won't need new tires every month, make sure to put a little bit away each month if you need to save for tires.
Fuel
Tires
Oil Changes
DMV Fees
Maintenance Fees
Parking Fees
Repairs
Taxi/Bus/Train Fees
Road Side Assistance

Medical Budget Categories
Our health is really important. Co-pays and deductibles can add up quickly.
Health Insurance Payments
Dental Insurance Payments
Eye Insurance Payments
Doctor Appts
Dental Appts
Medications
Medical Devices
Personal Budget Categories
These are categories related to family needs or wants. Some of these items may already be included in your grocery budget. If they aren't, make sure to include them separately.
Life Insurance
Child Care
Haircuts
Salon Services
Cosmetics
Toiletries
Misc Household items
Postage
Gym Memberships
Education
Dry Cleaning
Subscriptions
Child Support
Related Article:
Recreation Budget Categories
We love to do extra activities if our budget allows it. Here are some fun things we like to do.
Movies
Concerts
Vacations
Parties
Hobbies
Debt Budget Categories
Getting debt paid off will increase your spending in other areas. Make sure to allocate as much to this area so you can get it paid off.
Credit Cards
Home Equity Loans
Student Loans
Personal Loan
Saving Budget Categories
Savings should be an important part of your budget. Make sure you put money in a savings account for emergency purposes.
It is also important to have a retirement plan. There's always talk of Social Security disappearing. It's recommended that you save for retirement to ensure you will have something when you retire without relying on government assistance.
Emergency Funds
Investments
Retirement Plan
Birthdays
Christmas
---
Hopefully, this helped you decide on your budget categories. Making adjustments to your budget will happen and that's ok. Just make sure you are running your budget and it's not running you!