How to Save Money: 40+ Simple Tips
This article may contain affiliate links. I may earn money from the companies mentioned in this post with no additional cost to you. Please read my disclosure policy for more info. All Bible quotations are from the New King James Version (NKJV) unless otherwise stated Bible Copyright Attribution.
Are you ready to learn the best ways to save money? If so, you'll love this resource I compiled of money-saving tips.
I personally love saving money! I moved out of my parent's house when I was 17 years old and had to support myself.
One thing it did do was teach me how to save money. I started learning money-saving tips from people around me (the internet wasn't a good resource that long ago).
Saving money was easy when I was single. After I got married, my husband and I got into a lot of debt. Ever since that mess, I've been experimenting with ways to save money.
Saving money is such a big part of our life. Around 10 years ago, we made the decision to become a one-income family.
This decision was made so I could stay home with the kids. Learning how to live on one income was rough. Thankfully, I had previous experience with saving money.
I was trying to find the best ways to save money so we could get the most out of our one income. This is when I learned how to save money with coupons. That was fun but it was really time-consuming.
Using coupons is a great way to save money but I wouldn't consider it an easy way to save money. I still use manufacturer coupons today but sometimes it's hard for me to keep up with them.
As I've been getting older and experiencing life, I've been finding simpler ways to save money every month. The funny part is that it has rubbed off on my family members. We are a money-saving family! I love it because it's such a great essential for living life.
Since I have lots of saving money experience, I created a list of ways to save to help you save. I'm so excited to share everything I have learned on my money-saving journey!
Best Time To Buy Infographic
I made this the "best time to buy infographic" to help you save more money (these best buy times are subject to change based on the economy, etc.). Different things go on sale every month. You should try to buy during those times to save more money.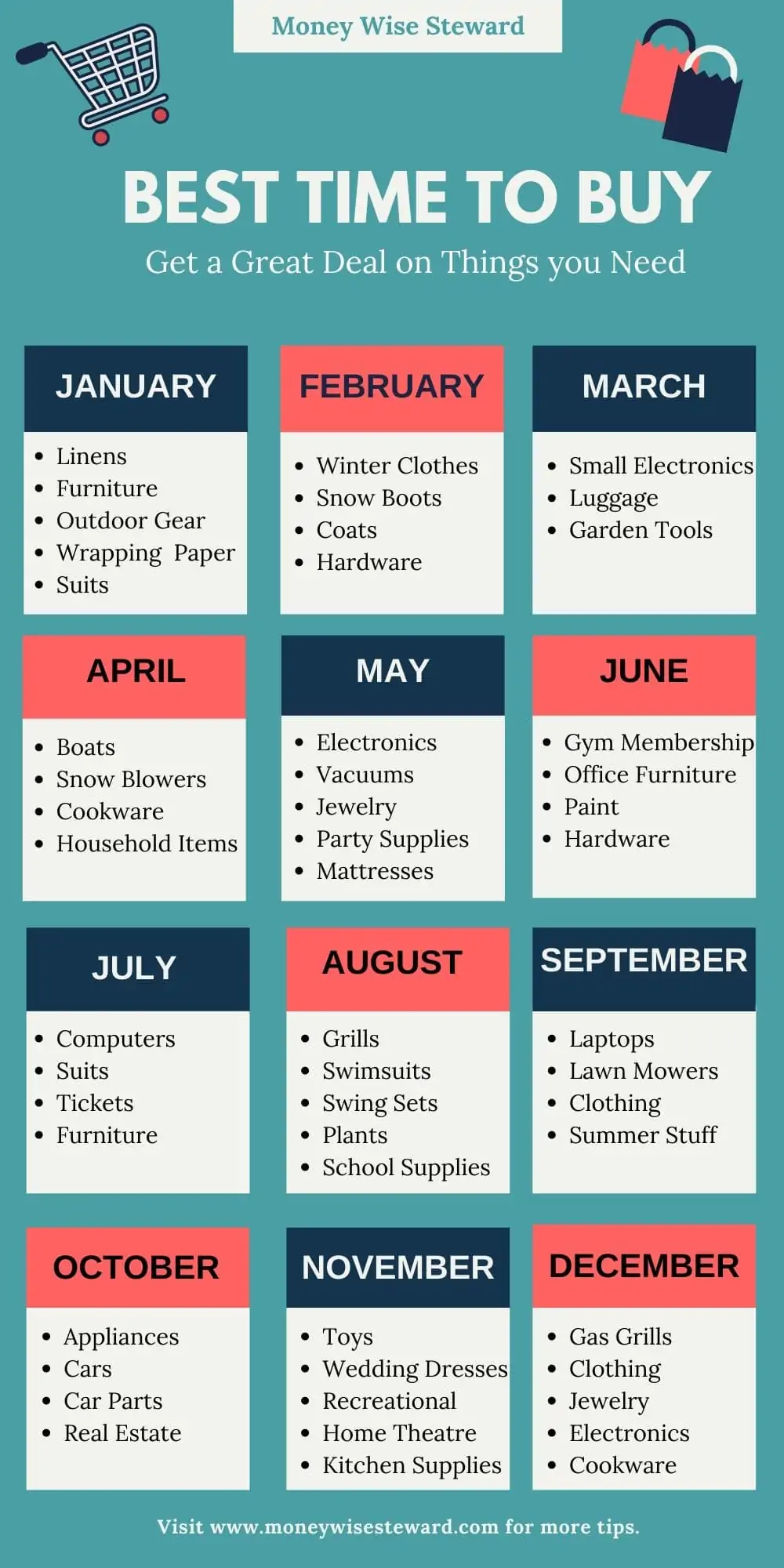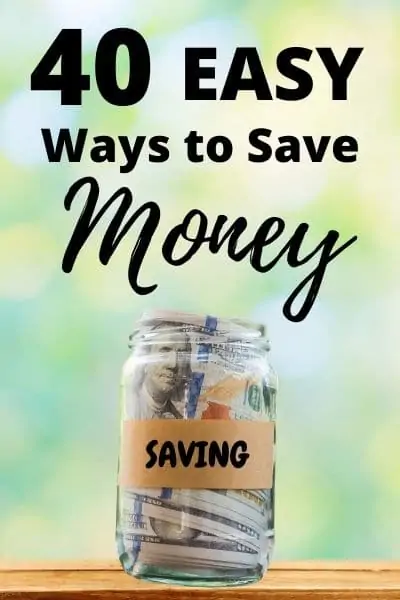 The Best Ways to Save Money
1. Get Cash Back Shopping Online
Did you know you can get cash back at most stores when you shop online? I've earned over $700 in cash back! The best part is you can shop how you normally would shop online.
The best cashback site is Ebates (Now known as Rakuten). They are the most dependable and they do pay. Check out my step-by-step instructions on how to get paid to shop online.
2. Sign up to get Offers from your Favorite Stores and Restaurants
If you have retail stores and restaurants that you go to regularly, you should go to their website and sign up for their coupons. I have many stores and restaurants that I visit regularly.
They send me all types of useful coupons. For example, Mimi's Cafe sends me a Buy One, Get One Free entree coupon 2-3 times per month.
That saves us money with our family of 5! If you don't want to clog up your email, set up a different email specifically for offers. It's not usually a nuisance for me because they are places that I like.
A great place to find discount restaurant deals is at Restaurants.com. They have over 62,000 restaurants available nationwide. You can get certificates for up to 50% off your bill.
Check out my Freebies from Restaurants for your Birthday post to sign up for some birthday freebies.
3. Make Your Own Gifts
We all celebrate birthdays and holidays so there's no denying that we give gifts multiple times a year. A great way to save is to make your own gifts.
A great place to find homemade gift ideas or inexpensive gift ideas is Pinterest. Check out my post with Homemade Gifts Ideas for Mom and Homemade Gifts for Dad.
4. Get Rid of Cable
We've been cable-free for the past 4 years. We were able to find some great cable alternatives and couldn't be happier. We are currently spending $32 a month to watch our favorite shows without cable.
We are saving over $800 a year without cable. That is a huge saving! Ready to ditch cable? Check out my post about how to get rid of cable.
5. Make a Shopping List
If you make a shopping list and stick to it you will save money. Many stores are counting on impulse buyers for the business.
I usually won't even go into a store if I have nothing to buy. If I do (usually because my kids want to shop), I stick to my decision "to look around".
6. Shop Daily Deal Sites
There are so many daily deal sites on the internet these days. It can get very overwhelming to visit several daily deal sites. Two of my favorites are Groupon and Zulily. They are both free to join.
I've used them for many years and have been very happy. They run really great deals every day. I sign up for email notifications for my favorite brands and then they send me an email when a deal is available.
Talk about easy shopping! To avoid being overwhelmed, I recommend that you stick with two to three daily deal sites.
7. Use your Grocery Store Coupon App to Save Money
I shop at Vons which is a division of Safeway. They have a great coupon app called "Just for U". Your grocery store most likely has something similar. Each week coupons and free offers are loaded into my app.
All I do is go to the app and add the coupons. The great thing is that most of the time all the manufacturer coupons you print or clip are the same ones that are loaded on the coupon app.
Over time the app will start adding deals relevant to the items you normally purchase. My store offers coupons and special offers on produce.
I love this because It's very rare to find a produce coupon. If you aren't using your coupon app from the stores you shop at, I highly recommend you get started.
You can save even more money by using cashback apps like Ibotta.
8. Look for a Local Discount Card
The Middle School in the town I live in offers a local discount card. It's only $10 for the year. It offers 10% off at many restaurants, stores, and services in my area.
It basically pays for itself after a month or two. It's one of my favorite saving tools because it allows me to get a discount on local services that don't usually offer coupons or discounts.
9. Cancel your Gym Membership
I believe fitness should be a part of everyone's life. I attended the gym for 2 years before I made the decision to work out at home.
Working out at home has not only been a money saver but it's also a time saver. I spend an extra 45 minutes a day just getting to and from the gym.
I've been working out successfully at home for over a year now. There are some really great workout programs you can do at home. You can find free workouts online like this 3 day dumbell workout. I personally love the Beachbody On Demand workout program.
They offer a lot of variety and great support. You can get a 14-day Beachbody on-demand free trial to check it out for yourself.
10. Stay Home instead of Going Out
It's fun to go out to a movie or to dinner but it can get really expensive. It easily costs us $70 anytime we take our family of five out. Instead of going out, we have a movie night every Friday.
The kids get really excited because we do a movie night dessert (they love sugar). We've also challenged ourselves not to eat out of the house.
So far, we are doing good with that. We are actually preferring our own meals over restaurant meals now.
Here are some great cheap date ideas if you really need a night out.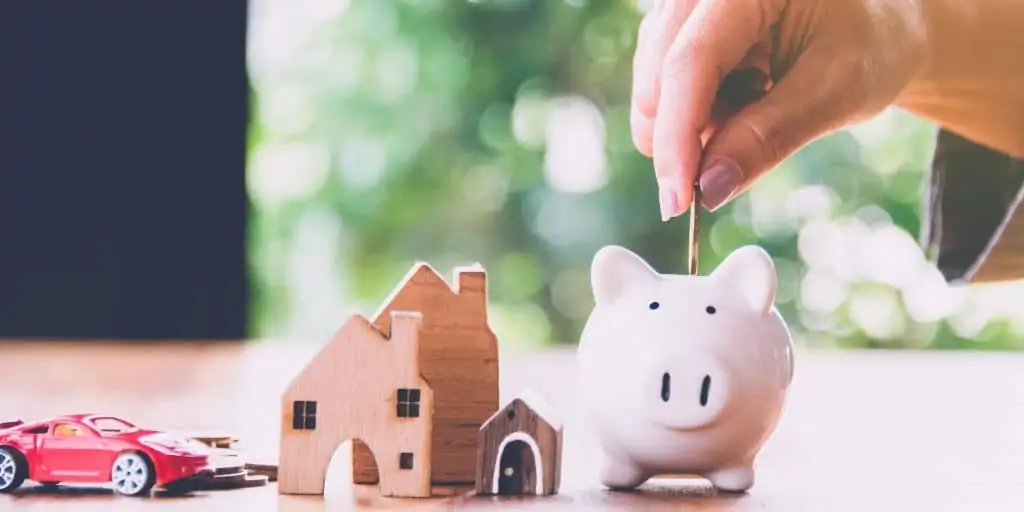 How to Save Money Fast
11. Bring your Lunch to Work
My husband works close to home so he comes home every day for lunch. He usually has leftovers or makes a sandwich.
If you can't go home for lunch, you should consider bringing your lunch to work. Lunch could easily cost $10 a day which would add up to $50 a week! That's $200 a month that you could be saving.
12. Do your Own Yardwork
I love having a nice yard. Two years ago we decided to clean up our front yard and landscape it.
We got a few quotes that were over $5,000 so my husband and I decided to do it ourselves. It took us about a week to complete but we only spent $2,000.
To this day we handle all our own yard work. I admit that I'm a little jealous of my neighbors when their gardeners arrive.
It's very tempting to hire someone. At the end of the day, I'm more excited about the money we're able to save doing it ourselves.
13. Participate in Free Offers
One of the things I love to post on my blog is offers for free things and free activities. There are lots of places that offer free events, free food, and more.
14. Plan your Weekly Meals around your Grocery Store Ad
I make dinner every day of the week. My mission is to go to the grocery store once a week. That means I have to meal plan. Check out this how to start a meal plan post.
Each week, I set up my grocery list with my meal plan for the week. One great way of saving is to match my meals to what's on sale.
This works for us and has saved us a lot of money. Check out my post about how to save money on groceries.
15. Purchase Generic Items
I'm a huge believer that when I buy a name brand, I'm buying the name. There are so many items that are exactly the same.
Let's take food for example. You can look at the ingredients of the name brand and the generic brand and they are exactly the same.
There are a few items that I'm willing to pay for the name brand because I do see a difference. Other than that, I buy generic.
In addition to the generic grocery store deals, you can buy generic and save big with promo codes for Amazon.
16. Lessen your Wardrobe
I don't buy clothes very often. I mix and match all my clothes so I don't need a lot. It also relieves me of stressing about what I'm going to wear.
17. Buy Used Clothing
There are a lot of people who buy clothes and never wear them or wear them only a few times. They end up donating the clothing to a thrift store. Sometimes the clothes still have tags on them.
This is a great way to get nice clothes for a fraction of the price. Did you know that you can buy used clothing online? Check out my post about how you can buy used clothes online. Check out these outfit ideas!
18. Utilize your Local Library
We use the library a lot. You'd be surprised at what you can find there. It's a great way to eliminate clutter and save money on purchases. You can even read books online for free.
Make sure you check out the free Kindle books to download as well.
19. Save on Utilities
We live in a mountain community where the outside temperature averages between 20 degrees and 40 degrees in the winter and up to 90 degrees in the summer.
You can save lots of money on your gas and electric bill if you manage the heater and air conditioning. Most people want to be comfortable. That's fine if you're willing to pay for it.
We keep our heater at 60 degrees (during the day) and 64 degrees (at night) during the winter.
Trust me, we get complaints from the kids about being cold. My kids complain about everything (it's easy to complain when you aren't working to support a household).
We have plenty of blankets and clothes to keep ourselves warm. You can also use your fireplace if you need to stay warm. We have a fireplace but it's not wood-burning.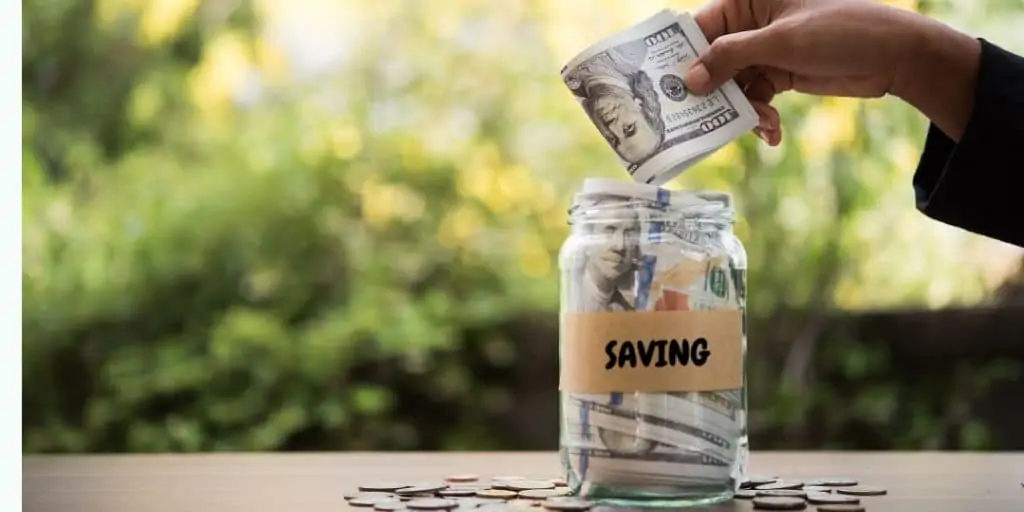 Best Money-Saving Tips
20. Buy Discounted Gift Cards
There is a great service that sells discounted gift cards. You can actually save money by purchasing used gift card. Sites like Raise.com can help you get a great deal on a gift card.
21. Cancel Unused Club Memberships
Did you know that companies are making a fortune on people that sign up for a club membership and never use it?
It's so easy to sign up for a club membership and have it come out of your bank account automatically.
Then you completely forgot about the membership or never use it. Take some time to analyze your current club memberships and cancel what you aren't using.
22. Don't Save Your Credit Card Number on your Online Shopping Account
I know that it is so easy to shop when your credit card is already stored in your shopping account. All you have to do is click and buy.
The danger is that you can completely overspend because of this convenience (not to mention the online fraud danger).
This has kept me from buying things multiple times. When I'm shopping online, I'm usually in bed or on a comfy couch.
If I don't have my card stored, it means I have to get up and get my card. Sometimes, the purchase isn't worth it.
23. Buy in Bulk
Buying in bulk is one of the best ways to save money. This applies to everything from food to toiletries items.
The nice thing about buying in bulk is that you don't have to worry about getting things on a weekly basis. You can get a 3-month supply so you are only buying those items 4 times a year.
24. Pack Food for Road Trips and Vacations
I don't know about you but my family and I are always snacky on road trips. Between the 5 of us, we could spend a ton of money satisfying our cravings on the road.
Thankfully, I learned a long time ago that I needed to pack my own snack foods. This doesn't mean you can't have yummy junk food. It just means you get to enjoy it at a fraction of the price.
We've experienced the same thing on vacations. You should try to bring your own food for at least half of your meals while you are on vacation. We usually purchase our own food for breakfast, lunch, and a few dinners.
That way we can eat out a few times and get a few snacks. Obviously, this depends on the type of vacation you are taking.
A good rule of thumb is to do this whenever your destination has a kitchen or some sort of cooking facility.
25. Learn How to Coupon
Learning how to coupon doesn't have to be time-consuming. Most people think it's a drag but there are some great benefits.
I always look for a coupon before I buy it. Using coupons has saved us thousands of dollars.
26. Refinance Your Home
When was the last time you looked at your mortgage interest rate? You should check the current mortgage rates and see if it will save you any money to refinance your mortgage.
We were able to refinance ours and it saved us a few hundred dollars a month.
27. Don't Let Food Go To Waste
I feel like we always have leftovers from dinner. I usually cook big because we like to have leftovers for lunch. However, there are times when the leftovers don't get eaten.
In those situations, I freeze the leftovers so we have can have them another time.
28. Do Your Own Car Maintenance
Car maintenance can be expensive. Multiple oil changes during the year can add up. If you can, try to do it yourself.
My husband changes the oil in our cars, replaces the brakes, and tries to fix other issues as they arise.
29. Stop Buying Disposable Water Bottles
Disposable water bottles can get really expensive. In my state, they charge a CRV fee which makes them even more expensive.
You can avoid this extra expense by buying a reusable water bottle. I take mine with me everywhere I go.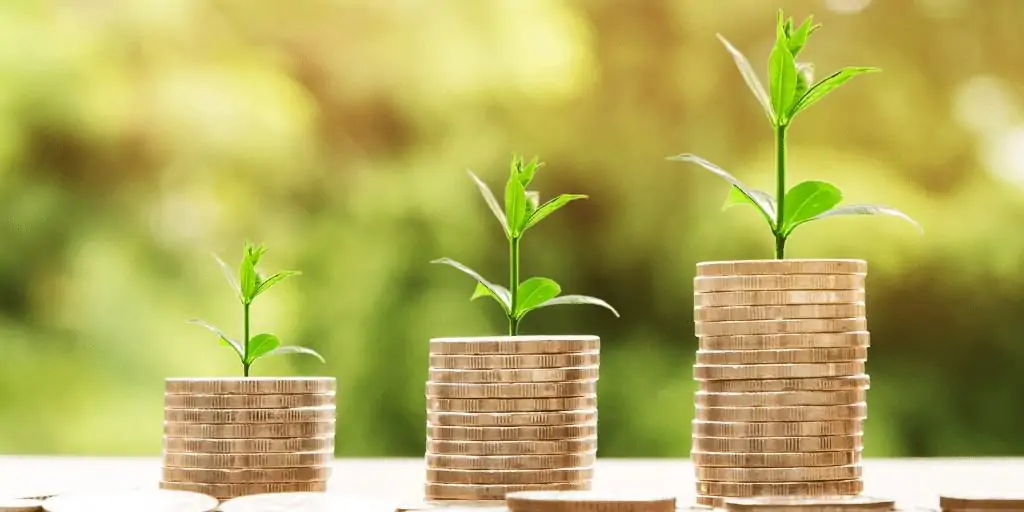 Easy Ways to Save Money
30. Switch to a Low Flow Shower Head
Using a low-flow showerhead can help lower your water bill. Wasting water is never a good thing. We are intentional about conserving water in our household because our state always seems to be in a drought.
Before you buy a low-flow showerhead, you should inquire with your local water company. Our water department gives out free low-flow showerheads to encourage people to conserve water.
31. Stop Collecting Stuff
After years of collecting, you may want to consider selling your stuff. My husband and I were big into Disney figurines. I can't even add up how much money we spend on collectibles.
Over the years, we became uninterested and figured out that we were saving a ton of money. Collectibles can be a fun hobby but most of the time, you aren't going to make the money back that you spent.
There are much better ways to reach your financial goals.
32. Wait to Buy
The 30-day rule of personal finance is great advice. Before you decide to buy something, make sure you've waited for at least 30 days.
This will give you more time to think and make the right decision. You may enjoy the feeling of purchasing things but that's not a good reason to buy. If you wait a while, you may decide not to make that purchase.
33. Eat Leftovers
I cook dinner every night and we usually have leftovers. Some nights we have more than others. Sometimes these leftovers build up and don't get eaten.
I used to throw the leftovers away but then one day I realized that I could freeze them for another time. This has saved us so much money. Not to mention, it's always a good idea to be prepared for emergencies.
34. Do Your Own Repairs
With YouTube and the internet, it is possible to fix most things by yourself. There are tons of do-it-yourself videos that can help you fix almost anything.
My husband does most of the fixing but over the years, I have learned to fix more things myself. You should try it.
35. Live Within Your Means
Let's face it, it's easy to get in over our heads with our living expenses. Before you know it, you want a bigger house, a new car, etc.
I have struggled with this in the past with my home. I always wanted my kid's rooms to have nice things in them. I would overextend my budget and would feel awful.
The good news about this is you can still have nice things without breaking the bank. I was able to find playroom ideas on a budget for them and no one knew the difference.
The things that bring true happiness in life are the things money can't buy. Check your current situation and make sure you are living within your means.
36. Plant a Garden
Being self-sufficient is something I've always dreamed of. If you can start a garden, do it. We live in a mountain community and have all sorts of wild animals around us.
I can't even keep plants alive in my front yard without the donkeys eating them. Maybe one day we will move and I'll be able to start my own garden.
37. Cut Your Own Hair
With a family of 5, haircuts can get expensive. Think of how much money you can save by cutting your own hair.
There are tons of free videos available that can teach you how to cut hair.
38. Carpool
Carpooling used to be a big deal. Over the years it has become less important. There are tons of benefits to carpooling and saving money is one of them.
Check with people at your work to see if they want to start a carpool.
39. Get Free or Discounted Flu Shots
Flu shots are becoming more and more common. According to the Affordable Care Act, Flu and other vaccines are required to be covered by your health insurance without charging a copayment or coinsurance.
Make sure to check with your insurance company to find out if you must go to a specific facility to receive the vaccine. If you don't have insurance, there are ways to get low-cost flu shots.
40. Visit my Blog for Great Saving Tips
You can follow my blog on social media but the best way to follow it is by email subscription (you'll receive one email monthly).
I love finding the best ways to save money. I will be adding to this list and posting more in-depth ideas with money saving tips. Saving money can turn into a chore and we don't want that. These are easy ways to save money each month.
How are you Saving Money?
I'd love to hear about how you save money. Let me know your favorite way to save money in the comments below!