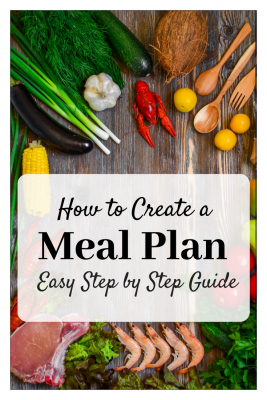 I love saving money! One of the biggest ways I save money is by meal planning. It takes me about an hour a week to meal plan but it's very rewarding. Once my meal planning is done for the week, I don't have to think about it again until the next week.
Another reason I like to meal plan is that I'm busy. I want to serve my family with a good meal and I can't do that if I'm too busy. Each day brings something new and one less thing I have to ask myself is "what's for dinner?".
I decided to start meal planning about 8 years ago. It has saved me time, money and sanity. I've gotten pretty good at cooking home meals (with the help of good recipes). My family actually prefer home cooked meals over restaurant meals. We usually don't enjoy restaurant food as much as the food we eat at home. Because of that, we challenge ourselves to eat at home as much as possible. The only time we eat out is if it's a special occasion, we are traveling, or we can't make it home to eat.
I'm excited to share the exact steps I take each week to make my meal plan. There are all different ways to do this. This is the way I've been doing it and it works well.
Related Articles:
How to Create a Meal Plan
1. Ask family members if they have any dinner requests
I like to give my husband and kids the opportunity to request a meal they would like. Sometimes they have a request and sometimes they don't.  I usually honor their request if the items are a good price and fit our budget.
2. Check the grocery ad for meats on sale
Most of the time, the grocery ad determines what meat I will buy each week. The meat is the first step of each meal for us. We like protein-rich meals. You should also check your freezer for frozen meats that you can incorporate into your week's meal plan.
3. Figure out what meats you will cook
I like to cook a variety of meats each week. We usually limit red meat to once a week. We mostly eat chicken, pork, and turkey.
4. Match your recipe to the meat
If I want to cook chicken, I look for a chicken recipe to cook. I will search my board on Pinterest called "Recipes We Like" to get meal ideas.  If I don't want to cook any of those recipes, I'll search on Pinterest for a chicken recipe. I usually only add one new meal (a recipe we haven't tried) a week if I run out of ideas.
5. Write down your meals
I usually write my meals down and then add them to my phone in the "notes" app.  Either way works. If you write them down on paper, you can keep track of each weeks meal plan and look back at it. It's very important to write them down. My week gets so busy that I forget what I planned for dinner. It's nice to just look at my list.
6. Determine what days you will cook each meal
Some weeks, I can "wing" this. Other weeks I can't. It depends on if you will be home to cook dinner. I like to schedule my slow cooker meals for my long busy days. Then I don't have to worry about cooking a meal when I get home.
Related Articles:
7. Make your grocery list
I always start my grocery list by adding dinner ingredients. After I have those items written down, I will add to my list of the other items we need that week.
That's it! You don't really need anything fancy to accomplish this. Simple is easier. The only thing you need to commit to is spending the time to make your meal plan for the week. It's very rewarding to have it planned ahead of time. It will save you money by eating at home. We have a set grocery budget of $150 each week for our family of 5. This may or may not seem like a lot to you. We like good food and that's why we have our budget set the way we do.
Do you meal plan each week?