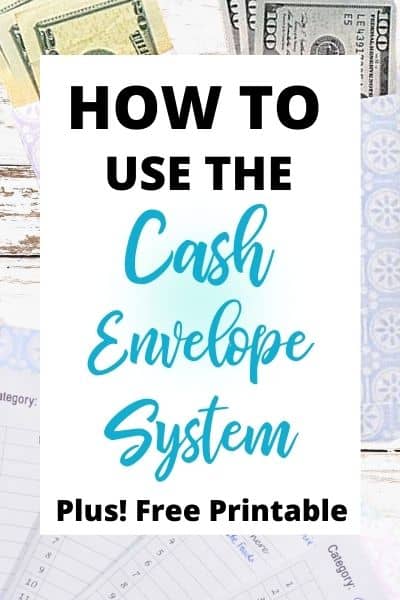 Making the decision to start a budget is hard. Living off credit cards is pretty comfortable until you have to pay them. Eventually, they catch up with you, and you are overwhelmed with credit card debt.
As you know, my husband and I were in the credit card debt cycle. It was a rough road when we had to settle that debt (you can read more about our debt journey on my about page).
Thankfully, God gave us the wisdom to get it paid off but we still had to suffer the consequences. The consequences were painful so we knew that we had to get a budget in place to stay debt-free.
All that to say…you need a budget. Don't make the same mistakes we did. My goal is to help you get your budget in place and find the best budgeting method for you.
Since there are different budget methods, this post is going to specifically focus on the cash envelope system.
What is the Cash Envelope System?
The cash envelope system is a way to track your budget with cash. Each envelope will have a budget category and the amount of cash you specify for that category.
Over the month, you will track your spending on the specific envelope you spend from. At the end of the month, you can see how much money you have left in your envelope.
The envelope budget system keeps you accountable for the actual cash you have. This will help keep you from overspending and getting into debt.
Do Cash Envelopes Work?
Cash envelopes keep you limited to the money in your envelope. Once it's gone, you can't spend anymore. Have you ever noticed that you spend more when you don't have physical cash?
Cards are easy to overspend with. With this method, you see the actual money when you spend it. The cash makes you much more intentional about what you're spending.
This money envelope method only works if you commit to it. It defeats the purpose if you pull out a card when you run out of cash. If you stick to the cash method, you will not overspend.
How to Start Using Cash Envelopes
Now that you understand more about the envelope budget system, I'm going to show you how to use it.
Here's what I will cover:
Steps to using the cash envelope system
Cash envelope categories
Free printable cash envelopes
Please keep in mind that changing your money habits can be overwhelming at first. Making changes or starting new habits can take time. Don't get frustrated and give up. Keep your eyes on the goal of managing your money properly. The reward is well worth it.
In order to successfully use the cash budgeting system, you need to make sure you completed the following two things.
1. Make a Budget
If you don't know where your money is going, then you can't successfully manage it. If you haven't done this yet, then you should follow my step by step guide to making a budget.
Once you get your budget in place, you can move on and track your spending.
2. Track Your Spending
Tracking your spending allows you to see how much you spend in each part of your budget. If you haven't done this yet, take the time to track your spending for one month.
Download this free expense tracker printable and write down everything you spend. At the end of the month, add up how much you spent in each category. This will give you an idea of how much money you should allocate to put in each envelope.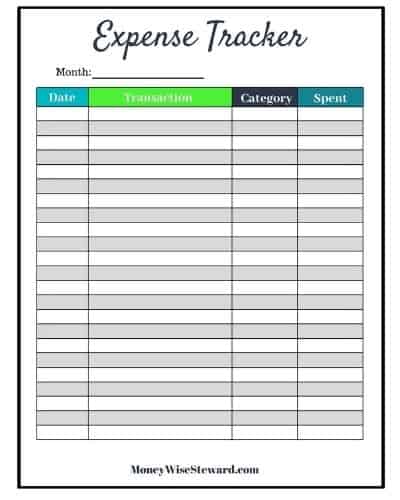 Cash Envelope System
Now that you have your category amounts established, you can set up your cash envelope categories. The cash envelopes are intended for variable expenses. Let me break this down for you.
What are Fixed Expenses vs Variable Expenses?
Fixed expenses are the expenses that are already set each month. Here are some fixed expense examples:
Mortgage/Rent
Car Payment
Life Insurance
Retirement Contributions
Variable expenses are expenses that change every month. Here are some variable expenses examples:
3. Figure out Your Variable Expense Categories
Once you figure out your categories, you need to set money limits for each one.
My categories are pretty cut and dry. My "Groceries" expense includes anything we get from the grocery store or convenience store. My "Restaurant Meals" expense includes any eating out of the house.
You should have a pretty good idea of what your spending is like. Make it more simple. Don't complicate it.
Cash Envelope Categories
Here are some category ideas for your cash envelopes. Here is a list of budget categories for any type of budget system.
Groceries
Restaurant Meals
Pet Food
Clothing
Gifts
Gas
Vacations
Salon services
Beauty products
Entertainment
Parties
Misc
4. Decide what Envelopes You Will Use
Once you have your budget figured out, your cash envelope categories determined and your category dollar limits set, you need to decide what envelopes you will use.
The easiest and cheapest way is to use plain white envelopes and write on them. If you want cash envelopes that are more sturdy and colorful, check out the options I've listed below.
Free Printable Cash Envelopes
If you want to add some style to your budget, you can use decorated cash envelopes. Sometimes cuteness just makes a budget better.
Here are my favorite free printable cash envelopes: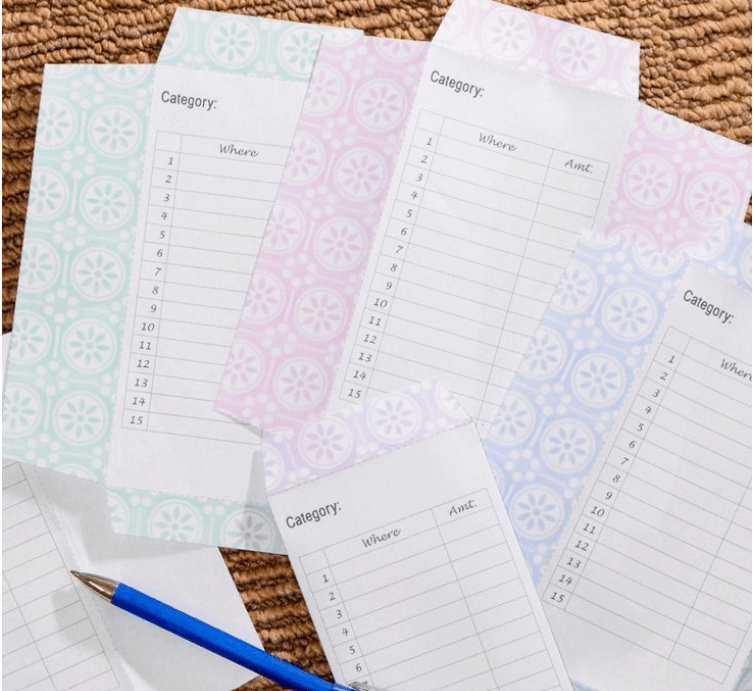 If you like a simple design, you can download these free cash envelopes from Maple Planners. Just head over to their site and download your copy.
If you want to purchase some instead, you can get them for a small fee. Here are some of my favorites.
12 Budget Envelopes. Laminated Cash Envelope System for Cash Savings Plus 12 Budget Sheets.
12 Budget Envelopes - Laminated Cash Envelope System for Money Savings with Expense Tracker Sheets for Finance Record, Tear and Water Resistant
Clever Fox Cash Envelopes for Budget System - Money Envelopes for Budgeting and Saving, 12 pack of Assorted Colors, Tear and Water Resistant, Includes Carry Pouch & 12 Expense Tracking Budget Sheets
12 Budget Envelopes - Laminated Cash Envelope System for Money Savings with Expense Tracker Sheets for Finance Record, Tear and Water Resistant
I will share more money envelope ideas (cash envelope wallets) at the bottom of this post. Scroll down to check them out.
5. Label your Cash Envelopes
When you have your envelopes ready, you need to start labeling them with your categories. Write one category name on each envelope.
Then write the budget amount you've decided on that envelope.
6. Decide When you will Pull Out Cash
This step depends on when you receive your paychecks. If you budget paycheck to paycheck, then you will pull out cash each time you get paid.
If your budget covers the month, then you would pull the cash out so it lasts you the whole month.
7. Pay Your Fixed Bills
Like I mentioned above, your fixed bills are not a part of your envelope budget system. You can either pay these by mail or online.
It's easier for me to have them automatically debited since I have to pay them anyway. It's up to you on how you want to pay your fixed expenses.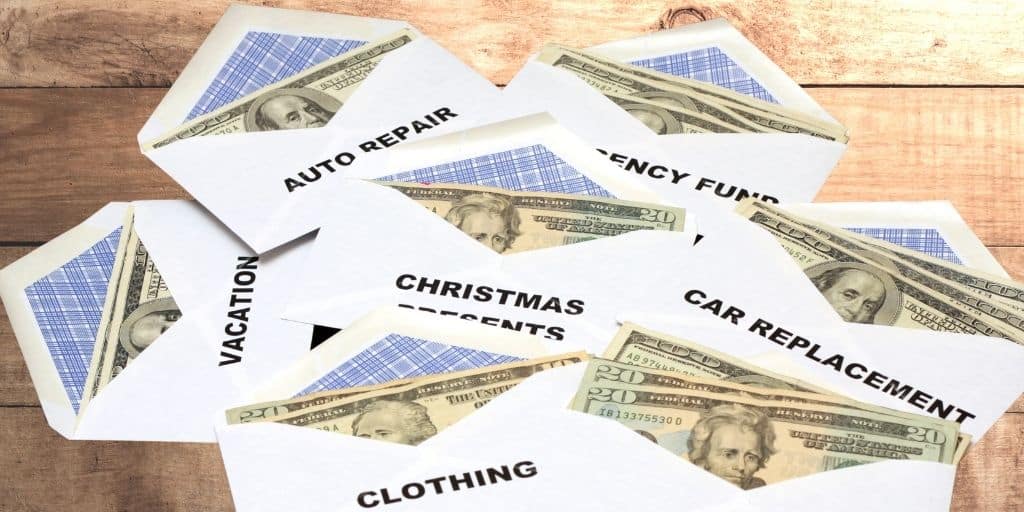 8. Stuff your Envelopes with Cash
Add up the total cash you have budgeting for your envelopes and withdraw it from the bank. Now that you have your cash pulled out, you need to stuff it in your designated envelope.
If you budgeted $200 for "restaurant meals", then you would put $200 cash in your "restaurant meals" envelope. Continue doing this until all your cash envelopes are filled.
9. Use only the Cash You Specified for the Category
Since you have determined the dollar amount for each category, you should only be spending the cash in that specific category.
If you start borrowing from other categories, you may run out of money in the category you are borrowing from.
This will take trial and error. Sticking to the cash you have in the envelope will make your budget envelopes most effective.
10. Don't Give Up
Budgeting money is not easy. You have to be intentional about it. The easiest thing to do is give up. Don't do it. You will experience so much freedom when you stop letting your money manage you.
Budget challenges will come but you need to push through them. There are several ways to help your budget. You can choose to live a more simple lifestyle or you can become more frugal with your spending.
I learned to use coupons and it has saved me a ton of money. There are multiple ways to make your budget comfortable. You just need to decide to do them.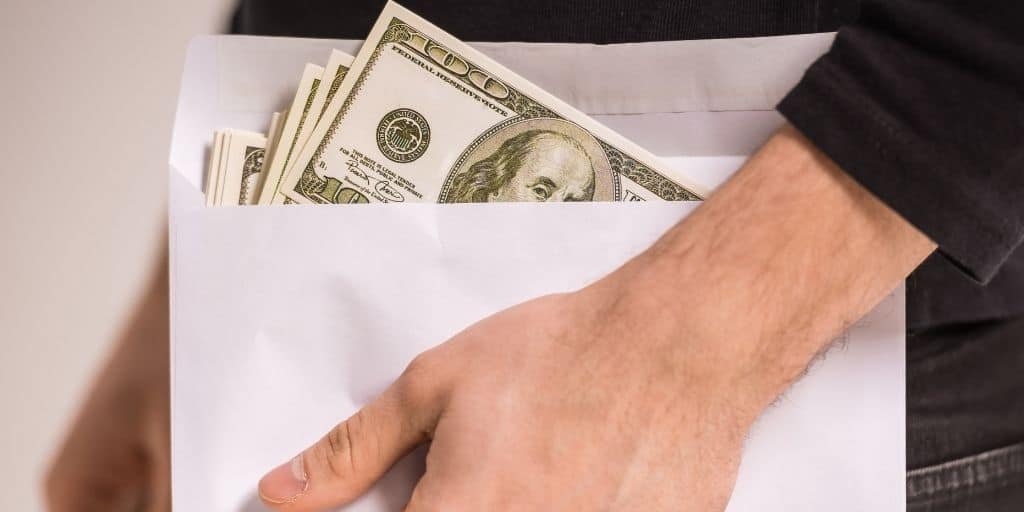 Should I Use Cash Envelopes?
Now that you've seen step by step on how to use the cash envelope system, you should be able to make a decision if it will work for you.
I have found that carrying around money envelopes is difficult. It works for some people but not everyone. I've been serious about budgeting over the last 10 years and I've tried several different ways to budget.
The budgeting system that works best for me is an online system. I basically break down my categories and use an online budget app to track my spending.
The app is right on my phone so once I spend money, I add it to the specific category. It works great for us.
My hope is that this post has helped you understand the cash budget method. It's a great system if you don't mind carrying around cash.
Cash Envelope Wallets
As promised, I'm sharing my favorite cash envelope wallets with you. These wallets allow you to separate your cash envelopes but instead of the envelopes being loose they stay organized in a wallet. Such a genius idea!
All-in-One Cash Envelopes Wallet Finances Organizer with 12 Budget Envelopes & Budget Sheets, PU Leather Wallet with Zip Phone Pocket Clutch Large Travel Purse Wristlet Hand Strap Maker Pen
①【WALLET BUDGET ENVELOPE SYSTEM】Includes 1 wallet with 12 envelopes, 12 budget sheets, 1 binder note, 1 Hand Strap, 1 Maker Pen - It will help you manage your money and achieve your monthly budget goals or family budget goals.Let's start saving!
②【NEW GENERATION UPGRADE】The following points have been improved.1.Hand rope (More safer hanging on the hand) 2.Two visible card slots (can display your ID card quickly) 3.An exterior button pocket for storage cash or cellphone, which can fit iPhone 11 Pro X XR XS 7/8 plus 4.the Lateral Opening envelopes: More easily to take your money out of the envelope) 5.Free Maker pen: You can write on the envelope with this pen.
③【HUGE TRAVEL WALLET】The cash envelopes wallet made with imported quality leather with smooth zipper.This wallet has 12 credit cards slot, 2 ID window card slot, 2 bill compartments, 1 Coupon slot, 1 Zipper pocket, 1 exterior button pocket .
④【MONEY BUDGET PLANNER】These budget envelopes are not just money envelopes for cash! They can also be used as a receipt organizer, coupon organizer for purse, or envelope organizer for stamps, checks and notes. Get your wallet organized today!
⑤【100% 90 DAY MONEY BACK】If you are not satisfied for any reason, simply return your wallet for a full refund, no questions asked. You have nothing to lose.
Soligt All-in-One Cash Envelopes Wallet with 12 Budget Envelopes & Budget Sheets - Black
Value package - The Envelope Budgeting System includes 1 stylish wallet with 12 envelopes, 12 budget sheets, 1 binder note for organizing - perfectly help you make budgeting and managing finances easy & fun.
Simple yet elegant - Our wallet is made of quality PU leather with a smooth zipper closure and offers plenty of room to store your cards, coins, envelopes, coupons and more.
Unique and durable - Laminate coating budget envelopes are sturdy and come in 12 easy-to-identify patterns with blank pages to mark categories. Each measures 6.6" x 3.5" with a secure closure and is hole pouched to fit in the binder and be carried with wallet.
Keep Track - The budget tracker sheets enable you to record the amount of cash in and out for each category - helps you monitor and control your spending effectively. Printable template is included!
100% SATISFACTION - We will refund your money if you aren't happy with your cash envelopes wallet.