Did you know that you can get paid to shop online with Ebates? Shopping online is so convenient.
Getting cashback shopping online makes it even more fun.
I've been earning cashback for shopping online with Ebates for the past 7 years and I've earned over $700 just for shopping.
If you're an online shopper and you haven't been using Ebates to earn cashback you'll want to continue reading.
What is Ebates?
Ebates is a website that gives you cashback on your online purchase. They've been offering cashback since 1999 and are one of the very first companies to offer cashback online. They offer cashback at over 2000 of the most popular stores.
Ebates has grown a lot since I started using them.  In addition to getting paid to shop online, you can find promo codes and discounts on their site.
I mainly use them to get cashback. I have run into situations where I find a good promo code when I'm shopping for cashback so it's definitely a win-win.
How Does Ebates Work?
Ebates gives you a percentage of your purchase back in cash. If you make an online purchase of $100 online at Kohl's and the Kohl's cashback offer is 3%, then you will get $3 back.
The cashback amount varies for each store. Some stores may offer 1% cashback while other stores may offer 15% back. I use Ebates no matter what. If I only get $.50 back, that's definitely better than nothing, right?
I've been paid multiple times by Ebates. Ebates is not a scam. They keep track of your purchases and give you the advertised cashback.
Are you ready to start earning cashback?
How to Get Paid to Shop Online at Ebates
This is the step by step process of how to get paid to shop online.  Many people I talk to are confused by the process so I decided to put this together to walk you through the process.
Step 1
The first thing you need to do is sign up for an Ebates account. It's free to sign up and if you sign up through my Ebates link, they'll start you off with a $10 cashback bonus.
Step 2
Let's say today I decided I wanted to buy something at JCPenney online. The first thing I would do is go to Ebates because I want to get cashback on this purchase.
You can log in directly on their Ebates website, use the Ebates cash back button, Ebates browser extension, or use the Ebates app.
The Ebates browser extension and Ebates cash back button are pretty neat because they notify you of cashback and promo codes when you are on a specific website. The Ebates app is great if you are shopping on your mobile device.
You can also get Ebates cashback in-store if you link a credit card to your Ebates account. I'm not a big fan of this but it may be a good option for you.
Step 3
Once you arrive on their site, type JCPenney in the search bar (example web version: at the top of the photo below). Click the magnifying glass and it will bring up JCPenney.
They don't offer cashback for all stores but they do for most of them. If you don't see your store come up, then just order how you would normally.
Step 4
Now you should have the cashback page for JCPenney on your screen. You'll see promo codes on the right and on the left, you will see how much cashback is being offered for JCPenney (Please excuse the blackouts. Cashback changes all the time so I can't list the current cashback amount.)


Step 5
If you see a promo code you like, you can click on the "Shop Now" link and you will get the promo code deal and the cashback.
If you don't see a promo code you like, you will click on the left side where it says "Shop Now". It's right under where it says JCPenney. This will take you to the JCPenney website.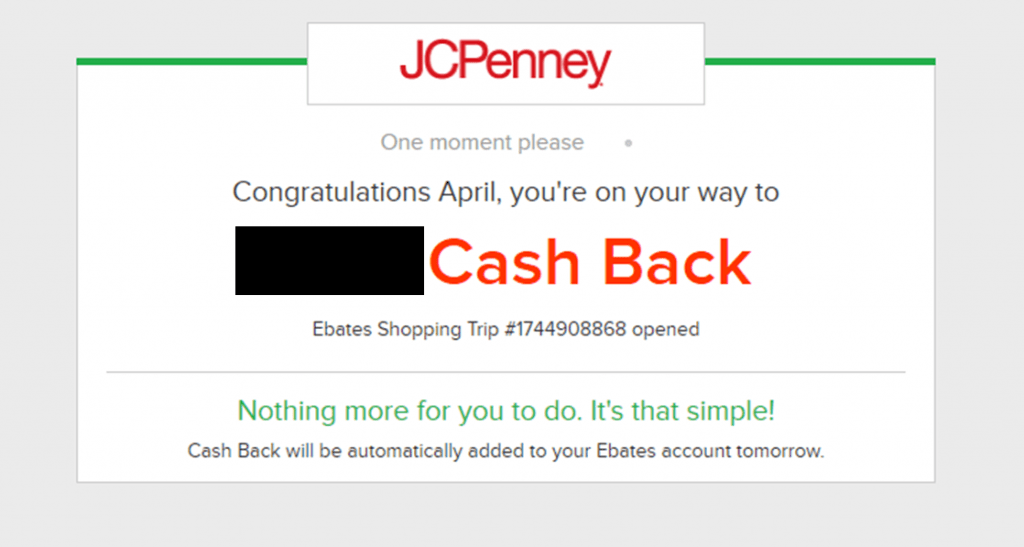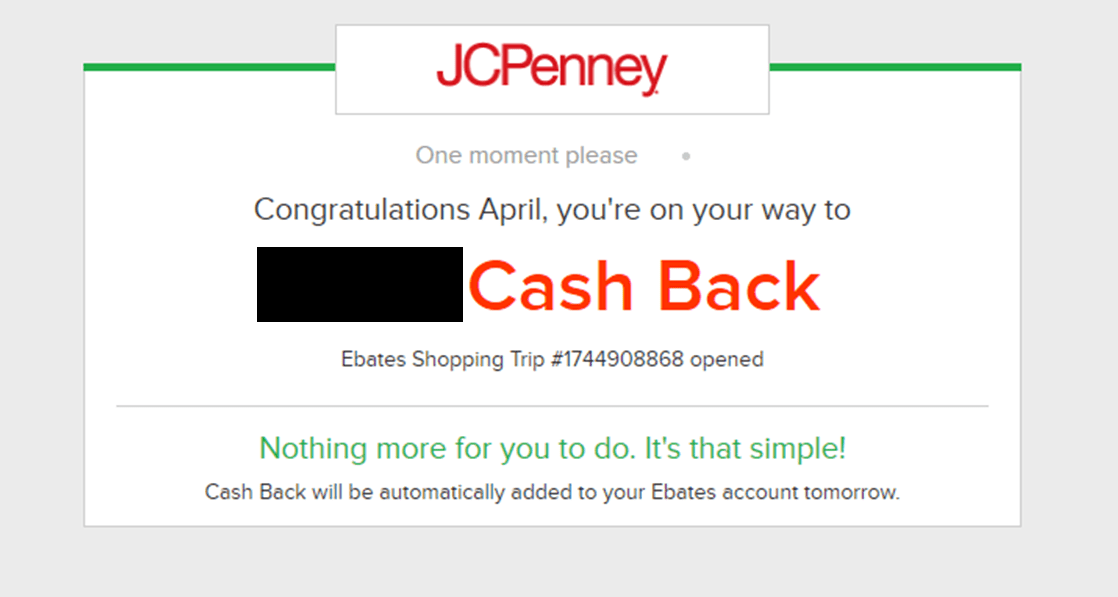 Step 6
You will see a confirmation that you are headed to the JCPenney website. This confirms the amount of cashback you will receive. Once you make your purchase at JCPenney, the cashback amount will be added to your Ebates account.
Just remember if you add something to your JCPenney cart and then come back to it at a later time, you'll need to go through this process again to make sure your cashback is being tracked by Ebates.
This can also be done another way. You can shop at your desired store online and add everything you want to your cart.
Then go to Ebates and click on the cashback link when you're ready to buy. I find this way works better for me because I'm a "scattered" shopper.
One minute I'll be shopping and then the next minute I'll be helping the kids with something. Once I get back to the computer, I can't remember if I went through the Ebates link or not.
It's OK to go back through the process multiple times just to be sure you're clicking the right link. Do whatever works for you!
How to Get Your Ebates Cash Back
Each time you earn cash back, Ebates will email you the amount of cashback you earned. It may be a day or two before you get an email. Sometimes, it's a small amount but trust me it adds up.
I love it when my cashback shows up. It's a sweet bonus to my day! It's love how its so easy to get paid to shop online!
Ebates pays out cash back every three months. You need to set up your payment preferences and payment address or they won't have anywhere to send your money.
You will need to accumulate a cashback balance of $5 or more to get a payout. If you don't accumulate that much, it will roll over to the next pay out period.


You can see an example of my account above. I've earned over $700 since I've been getting cashback. You can see my pending balance and a few of the stores I've shopped at.
I've chosen the Paypal method for my payment but you can also have a check mailed if you prefer.
Share Ebates and Get Rewarded
Ebates offers a fun referral program. If you share Ebates with your friends, you can earn $5 when they make a $25 purchase during the first year of signing up with your referral link.
Your unique referral link can be found when you log into your online account. You can email it, text it, and even share it on social media!
_______________________________________________________________________
That's it! You can get paid to shop online and it's so easy. Now, just remember every time you shop online, go through Ebates to earn cashback.
Just make sure you're signed up with Ebates to see the cashback. It's free to sign up and if you sign up through my Ebates link, they'll start you off with a $10 cashback bonus. Click this Ebates link to get started.
Do you get paid to shop online with Ebates? How much cashback have you earned?