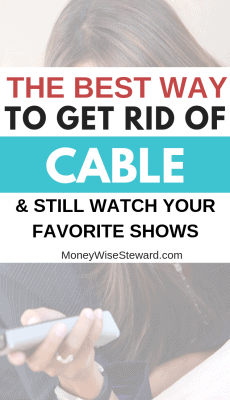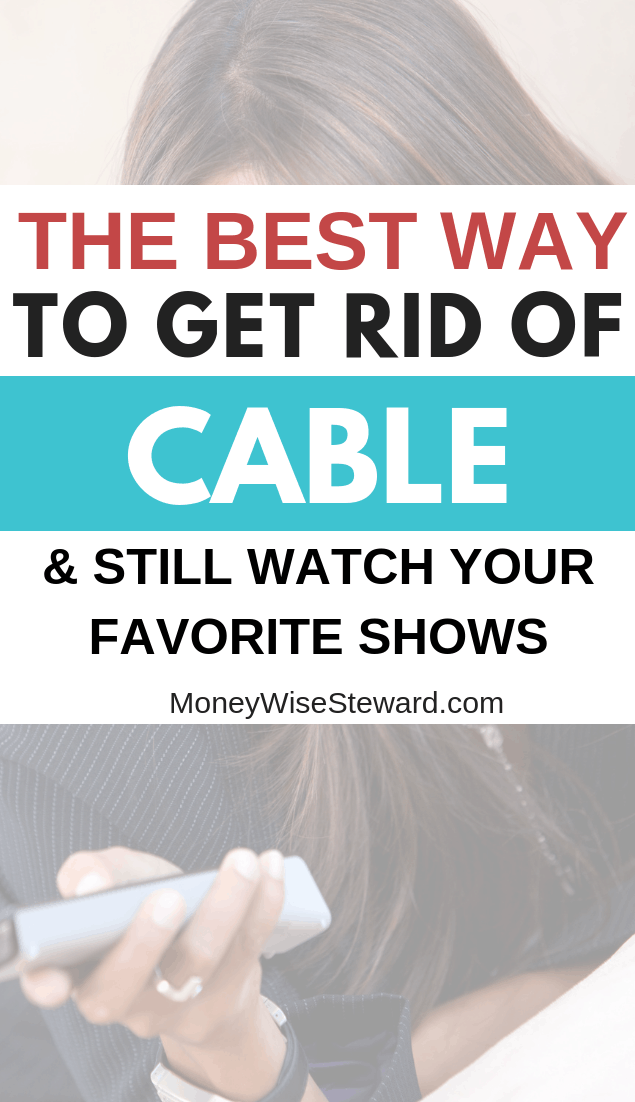 We've been cable free for the past 4 years. Getting rid of cable was one of the best things we did. Like most families, we have a good idea of what we want to watch on TV.  We like to watch cooking shows, DIY shows, family friendly TV series, and sports. We were spending over $100 a month for cable.  It wasn't worth it so we started looking into the best way to get rid of cable.
It may seem difficult to get rid of cable because you want to have something to watch. We started looking into options to get rid of cable and found the best cable tv alternatives. The first thing we started out with was Netflix.
It has really great options for the TV shows we liked to watch. My favorite part is it has "seasons" of the TV shows you want to watch and no commercials.  We decided to keep Netflix because we like that they constantly add new TV shows and movies.
Our next obstacle was "how were we going to cut cable and still watch sports?". My husband loves to watch sports and I felt bad that he didn't have the option to watch it on Netflix.  One day, we saw an ad for SlingTV and decided to try it out.  With SlingTV you can cut cable and still watch sports. We decided to give it a shot.
We've had SlingTV for about a year now and it's been working for us. The combination of Netflix and Sling TV have filled the gap of not having cable TV. Instead of spending over $100 a month on cable, we are now spending $35 a month. That's a huge savings for us.  We're saving over $800 a year by getting rid of cable!
Since we are living successfully without cable, I'd love to help you accomplish the same thing. My goal is to help you save money so you can live to the fullest.
The Best Way to Get Rid of Cable
If you decide to get rid of cable, you need to be sure you have a good internet connection. Most people have internet service already. If you don't have internet service, you'll need to get it. Check with your local provider and get internet service.
The next thing you will need is a way to watch TV. If you get rid of cable, you will be watching TV through an app. If you have a fairly new smart TV, it should have the capability to stream through apps. If you don't you can get a device to plug into your TV.  There are many different streaming devices to choose from. We use a Roku Streaming Stick. It's around $30 and works awesome. This is the only one I recommend because we have personally used it and haven't had any issues.
There are many cable alternatives available and you need to find what's best for you. We are perfectly fine with Netflix and SlingTV.  Together they fit all the needs of our family. Check out the list below for some of the best cable alternatives.
Netflix
We love Netflix. We've had it for over 4 years so I guess that's a good indication that we like it.  Netflix has a lot of great features. Here are some of my favorite features:
~You can cancel anytime. There are no contracts. You are on a month to month subscription. If you want to stop one month and then start again later, you can. There are no penalties. They have 3 great plans to choose from.
~You can watch anywhere. You can watch Netflix on your TV, tablet, computer, phone, etc. Basically anywhere there is internet available.
~You can create your own profile. They even have kid profiles so you can protect your children from grown-up shows. Once you create a profile and start watching stuff, Netflix will customize your profile to what you like to watch.  I love this because there is a lot of variety on Netflix. It gives me good suggestions for what I might want to watch.
~You can download shows. Yes, you read that right. Many of the shows and movies are available for download. This is perfect for long road trips or camping trips where you don't have internet service.
There are many more benefits to having Netflix. You can check it out for yourself. They are currently offering a 30 day free trial to try out their service.
SlingTV
Like I mentioned above, we've had SlingTV for a year. It's easy to get rid of cable with great options like this. We really like it because it allows us to pay for the channels we want. It features the same TV shows as cable. If it's on cable, it's available on SlingTV.
SlingTV is a streaming service, not a cable service. It allows you to pick a package with the channels you like most. You end up paying less because you are getting rid of channels you don't watch. We don't need 100 channels, we are fine with 25 channels. It's a great way to watch "live" TV for less. Here are some of my favorite features:
~You can pick which plan you want. They have 3 basic packages to choose from. Each plan shows you the channels included with that plan. The least expensive plan is $25 a month and the most expensive is $40 a month. You also choose to add a specific channel for an additional charge. Don't overdo here. You can easily get back to cable prices. We have the $25 package and when football season starts we add that package. Check out the SlingTV package options to see what works for you.
~You can cancel anytime. No contract is required to have SlingTV. It's a month to month plan. You can change your add on's and channels anytime.
~If you miss a show you can watch it later. There are specific shows that we like to watch but we can't always watch them at the time they air. SlingTV allows you to watch the show later. This is true for most channels. Sometimes the option isn't available. It has worked for us every time we need it.
~You can watch anywhere. You can watch SlingTV on your TV, tablet, computer, phone, etc. Basically anywhere there is internet available.
Right now with SlingTV, you can get a 7 day free trial. This is how we started out. We ended up liking it so we subscribed to it. If you decide to get it, make sure to check out their current offers. They are currently offering a free ROKU streaming stick when you sign up for 2 months.
Hulu
We tried out Hulu and found it to be very similar to Netflix.  You can create profiles, you can cancel anytime and the pricing is the same as Netflix.  They feature different shows and movies on Hulu. One thing that sets them apart from Netflix is that they have a "live" TV package.
We had this for a few months and then decided to cancel because the costs were adding up again. I didn't want to get back into cable pricing. I would recommend that you do the free 30 day trial for Hulu and see if it has the shows you like to watch. You can compare it to the free 30 day Netflix trial and see which one you like better. I haven't personally tried the "live" TV for Hulu but I have heard good things about it.
*Update* We tried Hulu "live" and love it. It has one of the easiest interfaces for live TV. You should try it. Get a free 7 day trial of Hulu Live now.
TV Antenna
One other great option is a TV Antenna. We don't personally have one because we live at a high elevation and it doesn't work.  My in-laws have one though and it works great. When we stay at their house we watch it. It comes in really clear and has some great channel options.
The only thing you need to do to get started is to purchase the TV Antenna. You set it up and instantly get TV. It doesn't require internet service. This is a great option if you want to cut your monthly service fee completely.
Amazon Prime
We have been Amazon Prime members for the past several years. One of the main reasons I'm an Amazon Prime member is for the free Prime shipping. We live in a mountain community that doesn't have everything we need. We order on Amazon to make up for what we are missing. You can read more about my favorite Amazon Prime benefits.
One of the benefits of Amazon Prime is Amazon Instant Video. They have a lot of free TV shows and movies for Prime Members. You can check out what they have to offer with the free 30 day trial of Amazon Prime. They also have "add-on" channels. Example: If you want to watch a specific channel you can subscribe monthly to that channel. It's a great option that we've used before.
_________________________________________________________________________________________
Those are my suggestions for the best ways to get rid of cable.  I hope this list is helpful to you. I know there may be other options available but I like to speak from experience. It's easy to promote a product but I feel like it isn't helpful if I don't have experience with it.
Did you get rid of cable? I'd love to hear what you're doing to save money on cable tv.