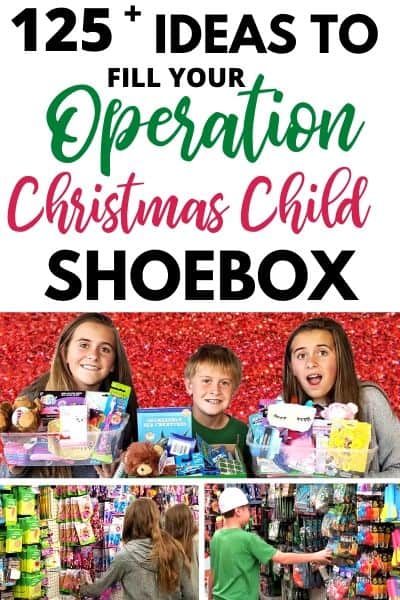 We have been so blessed to give our children Christmas gifts every year. For some reason, I feel like I need to give them a lot of Christmas gifts (probably because I love them so much).
I end up holding my self back because they don't need a bunch of stuff. I focus on only getting them a few things they need and a few things they want.
Over the years we have noticed that more Christmas gifts don't equal happiness. Our kids have grown to be thankful for what they receive.
Can you imagine not being able to give your children gifts during Christmas? Not even one gift? It breaks my heart that children all over the world don't receive gifts. This is where Operation Christmas Child comes in.
What Does Operation Christmas Child Do?
Operation Christmas Child is a Christian ministry that provides locations around the world with shoeboxes that are filled with small items. Operation Christian Child shoeboxes include small toys, hygiene items, school supplies, etc. Basically, anything that is uplifting and useful that will fit in a shoebox.
The purpose of the Samaritan's Purse Shoebox is to reach out to children in communities all over the world to share the Good News of Jesus Christ. They include things like prayer ideas, Bible verses, Bibles, Bible study guides, Bible reading plans, and more!
I'm going to be sharing Operation Christians Child ideas in this post. There are some restrictions on what you can put in the shoeboxes.
Where Can I get an Operation Christmas Child Shoebox?
You can use any shoebox in good shape. They can be cardboard or plastic. You may also wrap your shoebox, just make sure not to wrap or tape it closed. We usually wrap the lid and the bottom separately so they can easily check them.
Shoeboxes are available at multiple locations. Our church usually has a limited amount, I've also seen them available for purchase at Hobby Lobby. You can also order shoeboxes directly from Operation Christmas Child if you prefer.
What Can I Put in an Operation Christmas Child Shoeboxes?
There are a lot of items you can put in your Operation Christmas Child shoebox. You should focus on what you can't put in the shoeboxes. There are lots of great Operation Christian Child ideas that you can use.
We've been making Operation shoeboxes for years. Over the years, they have changed what you can put in the shoeboxes. My best advice is to check their restrictions every year to make sure you are in compliance. Here are some current items not to put in the shoeboxes.
Used or damaged items
War-related items like toy guns, knives, and military figures
Any type of food
Liquids items like lotions or anything else that can spill
Medications or vitamins
Glass or breakable items
Aerosol products
Drugs and Alcohol
Operation Christmas Child Shoebox Ideas
Now that you basically have an understanding of Operation Christmas Child, let me share some shoebox ideas. Like I mentioned above, we have been packing Operation Christmas Child shoeboxes for years.
Every year we come up with new Operation Christmas Child Ideas. First, check out this Operation Christian Child Video that my kids made on their YouTube channel. It's very informative and it may help you with some ideas.
As you can see there are tons of Operations Christmas Child Ideas to pack. First, you should choose the age range you will be packing before you start. I let my kids choose the age range they want to pack. It makes it fun and meaningful for them.
These are the shoebox age ranges:
Boys Shoebox Ages
2-4 years old
5-9 years old
10-14 years old
Girls Shoebox Ages
2-4 years old
5-9 years old
10-14 years old
Now that you've chosen an age range, look through these ideas to pack. It's not an exhaustive list but it's a good start. Keep in mind that the shoebox lid needs to close. Don't overpack.
Operation Christmas Child Shoebox Ideas Free Printable
I created a free printable of this list if you'd prefer to print it and take it with you. Click this Operation Christmas Child Shoebox Ideas link to get your free printable.
Shoebox Ideas for Young Boys and Girls
1. Pencils
2. Colored pencils
3. Sharpener
4. Pencil case
5. Erasers
6. Pens
7. Crayons
8. Ruler
9. Coloring books
10. Markers
11. Highlighters
12. Note pads
13. Stickers
14. Sticky notes
15. Mini clipboards
16. Paper
17. Construction paper
18. Solar calculators
19. Self-inking stamp
20. Sandals
21. Flip flops
22. Tennis shoes
23. Socks
24. Water shoes
25. Slinky
26. Sunglasses
27. Balls (all types that will fit)
28. Washcloths (we love the ones that unfold in water)
29. Small towels
30. Bracelet
31. Scarves
32. Beanies
33. Bandanas
34. Hair ties
35. Hairbrush
36. Combs
37. Barrettes
38. Small stuffed animals
39. Toy cars
40. Toys that light up and make noise (include extra batteries)
41. Handheld toys (nothing war-related)
42. Pom poms
43. Puzzles
44. Finger puppets
45. Silly putty
46. Pretend play jewelry
47. Plastic tools
48. Aprons
49. Travel size games (checkers, cards, etc)
50. Hacky sack
51. Bean bag
52. Watch
53. Harmonica
54. Kazoos
55. Yo-yo
56. Hats
57. Glue sticks
58. Safety scissors
59. Gloves
60. Small blankets
61. Shoelaces
62. Mini dry erase boards and markers
63. Mini etch a sketch
64. Binoculars
65. Kaleidoscope
66. Legos
67. Solar-powered flashlight
68. Recorder
69. Tambourine
70. Jump rope
71. Paddleball
72. Craft kits
73. Jewelry kits
74. Clip-on earrings
75. Chalk
76. Washable paint sets
77. Play-doh
78. Backpack
79. Purse
80. Wallet
81. Coin purse
82. Cups
83. Straws
84. Glowsticks
85. Toothbrushes
86. Wet wipes
87. Travel pack of tissues
88. Lip gloss
89. Play makeup
90. Band-aids
91. Flashcards
92. Plastic ponchos
93. Balloons
94. Eating utensils
95. Dental floss
96. Emery boards
97. Hand wipes
Shoebox Ideas for Older Boys
You can use any of the items above for older boys. We've always struggled with the older ages so here are a few shoebox ideas for older boys.
98. Hammer
99. Screwdriver
100. Wrench
101. Pliers
102. Duct tape
103. Measuring tape
104. Toolbelt
105. Small fishing kit
106. Fishing line
107. Fishing hooks
108. Fishing lures
109. Kaleidoscope
110. Plastic Magnifying Glass
111. Handkerchief
112. Collapsible water bottle
113. Fanny pack
114. Compass
Shoebox Ideas for Older Girls
Here are a few shoebox ideas for older girls.
115. Jewelry
116. Cross stitch kit
117. Sewing kit
118. Yarn
119. Adult coloring books
120. Colored sharpies
121. Friendship bracelets
122. Stamp sets
123. Journal
124. Decorative signs
125. Keychains
126. Project kits
127. Slippers
128. Sleep mask
Consider Including a Letter in Your Operation Christmas Child Shoebox
In addition to packing a shoebox with the ideas above, you should consider writing a letter. Including a letter is a great way to add a personal touch to your shoebox. You may even receive a letter back. Here are some tips to get you started.
Use a colorful fun piece of paper or even a postcard from your city.
Introduce yourself and make sure to share your name and age.
Share the excitement you experienced packing their box and let them know you hope they enjoy it.
Write as proper as possible. It doesn't matter what language you are writing in because they have translators that should be able to interpret your letter.
Share things about yourself and your family. Include in a picture if you can to make it even more personal.
Include stickers, hearts, smiley faces, etc on your letter to make it more inviting.
What should I do with my Shoebox When it's Packed?
The first thing you need to do is make sure it closes. It's so fun packing the shoeboxes but if they don't close it can cause a problem. If you have a ton of stuff, consider packing a shoebox for two different children.
Once your shoebox is ready, you can drop it off at a designated location. Make sure to apply the label of what age range you packed. The labels are available online at the Operation Christmas Child website (or if you got an OCC box, it should have come with the label).
You will need to include a shipping fee of $9 for each box. You can also go on the OCC website and purchase your shipping label. We prefer to purchase our labels from the OCC website because it allows you to track where your box went. The kids love knowing what country their shoeboxes were delivered to.
Are you Planning on Packing a Shoebox this Year?
We love packing shoeboxes knowing that we are blessing someone and they are learning about Jesus. I'm praying that you would consider packing a shoebox this year.
Keep in mind that the collection week for the boxes is the 3rd week of November every year. So I recommend you start early in November or even October so you can get your box in on time.
I'd love to hear if you are packing a shoebox this year or if you have in the past. Share your experience in the comments below!