Current Amazon Promo Codes
This article may contain affiliate links. I may earn money from the companies mentioned in this post with no additional cost to you. Please read my disclosure policy for more info. All Bible quotations are from the New King James Version (NKJV) unless otherwise stated Bible Copyright Attribution.
Using Amazon promo codes is one of my favorite ways to save money. Every week I post multiple Amazon Promo Codes. The promo codes can expire at any time.
Each week I go through the Amazon promo code deals I posted and make sure the promo code is still valid. I created this post to keep you updated on the current promo codes for Amazon.
I personally love purchasing from Amazon and I would never share a deal that I wouldn't buy myself. I update this list multiple times a week. This list has all the promo codes for Amazon that are still available.
**I'm no longer posting Amazon Promo Code Deals. I'll update this post if I decide to continue.**
If you are just seeing this post and are not sure how to get a promo code for an Amazon deal, you can read my post on how to get an Amazon promotional code deal.
If you like these deals, be sure to follow my blog daily or follow me on Facebook to keep yourself up to date. Don't miss out!
If you come across any Amazon promo codes that are no longer valid, please let me know in the comments and I will get the list updated right away. Happy Shopping!
Not an Amazon Prime Member? Check out how you can get a 30 day free trial of Amazon Prime or if you're a college student, check out how you can get Amazon Prime free for 6 months with an Amazon Prime Free Trial for College Students.
Not sure how to get these deals? Check out how to get an Amazon promotional code deal.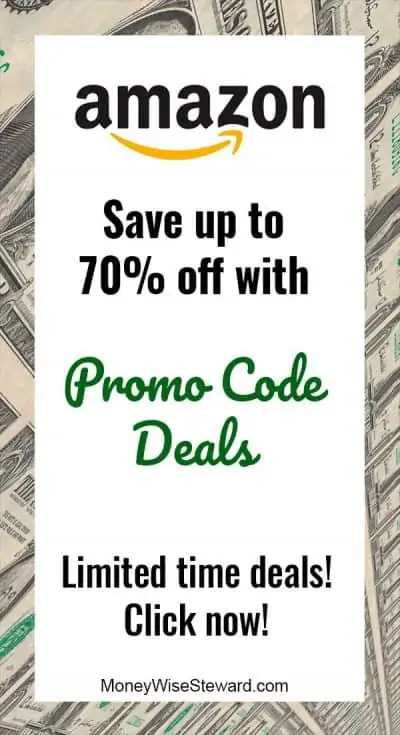 Best Amazon Deals
Here are some of the best Amazon deals I have posted.
Why I Love Amazon Promo Codes
Have you noticed that people all over the world are selling on Amazon these days? The best part about this is that we have more shopping options available. It basically comes down to "generic vs name brand".  I do buy brand-name items but since I LOVE the prices of generic items, I'd rather buy generic ones.
I can definitely say that I'm a huge generic shopper. I purchase 10-20% of name-brand items. The rest are generic purchases. You may be wondering why I'm telling you this and what it has to do with promotional codes for Amazon. The answer is simple.
There are so many generic items or less "well-known" brands being sold on Amazon. The sellers of these items offer Amazon promo codes for their products.
It doesn't mean it's junk just because the product doesn't have a brand name. Some of these Amazon sellers are the manufacturers of the name-brand products you buy.
Just think about the "phone accessories" you buy at a drugstore. Most of the time, it will have an unfamiliar brand. You still buy it though because you need it. You don't even have reviews to help influence your purchase.
My favorite part about Amazon is that each product has customer reviews available so you can make a purchase decision based on reviews. I've gotten so many great Amazon promo code deals and I hope you can get the same.
What's the best Amazon promo code deal you've scored?