Everything You Need to Know About Ultimate Bundles
This article may contain affiliate links. I may earn money from the companies mentioned in this post with no additional cost to you. Thank you so much for your support. Please read my disclosure policy for more info.
Saving money is one of my favorite things to do. I love getting more for less. It allows me to be more generous with what I have.
Today, I want to share with you one of my favorite saving strategies.  It's Ultimate Bundles! Have you heard of them?
If you don't know what an Ultimate Bundle is, don't worry. I've answered some questions for you below if you need a better understanding of what they are.
Saving between 90%-95% on Ultimates Bundle can seem too good to be true.
You are truly saving money with Ultimate Bundles if it's something you are interested in.
You shouldn't buy them because they look pretty, you should only buy them if you will use them.
I'm going to help answers the following questions about Ultimate Bundles in this article.
What is an Ultimate Bundle?
Should You Buy an Ultimate Bundle?
Are Ultimate Bundles Legit?
How Can They Offer the Products in the Ultimate Bundle So Cheap?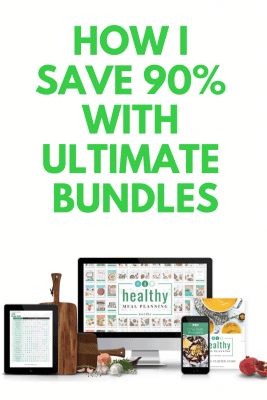 Current Ultimate Bundles
Ultimate Bundles are offered at different times throughout the year.  Here are the Ultimate Bundles that will be offered in 2021.
– Conquer Your Clutter Bundle 2021
Dates Available:  January 11th, 2021 – January 15th, 2021
-The Ultimate Productivity Bundle 2021
Dates Available: February 22nd, 2021 – February 26th, 2021
-The Ultimate Healthy Living Bundle 2021
Dates Available: March 8th, 2021 – March 12th, 2021
I will try to keep this updated as the Ultimate Bundles go live. If you want to sign up with Ultimate Bundles so you don't miss out, you can do that here.
What is an Ultimate Bundle?
An Ultimate Bundle is a bunch of e-books, courses, and resources that are bundled together for you to buy at a discounted price. They are usually valued at $1,000 or more and are offered for 90% – 95% off.
For example, one month may focus on healthy meal planning and the next month may focus on DIY stuff. Ultimate bundles cover a variety of topics including simple living, cooking, photography, blogging, managing money, and more.
Every month, Ultimate Bundles offers a different topic at an amazing price!
Should You Buy an Ultimate Bundle?
I started buying Ultimate Bundles a few years ago. Mainly because I love saving money and you just can't beat the value with these bundles.  Not to mention it saves me time from scouring the internet to find all the resources.
The number of products in these bundles can be overwhelming. The purpose of this is to bring you convenience. Don't let that scare you away.
You may be asking yourself…Do I really need all of this?
The truth is the Ultimate Bundle is completely worth it even if you will only use 4 or 5 items.  If you are used to buying online courses, books, printables, etc…then you know how expensive it can be to buy these items individually.
If you are unaware of how much these things cost individually, then I highly recommend you do your research.
I personally love having the opportunity to get all these products bundled together. I'm pretty limited on time and if I had to search for all these products it would take me hours.
Are Ultimate Bundles Amazing Deals?
Every Ultimate Bundle that I've seen has been an amazing deal. This is because you get a ton of information from people that are passionate about a specific topic.
These people sell their products individually. For example, an online photography course may cost $99.  Let's say, that same photography course is in an Ultimate Bundle for Photography with 25 other items but it only costs $39.99 for the whole bundle.
Obviously, it's much cheaper for you to buy the bundle and you get other items in it. It's more of an unbelievable deal than an amazing deal.
Are Ultimate Bundles Legit?
Ultimate Bundles are legit and are not a scam.  You get exactly what you pay for. In fact, before you buy, you will see a list of every single item included in the bundle.
And trust me, there is a ton of items offered in every bundle. Sometimes, I just grab a bundle for a handful of the items because it is such a great deal.
There's also a 30-day money-back guarantee if you are unhappy for any reason. Would a scam offer that kind of guarantee?
How Can They Offer the Products in the Ultimate Bundle So Cheap?
These products are offered so cheaply because most of the products are digital and the bloggers get together to promote their products together. It's a way to introduce you to bloggers that you may come to love but never knew existed. The internet is so big and it's easy to get lost in the mix.
Bloggers sell their products individually which can get really expensive. This is a great way for bloggers to offer a promotion of their products.
Important Things to Know About Ultimate Bundles
Each Bundle is available once a year. Sometimes they will offer the bundle more than once. If they do, it may be a condensed version of the bundle. This means if you see the Ultimate Bundle you want, you should grab it right away.
Ultimate Bundles sales only last for a few days.  They do this because the authors and publishers they work with usually sell their items individually and this allows them to sell the bundle for a fraction of the price.
Ultimate Bundles has been selling bundles since 2012 and are proud to offer discounts up to 98% off.
The bundles are available in digital format only. This allows them to offer great deals because they get huge savings on print costs and shipping costs. This works perfectly since everything is going digital anyway.
Once you purchase your bundle, you will receive an email with instructions on how to access your bundle.
They have a FAQ section that you can refer to for any other questions you may have.
Have you Purchased an Ultimate Bundle?
If you've purchased an Ultimate Bundle, I'd love to hear about your experience. Let me know in the comments below.
I try to kkeep this post updated with the most current Ultimate Bundles so make sure and check back. These bundles are offered at different times throughout the year.