Subway's Sandwich of the Day only $3.99 Each!
This article may contain affiliate links. I may earn money from the companies mentioned in this post with no additional cost to you. Please read my disclosure policy for more info. All Bible quotations are from the New King James Version (NKJV) unless otherwise stated Bible Copyright Attribution.
One of our favorite places to eat is Subway. We are a family of 5 living on one income so we need to save money where we can, especially when it comes to eating out. Subway's Sandwich of the Day is a great way to save big at Subway.
You can get the 6-inch Subway Sandwich of the Day for only $3.99* (The price has gone up since I added the image above)! That means that my family and I can eat at Subway for only $20. You can also get a *$5 Subway footlong sandwich (see the list below).
A great way to save money is to upgrade the Subway's sandwich of the day to a footlong for $6.49. That will save you roughly $1.50 compared to buying two 6″ sandwiches. Then just split the sandwich of the day.
If you haven't ordered Subway online, you should definitely check it out. I find that it's easier for me to order online because I can customize my sandwich without distractions. You can even order the Subway Sandwich of the Day online!
*Prices are subject to change.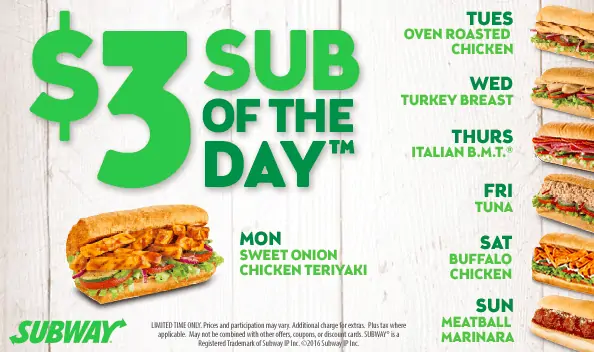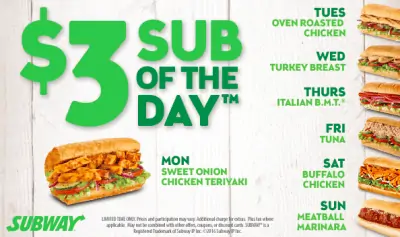 Here's a list of the 6″ Subway's Sandwich of the Day:
Monday – Sweet Onion Chicken Teriyaki
Tuesday – Oven Roasted Chicken
Wednesday – Turkey Breast
Thursday – Italian B.M.T.
Friday – Black Forest Ham
Saturday – Meatball Marinara
Sunday – Tuna
Please keep in mind that in my area, the Subway's Sandwich of the Day is *$3.99. Your price may be different depending on your area.
Here's a list of the *$5 Subway Footlong Subs:
Black Forest Ham
Cold Cut Combo
Spicy Italian
Meatball Marinara
Veggie Delite
These $5 Subway Footlong Subs are perfect for splitting. You can feed two people for $5!
Is Subway a healthy eating option?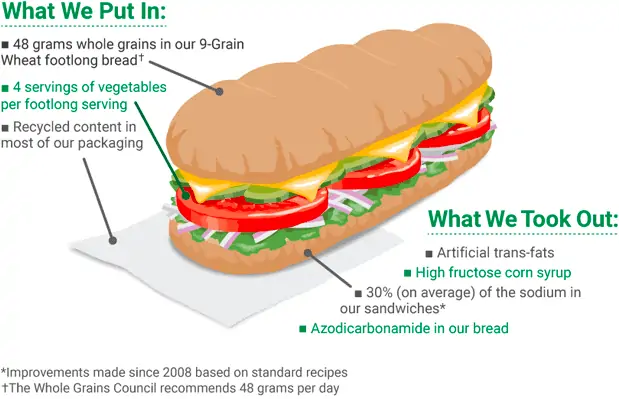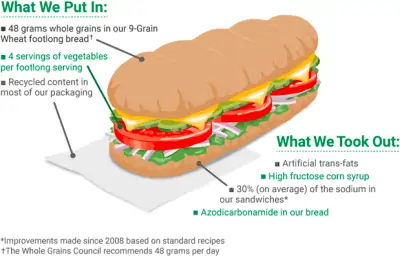 Subway has actually made a commitment to have no artificial flavors or colors from artificial sources in their soup, sandwiches, and salads in North America. You can see from the photo above that Subway is working hard to make their subs better. They have actually improved their recipes and are continuing to make improvements.
Related articles:
Do you have a Subway Rewards Card?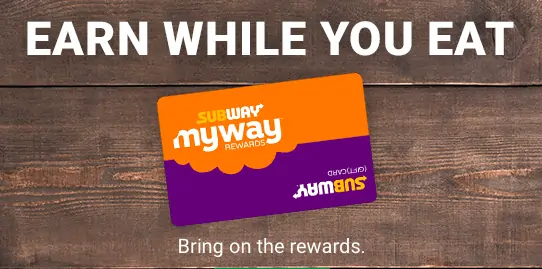 If you go to Subway often, I recommend that you sign up for Subway Rewards. You'll get great freebie offers (including a free Subway sandwich and drink for your birthday) and coupons just for being a Subway Rewards member.
You can use the Subway Rewards Card to track your rewards or you can download the Subway Rewards App. It's completely free to join!
What's your favorite Subway's Sandwich of the Day? Mine is the Oven Roasted Chicken Sub. It's so good!!!