10 Budget Friendly Slow Cooker Whole Chicken Recipes
This article may contain affiliate links. I may earn money from the companies mentioned in this post with no additional cost to you. Please read my disclosure policy for more info. All Bible quotations are from the New King James Version (NKJV) unless otherwise stated Bible Copyright Attribution.
If you've read my blog before, you would know that meal planning is one of my favorite ways to save money.
We have a monthly budget for groceries each week and creating a meal plan helps me stay within my budget. My first pick is always easy budget-friendly meals.
I'm committed to cooking at home 7 days a week which means I need a lot of variety when I plan our meals.
These slow cooker whole chicken recipes make it easier for me to plan what I'm cooking every week.  Dinner can get really boring if I don't mix it up.
My Crockpot and Instant Pot are such time savers so I use them very often. Crockpot whole chicken recipes make the chicken very tasty and moist.
I'm really picky with the texture of chicken, so making Crockpot whole chicken is one of my favorite recipes.
Not to mention whole chickens are on sale often so they make a budget-friendly meal!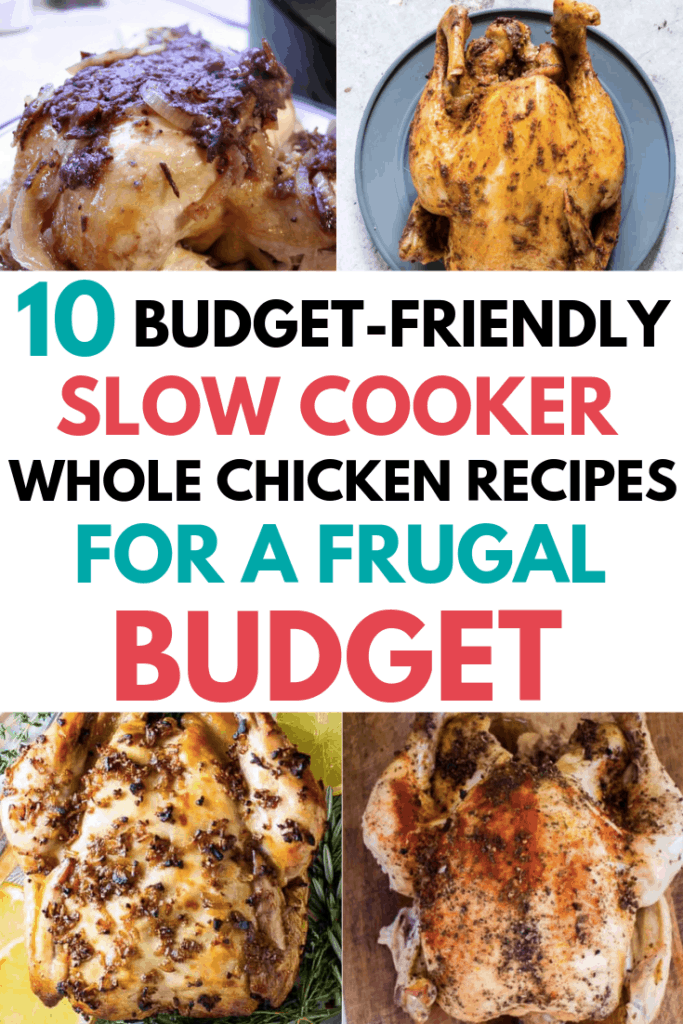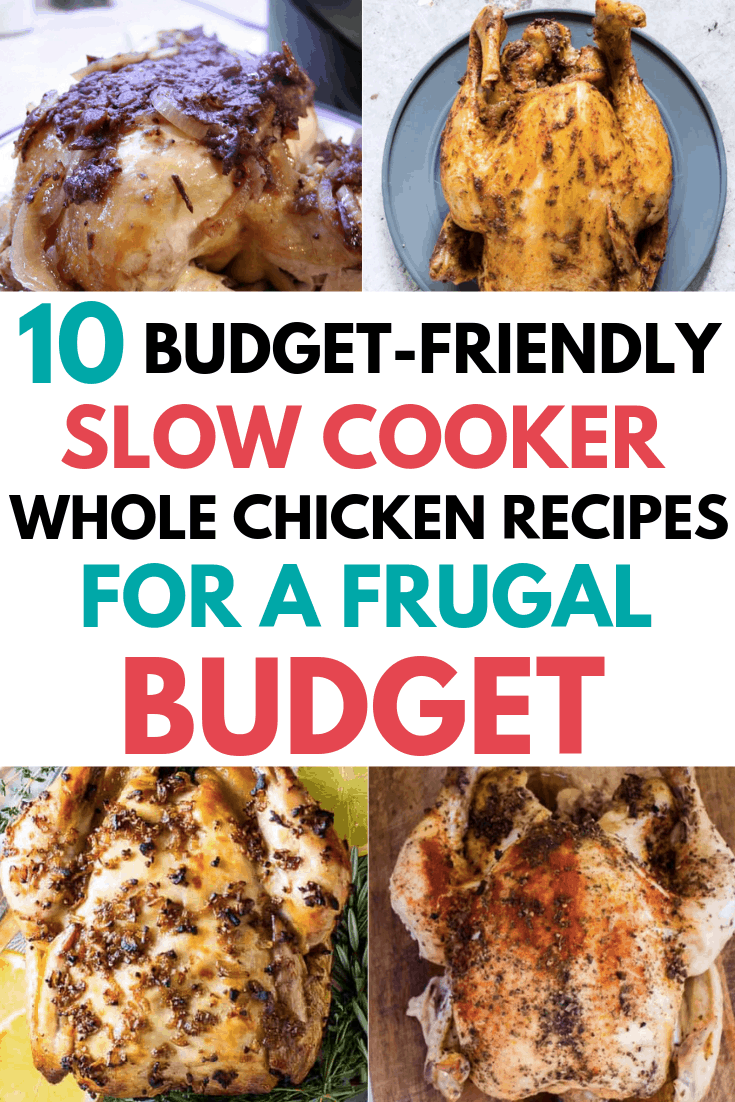 How to Cook a Whole Chicken
Cooking a whole chicken can be done in a variety of ways. My favorite method of cooking a whole chicken is to slow cook it.
I've made it in the oven and it comes out great but it's way less messy in a slow cooker. When I bake it in the oven, grease splatters everywhere.
You can still get crispy skin with a slow cooker whole chicken. Once it's fully cooked just put it on a cookie sheet and broil it in the oven. You can also remove the skin to make it a little healthier.
How Long to Cook a Whole Chicken
The time to cook a whole chicken varies. It depends on the method you use to cook it. Crockpot whole chicken and slow cooker whole chicken can take between 6-8 hours on low to cook.
If you are cooking your whole chicken in the oven, it can take 10-15 minutes per pound to fully cook.
I've rounded up 10 slow cooker whole chicken recipes to share with you. These chicken thigh recipes are different variations. They're perfect for us because we like to mix up our meals each week.
Slow Cooker Whole Chicken Recipes
I love saving money and I've put together some great tips in my post ways to save money on groceries. My focus every week is to buy everything I can on sale.
Chicken is affordable and is one of my favorite ways to save money. We usually eat it multiple times per week.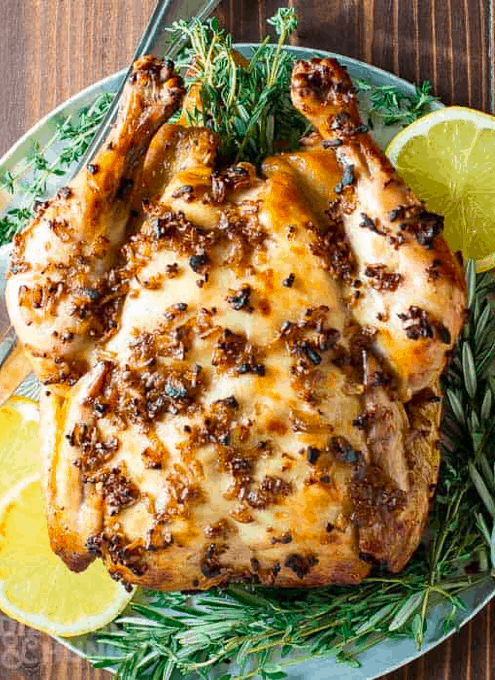 1. Slow Cooker Whole Chicken from Dizzy Busy and Hungry
This slow cooker whole chicken recipe has only 4 ingredients! The rub is really tasty. You can even throw some vegetables in to make this a simple and complete whole chicken recipe dinner.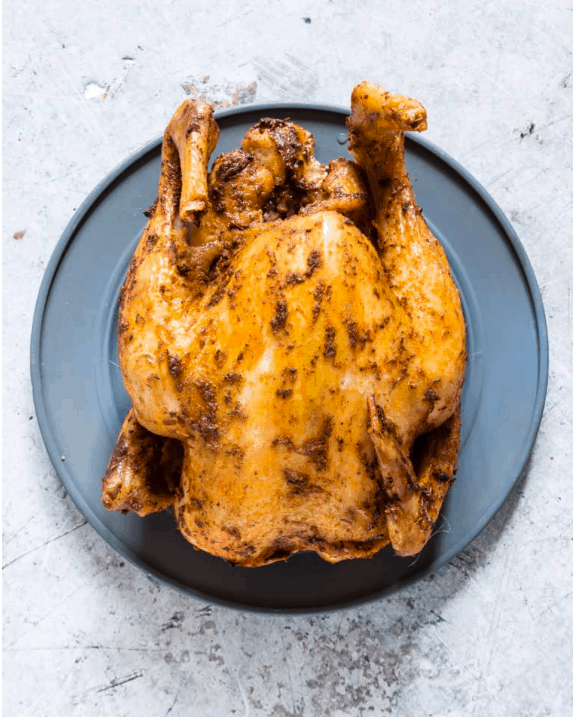 2. Slow Cooker Whole Chicken Recipe from Recipes From A Pantry
This whole chicken slow cooker recipe is very simple to make. Just add some spices and leave them in the Crockpot to cook.
You can add some vegetables to it or make it by itself. Either way, it's a simple and tasty meal to make.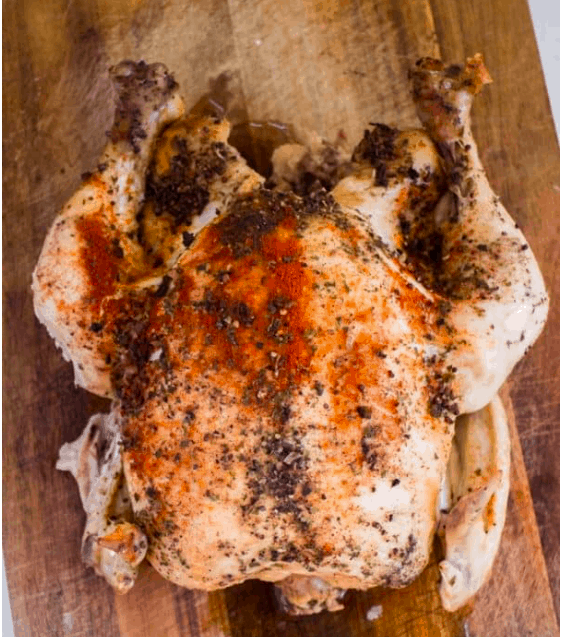 3. Juicy Slow Cooker Whole Chicken from Brooklyn Farm Girl
This whole chicken recipe focuses on keeping your chicken juicy. With just a few ingredients, you can have a juicy, flavorful chicken for dinner.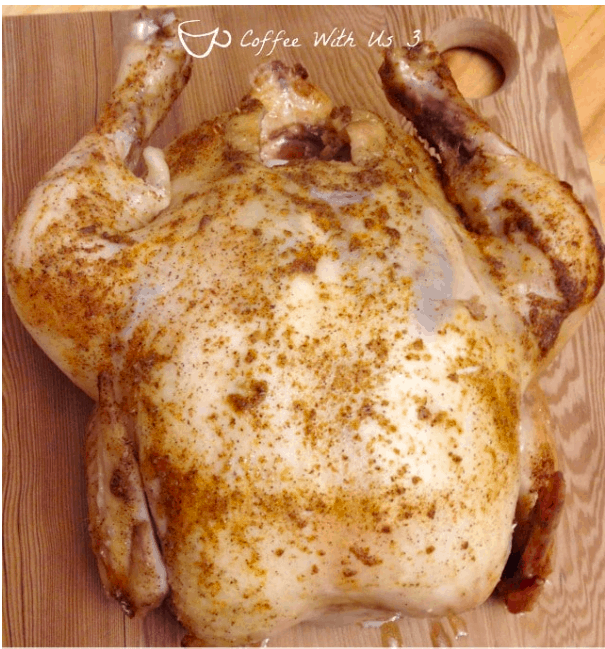 4. Crockpot Cajun Whole Chicken from Coffee With Us 3
This Crockpot whole chicken recipe is perfect if you love cajun! We love making whole chicken and we love different flavors.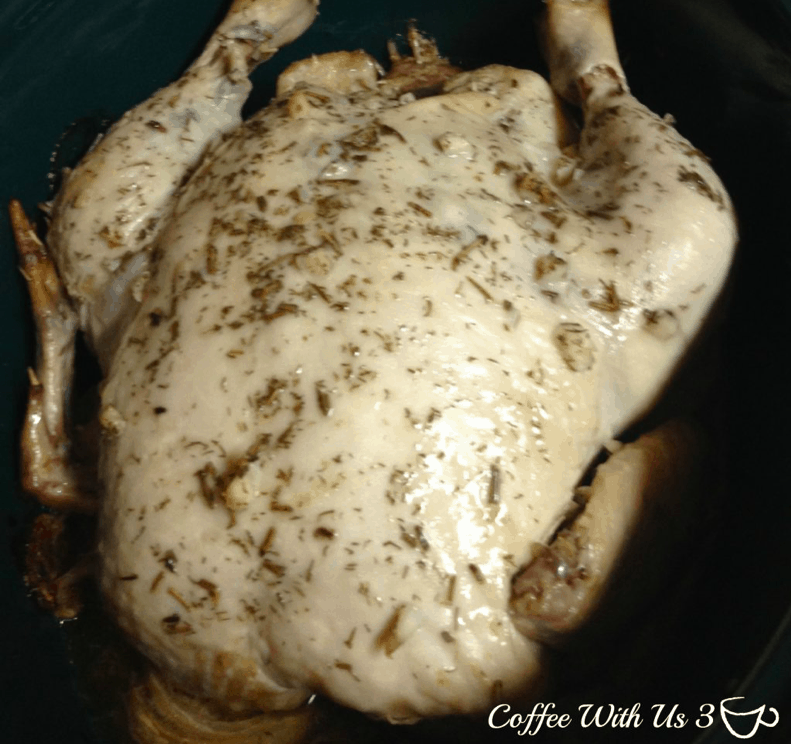 5. Crockpot Lemon Garlic Whole Chicken from Coffee With Us 3
This lemon garlic whole chicken looks delicious! I love lemon garlic flavor, it's so easy to pair with a variety of side dishes. Plus! the flavoring isn't spicy so it's easy for the kids to eat!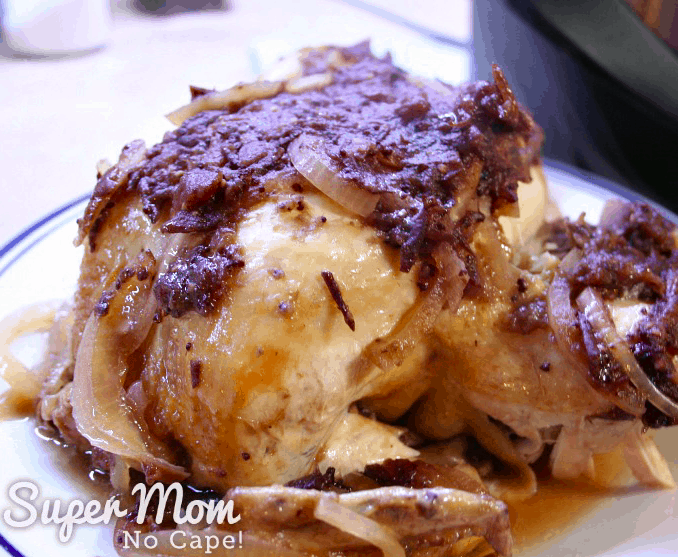 6. Whole Chicken Cranberry Bake from Sugar Mom No Cape
I love this twist on whole chicken. I would have never thought to make it with cranberry.  I love cranberry so this is must-try for us!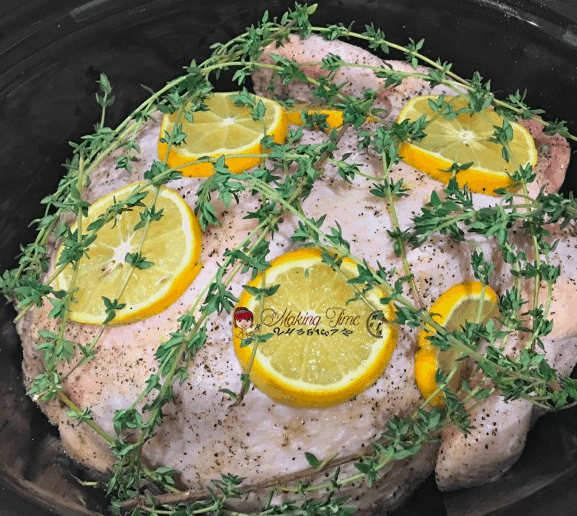 7. Fall off the Bone Crockpot Whole Chicken from Making Time for Memories
We love fall off the bone chicken! This whole chicken recipe is a fall off the bone recipe. It can be used for all types of chicken dishes or just by itself.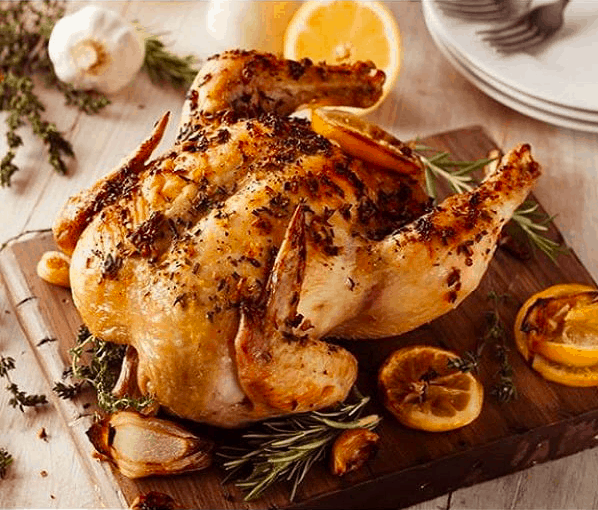 8. Whole30 Lemon Chicken from Recipe This
This whole chicken is perfect for Whole30! It's also great if you aren't doing Whole30. The crispy skin looks delicious with the seasonings and lemon slices!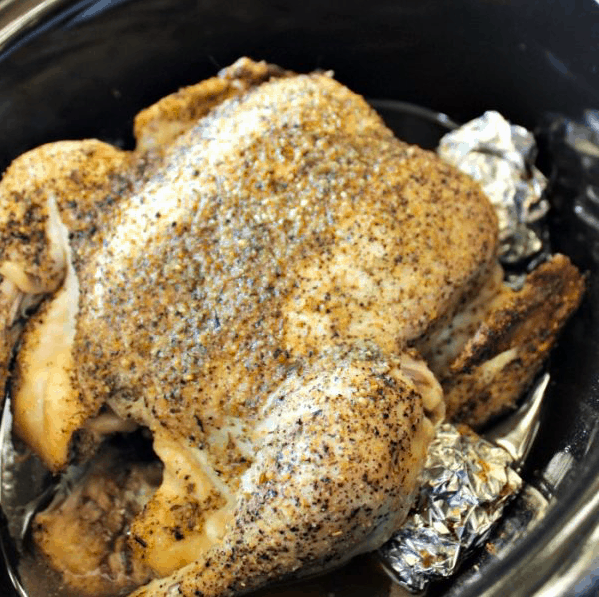 9. Slow Cooker Whole Chicken Recipe from Eating on a Dime
This simple whole chicken recipe goes with pretty much anything. You can use it for chicken salad or for chicken tacos. We love eating it just like this with vegetables on the side!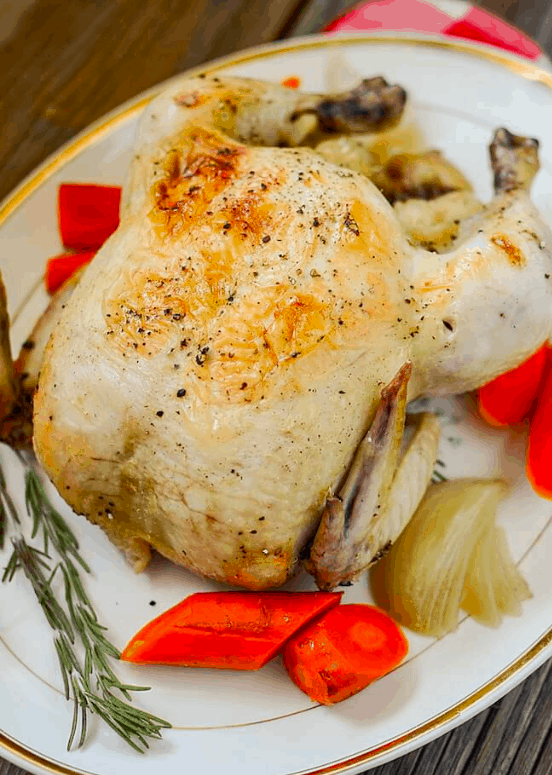 10. Slow Cooker Whole Chicken (Rotisserie-Style) from The Soccer Mom Blog
This whole chicken comes out rotisserie-style! I don't know about you but I love buying a rotisserie chicken at the grocery store. Now you can make it at home in your slow cooker!
What are your favorite Budget-Friendly Whole Chicken Recipes?
That's my round of slow cooker whole chicken recipes. I can't wait to try all of these Crockpot whole chicken recipes.  I love all the different varieties in these recipes.
I love how these food bloggers create budget-friendly chicken recipes. It makes it so much easier to stay within my food budget and cook amazing food at the same time.
If you love cooking with chicken, make sure to look through these budget-friendly slow cooker chicken breast recipes and budget-friendly slow cooker chicken thigh recipes. They're all budget-friendly and make it super easy to create a meal plan.
If you are looking for a last-minute meal, you should cheap out these dirt cheap meal ideas. They are tasty and cheap.