I'm a firm believer that saving money doesn't need to be difficult. There are many different ways to save money and you need to find the best way to save money for you. I've tried so many different ways to save money and I want to share my experience with you. Today, I want to share my Ibotta app review.
Ibotta App Review
I've been using the Ibotta app for a long time. I remember when it first came out in 2011. The idea of using an app to save money was so exciting. At that time, I was deep into couponing. I had my coupon binder and was spending a lot of time shopping just to get the best deal.
My kids were young and saving money was becoming a chore. I didn't have time to go to the store multiple times anymore. I was exhausted. This is where the Ibotta app came in. I searched high and low for an Ibotta app review at that time and I didn't find any. So I decided to find out how the Ibotta app worked and if it worked by myself.
More Ways to Save Money:
What is Ibotta?
Ibotta is a free app that lets you get cash rebates on products. The cash rebates can be used on name brand or store brand offers.  It's kind of like redeeming a coupon at the store. Except with the Ibotta app, you upload your receipt and redeem the cash rebate after you shop.
My favorite part is you can double dip with the Ibotta app. You can redeem the coupon at the store and then upload your receipt to the Ibotta app and get additional savings on the same product.
Even if you only buy generic items, you can save with this app. Ibotta offers cash rebates on generic brands of milk, banana's, lettuce, bread, pasta, eggs, cheese and more. The name brand items usually have a higher cash rebate than the generic items. So you can save on both generic and name brand items.
They have lots of cash rebates for national brands like organic products, diapers, beverages, meats, cheeses, yogurts and more.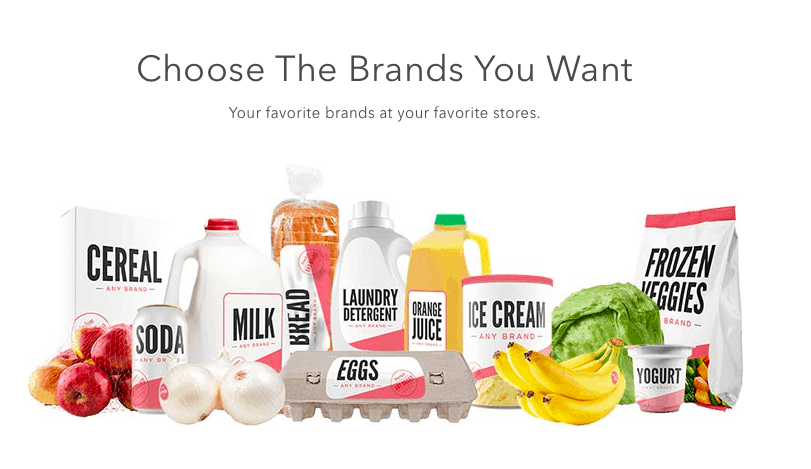 How Does Ibotta Work?
It's super easy to save with Ibotta's free app. You can do one of two things: 1) You can check your Ibotta app for the offers that are currently available. This will let you know if Ibotta is offering a cash rebate for the items you are going to purchase. Then go shopping and purchase those items. Or 2) You can make your grocery list without checking the app. When you are finished shopping, you can check the Ibotta app to see what offers are available.
Once you are done shopping, you upload your receipt (by taking pictures on the app) and get your cash rebates. Make sure to add the offers to your Ibotta account before you submit your receipt. I always have all the cash rebates added to my account to make sure I get credit for them. Sometimes it will have you scan a product to make sure it qualifies for the cash rebate offer.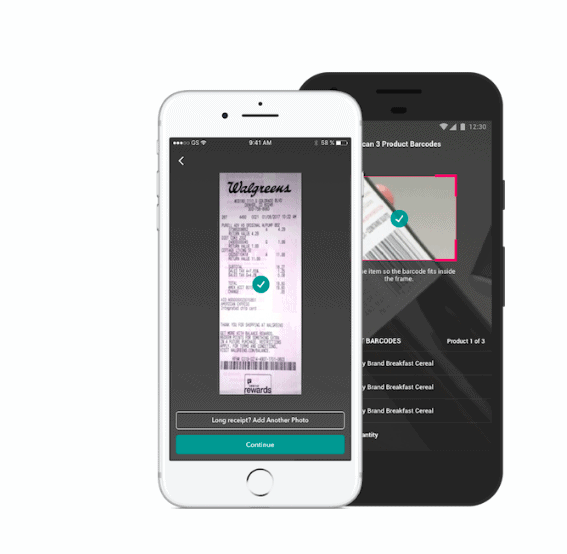 Ibotta Bonuses
Another fun perk is Ibotta bonuses. Ibotta offers all types of fun bonuses throughout the month. They have individual bonuses and team bonuses available. Ibotta bonuses allow you to earn additional cash. For example, if your team earns a certain dollar amount, Ibotta will reward the whole team extra cash for working together on saving. It's a fun way to keep you motivated.
I'd love to have you on my team so we can help each other reach those bonuses. Click this Ibotta team link to get started on my team.
More Ways to Save Money:
How Do You Get Money From Ibotta?
You may be asking yourself … How do you get money from Ibotta? I figured this would be a very important part of my Ibotta app review. I'm excited to share that it's super easy to get your earnings. There is a redemption threshold of $20 (that's easy to achieve especially when you are redeeming Ibotta bonuses and team bonuses).
Once you hit $20, you can have your money sent to Paypal or a Venmo account. You can also redeem your cash for gift cards on the Ibotta app.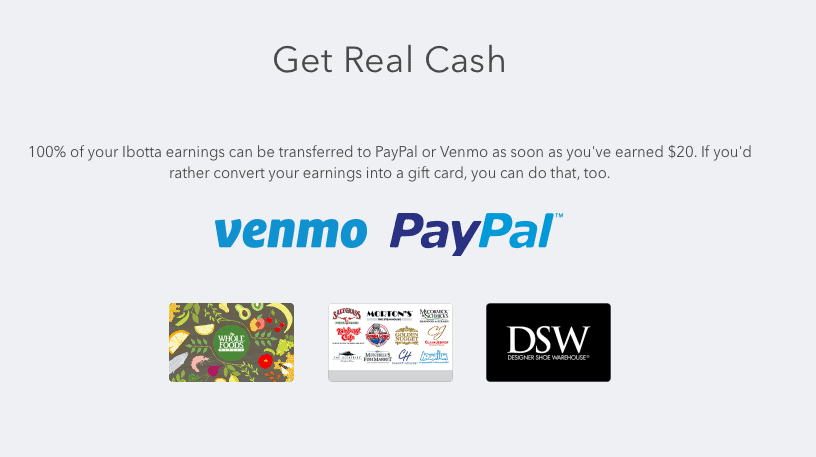 Ibotta App Review – Can You Really Save Money?
The answer is YES! Even if you don't coupon and you only redeem the offers on the Ibotta app, you can easily save $2 a week. That's a super conservative number and you'll most likely save more especially with all the awesome Ibotta bonuses. It's a great opportunity for people who are too busy to coupon.
If you coupon, then it's the perfect addition to your couponing. Like, I mentioned above, you can double dip and save money at the grocery store and on the Ibotta app.
Another fun thing to do is keep the cash in your Ibotta app and redeem it once or twice a year! It would be super fun to take the money and go do something fun to spoil yourself or save it for Christmas shopping.
Ready To Sign Up?
Hopefully, my Ibotta app review answered all your questions. My goal here is to help save you money and make it as painless as possible.  It's completely free to sign up for Ibotta.  Like, I mentioned earlier Ibotta is a free app and won't cost you anything. You will only earn cash with it. Ibotta is not a scam. I've been earning money from it with no problems.
If you sign up for Ibotta now, you can get a $10 bonus for a limited time. Click this Ibotta link to get started. You'll get a $10 bonus after your first rebate and will automatically be added to my team. Let's help each other save money!
Did my Ibotta app review help you? I'd love to hear how you're saving money.