How We Keep Our Kids off Electronic Devices
This article may contain affiliate links. I may earn money from the companies mentioned in this post with no additional cost to you. Thank you so much for your support. Please read my disclosure policy for more info.
Today, I want to share with you how we keep our kids off electronic devices. Electronic devices are becoming more and more popular these days.
They're convenient and keep us in touch with family and friends. It's easy to find ourselves spending a lot of time on electronics.  This can be good and bad.
As adults, we should be able to manage the amount of time we spend on our electronics.
We shouldn't expect the same thing from our kids. Kids need to learn how to manage their time on electronic devices.  This is something we need to take the time to teach them.
We were having a hard time keeping our kids off electronic devices. It was more of managing the time they spent on electronics each day.
I had no way to track it. One of my sweet friends shared with me how she keeps her kids off electronic devices so we decided to give it a try.
Her method works great and we have been successfully using it for about a year now. We call it the "ticket system".
If you're serious about keeping your kids off electronic devices then you should give this a try. It does require parent involvement but doesn't everything when we're trying to teach our kids?
This "ticket system" allows your kids to be on electronic devices as much as you allow. We set our system up to allow our kids to be on electronics for 1 hour a day.
They can choose to use their tickets all in one day or spread it out throughout the week. There are also opportunities for them to earn extra time for electronics.
Related Articles:
Keep Kids off Electronic Devices Ticket System
Step One
Figure out how much time you want to allow your child to be on electronics each day. We decided to make each ticket worth 30 mins. Based on that, we give our kids 14 tickets per week.
Each Sunday starts a new week. If they have tickets leftover from the previous week, we allow them to keep them.
Step Two
Think about the rules you want to put in place. One of our biggest struggles with our kids is laziness. We made a rule that they can't redeem tickets until all their daily responsibilities and school is complete.
This gives them the ambition to get up and get their stuff done. Check out our rules in the picture below.

Step Three
Give an incentive. We decided that if our kids have good behavior, they can earn extra tickets. The amount of tickets they earn is up to us. We may reward 1 extra ticket or 5 extra tickets. It depends on what it is.
Related Articles:
Step Four
Think about ticket deductions. We take tickets for multiple things. Check out our deduction items in the picture below.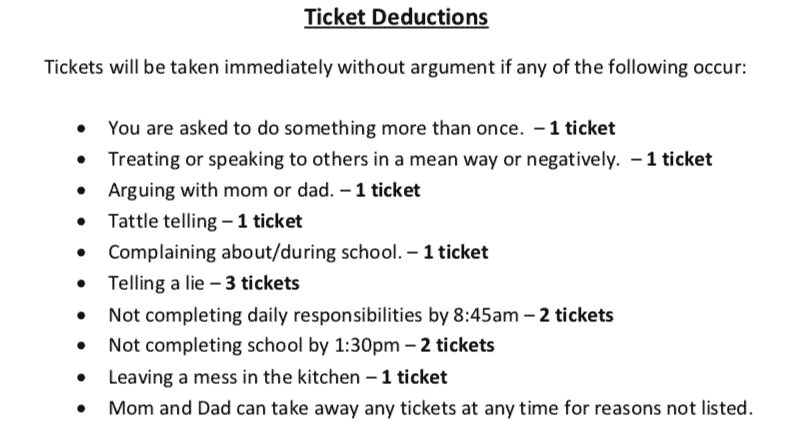 Step Five
Think about ticket redemption. We listed each item that they can redeem tickets for. Check out our ticket redemption items in the picture below.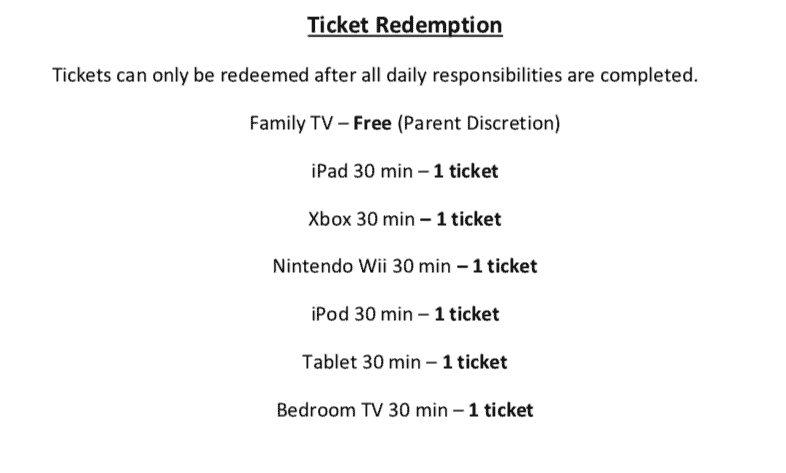 Step Six
Put it all together. We decided to write out our ticket system for two reasons. First, so we could remember the rules, and second, so the kids could remember.
 * * * * * * * * * * * * * * * * *
That's our ticket system. If you want to use the system exactly as we do, then click this Ticket System link to download a copy. We printed tickets right off the internet. You can even buy them somewhere.
We made sure to put each kid's name on the tickets so we know who they belong to. This keeps them from trying to take each other's tickets.
It is our job as parents to keep kids off electronic devices. We need to remind them that life isn't all about electronics. They still need to learn how to use their imaginations and creativity skills.
How do you manage electronics in your house?