I love using Amazon Promotional Codes! One of the best ways to save money is to shop on Amazon. They pretty much have everything you can think of and more. Amazon offers all sorts of deals (and some not so good deals). In order to get these type of deals, you really need to know how to get a promotional code for Amazon. Thankfully, I can help you with this! (You can skip reading this article and get right to the promo codes for Amazon. Check out all the current Amazon promo code deals on my blog now).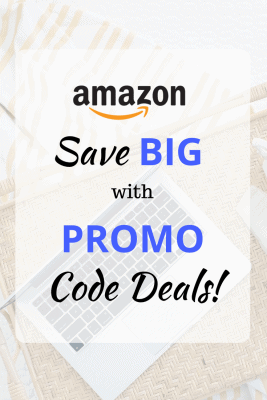 People all over the world are selling on Amazon these days. The nice thing about this is that we have more options available. I think of it as "generic vs name brand". Don't get me wrong, I like brand name items but I LOVE the prices of generic items. Most of the items I currently have are generic. I probably have about 10-20% of name brand items.
So what does this have to do with promotional codes for Amazon? The answer is simple.
More generic items or less "well known" brands are being sold on Amazon. The sellers of these generic or less "well known" brands offer promotional codes for Amazon for their products. This doesn't mean the item is junk. Just think about that "phone charger" you buy at a store that has an unfamiliar brand. You still buy it because you need it for something.  The nice thing about Amazon is that there are customer reviews available so you can see if the item is good or not.
Related articles:
How to get an Amazon Promotional Codes
I post Amazon promotional codes deals almost every day. When I receive Amazon promotional codes, I usually have no idea how long it is valid.
The post title says "Amazon Promo Code". This means that it's a deal that requires an Amazon promo code.
The post title will show you the % off with the Amazon promo code.
The body of the post will list the current price of the item. This is not the price you will pay. You will get a further discount with the Amazon promo code.
To get the % off, you need to click the link in the post and use the Amazon promo code at checkout. This will give you the discounted price.
Important: I have to post the items with a % off or a $ off amount. It's against Amazon's Terms of Service to post a discounted price of any products sold from their website. Amazon does allow me to put the regular price in the post but that means you have to figure out the amount you are saving. Sorry, I really would like to make it easier.
Related articles:
I've purchased several items with Amazon promo codes. I use them for myself or give them as gifts. It's a great way to save money and still get nice things. I work really hard at keeping the codes current. If at any time, you come across a deal that is no longer valid please leave me a comment so I can update the post.
Ready to get started? Check out all the current Amazon promo code deals on my blog.
Do you use Amazon promotional codes? I'd love to hear the great deals you've gotten!