7 Easy Ways to Make Holiday Travel Less Stressful and Save Money
This article may contain affiliate links. I may earn money from the companies mentioned in this post with no additional cost to you. Please read my disclosure policy for more info. All Bible quotations are from the New King James Version (NKJV) unless otherwise stated Bible Copyright Attribution.
If you are looking for easy ways to make holiday travel less stressful then you are in the right place!
Holiday travel is something most people do so I decided to put together a comprehensive list, a checklist if you will, to help make traveling during the holidays a little easier and less expensive for you.
The key thing to remember is that whether you are traveling locally or across the country, there are things that you need to think about before heading out on your trip.
These tips can also be applied to any time of the year. Traveling is fun but it can be stressful if it's not well thought out. Try to give yourself time to plan ahead so you can implement some of these tips.
Ways to Make Holiday Travel Less Stressful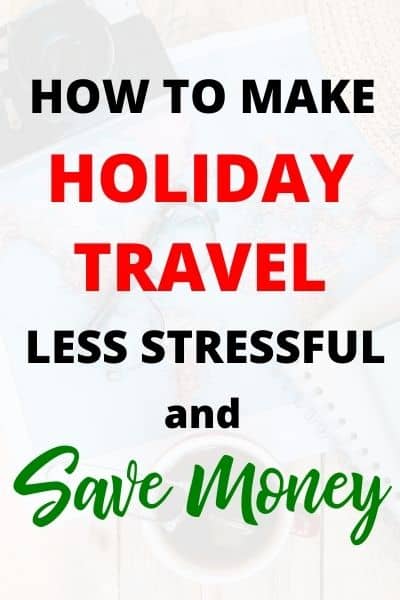 1. DON'T TRAVEL ON THE HOTTEST TRAVEL DAYS
We've all seen the pictures on the news of the vehicles stuck in gridlock traffic the day before the holiday. Bottom line, DON'T DO IT!
Look at your calendar and figure out the day you want to arrive. Let's say you are wanting to be home for Thanksgiving dinner. Don't plan to travel on the Wednesday before.
Plan to fly out or drive on the Tuesday before Thanksgiving. That will allow you the time you need to arrive on time. That will also build in time for any weather delays.
Not only is traveling during those times more stressful, but they are usually more expensive! You can save money on travel just by changing your days around a bit. This will allow you to stay within your travel budget.
When planning a trip during the holidays, look at the airlines that offer flights to the destinations you are wanting to travel to.
Is it cheaper to fly out of a larger airport than flying out of a local one? Is it better to fly out maybe a few days before and come home a few days after?
Of course, at times you can get save money if you wait to book your flight last minute, however, is it going to be worth the added stress during the holidays? What if you can't get a flight out at all? What about coming home? Are there any flights available?
Another thing to think about traveling during the holidays; regardless if you are flying or not is the extra cost of a hotel room if your flight is delayed.
What if you are stuck in an airport and you can't get back and you miss a day or two of work? Do you have time built in to cover that? Will your employer be okay with that?
2. MAKE LISTS
Take the time to make several different lists.
Make a packing list
A shopping list (if you are planning to drive and are taking food for the visit as well as snacks for the road)
Morning of the trip To-Do list
A Week Before the Trip list (this should include all the things you want to get done before you leave).
When putting together your road snack list, you can save money by going through your pantry and using up those leftover snacks that the kids have forgotten about.
If they are still good, use those as the snacks and then see if you need to add more snacks or goodies for the kids to munch on.
3. CHECK OUT THE WEATHER FOR YOUR DESTINATION
Is it going to be cold? Rainy? Will you be driving through snow? Or if you are flying, will there possibly be flight delays?
If you are flying, it will be difficult to plan, however, if you are driving, this will be a bit easier to plan for.
Keep your budget in mind. What if you are driving and you get caught up in a blizzard, will you be able to get a hotel room for the night? What about the extra meals that will come into play since you weren't able to get back home in time?
4. IF DRIVING, MAKE SURE YOUR VEHICLE IS READY TO GO
Do a quick inspection of your vehicle. Make sure the oil doesn't need to be changed, the tires are inflated, and the gas tank is full. Most importantly, be prepared in case your vehicle breaks down. Have extra blankets, a set of jumper cables, and road flares.
Also, if you will be driving, leave your route with a friend or family member who isn't going along so if there is a problem, they will know what route you planned to take.
Another reason to make sure that your vehicle is in working order is so you can hopefully avoid an expensive breakdown. Granted, even newer cars that have no issues can suddenly break down.
No one wants to deal with auto shop repair costs on top of all of the other expenses associated with the holidays. Make sure to have a budget in place for these types of issues that can pop up.
5. MAKE AN EMERGENCY FIRST AID KIT
This is definitely something you never want to leave home without if you are heading out on a road trip.
The kit doesn't need to be expensive. Just include things like bandaids, gauze, a thermometer, and basic cold medications or remedies you use for your family members.
Be Smart Get Prepared 100 Piece First Aid Kit: Clean, Treat, Protect Minor Cuts, Scrapes. Home, Office, Car, School, Business, Travel, Emergency, Survival, Hunting, Outdoor, Camping & Sports
Manufactured by the #1 leading manufacturer of First Aid Kits in the USA. 100 pieces of comprehensive first aid treatment products.
This Kit meets United States FDA Regulatory Standards as a Medical Device. Ideal for most businesses and perfect for family use at home or travel.
Fully organized interior compartments provides quick access. The rugged, sturdy, high density plastic case is impact resistant
Compact size case measures 7.5in x 2.5in x 6.8in, is portable and can easily fit anywhere.
Features Easy Slide Latches that securely locks into place.
You may not need it, however, as I have learned over the years; especially when traveling with children, someone may come down with a cold while you are gone.
Sure, you can usually pick up cold remedies at the next gas station you spot on the highway, but they are normally they have items marked up quite a bit.
By bringing these items from home you are using what you already have and you aren't adding extra unplanned expenses and stress to your holidays.
6.  CHECK BAGGAGE REQUIREMENTS IF YOU ARE FLYING
Make sure what your airline will allow per person on the flight. Add any travel toiletries you need to your shopping list that we talked about in Holiday Travel Tip #2.
Don't forget that the airlines will charge you extra fees for additional baggage so it's crucial to know what they allow before you head to the airport.
7. REMEMBER TO TAKE TIME TO BREATHE
While preparing for holiday travel, make sure to take time to breathe and to take care of yourself.
The holidays are stressful just on their own. Add in holiday-related travel stress and you are in for stress overload.
The key to eliminating at least a part of travel stress is to prepare ahead of time. Granted, we can't predict the unexpected, but at least we can take care of the small things with a few easy steps.
How Do You Keep Holiday Travel Less Stressful?
These are some travel tips we have learned personally. Do you have any holiday travel tips to share? If so, leave them in the comments below. Let's help each other find out ways to make holiday travel more enjoyable.