Become a Personal Trainer to Earn Extra Income
This article may contain affiliate links. I may earn money from the companies mentioned in this post with no additional cost to you. Please read my disclosure policy for more info. All Bible quotations are from the New King James Version (NKJV) unless otherwise stated Bible Copyright Attribution.
It's time to share another way to earn extra money with you. This is part of a series I started called "Real Ways to Earn Extra Money". Today, I want to share how to become a Personal Trainer to earn extra money.
My goal in this series is to share the real experience of people that are earning extra money. The internet is full of different ways to earn extra money but how do we know if they are real?
Hopefully, this series can give you a realistic view of ways to earn extra money.
Exercise is a big part of my life. I started working out faithfully over 5 years ago. It's made a huge difference in my life and health.
I highly recommend that everyone implements some sort of exercise in their life.
About 5 years ago, I started attending a local gym. It took a lot of time out of my schedule. I was homeschooling and trying to fit the gym in my schedule and it just wasn't working.
A few years later, I decided to workout at home. It saved me a lot of time and money.
After I was working out at home for a while, I decided to hire a Personal Trainer (it's not as expensive as you think). It's really important to have someone qualified to oversee your fitness routine.
It's easy to get hurt because you aren't doing something properly or lifting too much weight. I also noticed that after being at the gym, my fitness level stayed the same. Even if you have a gym membership, you need someone to push you to the next level.
Having a personal trainer has been the perfect fit for my life. I meet with her every 6 – 8 weeks. She creates my workout schedule and she makes sure I'm exercising properly. Best of all, I'm getting stronger because she pushes me.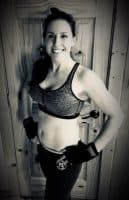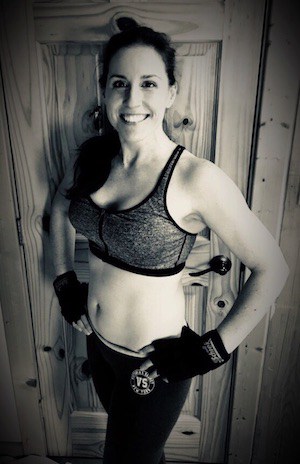 Meet Carolina. She is a Personal Trainer (she's also my Personal Trainer). She has a side business working as a personal trainer. She's NASM certified and also specializes in weight loss. She survived her battle with breast cancer and is now living a healthier lifestyle. She was kind enough to answer questions about what she does. Let's see what she has to say about being a Personal Trainer.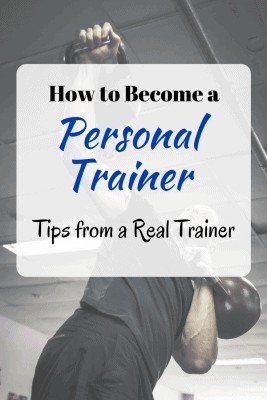 How to Become a Personal Trainer
What inspired you to become a personal trainer?
I wanted to overcome my weakness after I recovered from Breast Cancer and having a double mastectomy. I was unable to lift my arms up to comb my hair which gave me the drive to get stronger. I began my journey to understand how the body benefited from weightlifting and fitness overall.
I was tired of guessing what would work for me and my goals. I needed to understand the whole picture of why the body needs what it needs to achieve a goal. Understanding the root fundamentals of body mechanics and the science behind it, was and is my mission.
Related articles:
How did you get started as a Personal Trainer?
I saw the great benefits of lifting weights and decided that I wanted to become a Personal Trainer. I started to research reputable organizations online. I wanted to make sure I did a program that would be recognized in any state.
What steps do you have to take to become a Personal Trainer?
You need to enroll in an accredited fitness organization. I preferred one that was recognized throughout the United States.  I got certified through NASM.
With NASM you have 6 months to study and take the exam. You'll also need to acquire a CPR/AED/First Aid Certification. After you get certified, you will need 2 continuing education credits every 2 years to stay up to date on Fitness medical research.
What costs are involved to become a Personal Trainer?
Schooling, CPR/AED/First Aid Cert and books, and supplies. This can range from $600-$3000. Depending on the school package deals.
What services do you offer as a Personal Trainer?
I offer fitness assessments, custom fitness programming, scientific backed research to attain certain athletic goals, and correct movement techniques.
I focus on how each one of our needs is unique and give the support emotionally and spiritually through that process. This is a life change and it is hard to create new habits alone.
How much can you make as a Personal Trainer?
This depends on your experience and what your specialty is. I've seen $50 an hour as a starting point. With more education comes more responsibility and expertise to grow.
What are the positives of being a Personal Trainer?
I enjoy meeting new people and developing relationships. Providing assistance and support to clients as they reach their goals is very rewarding.
Related articles:
Anything else you want to share?
God has given me an opportunity to enjoy this body He created. I want it to function at its best to serve Him in all I do. If I could prevent myself and others from being confined to a wheelchair or bed in old age, I plan to do so
I want to do all I can to help others and myself never see those days. Besides who doesn't want to look good in a bikini as a bonus!
More about Carolina: She accepted Jesus as her Savior at 10 years old, she's not perfect, just forgiven. She was born in Chile, South America. She came to the United States as a toddler. She's married. She's the middle child of 3 girls. She loves the fresh air of the mountains. She enjoys animals. She has 3 indoor cats. She loves to laugh and loves food. She loves to watch comedies and action suspense movies. You can find her on Instagram sharing her healthy food and fitness tips.
As you can see becoming a Personal Trainer can be very rewarding. In order to be a good Personal Trainer, you'll need to be a good listener, have patience, be persistent, stay organized. and be a good motivator. You should also be an example of having a healthy lifestyle.
Next, you will want to get certified. Carolina chose to get certified by NASM and has been very happy. She's very knowledgeable which indicates she made a good choice in choosing where to get her certification. She also chose a reputable service to get her CPR and First Aid Training.
Once you get your certification and training, you need to decide if you want to start your own personal training business or work for a fitness company. There are many places to search for work. You may be able to find work at some popular places like 24 Hour Fitness or Beach Body on Demand. Some other ideas include local community centers, hospitals, wellness centers, Spa's and Resorts.
Do you want to become a personal trainer?