Amazon Prime Free Trial for College Students (6 Month Trial)
This article may contain affiliate links. I may earn money from the companies mentioned in this post with no additional cost to you. Please read my disclosure policy for more info. All Bible quotations are from the New King James Version (NKJV) unless otherwise stated Bible Copyright Attribution.
Did you know Amazon is still offering a 6 Month Amazon Prime Free Trial for College Students? Back when I was a student, I only remember getting a 1 month's trial for being a student. This is a great opportunity for trying out Prime benefits if you're a student.
Here's a list of benefits included in the Amazon Prime Free Trial for College Students:
Free two-day shipping on over 100 million eligible items.
Enjoy instant access to video streaming.
Get top deals for students on electronics, school supplies, and more.
Unlimited reading on any device.
Unlimited photo storage.
Get 30-minute early access to select Amazon Lightning Deals.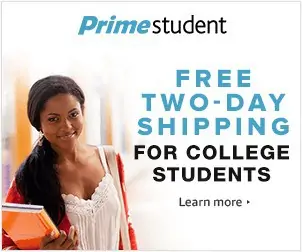 I have been Amazon Prime member for several years. I really enjoy all the benefits. My favorite feature is 2-day shipping. I do most of my shopping online. I don't always order a minimum dollar amount which means I don't qualify for free shipping at other online retailers.  It's a great saving on shipping for me!
If you're a student and have not tried Amazon Prime for College Students, I recommend that you do. They are giving you a full 6 months to see if you like the program. That's a great offer!
Ready to get started? Click this Amazon Prime Free Trial link. You'll need to have a valid .edu email address to get this offer.
Once you become an Amazon Prime member, be sure to check out the Amazon Promo Code Deals I post daily.